The Complete Guide to Applying to Canadian Business Schools
The Complete Guide to Applying to Canadian Business Schools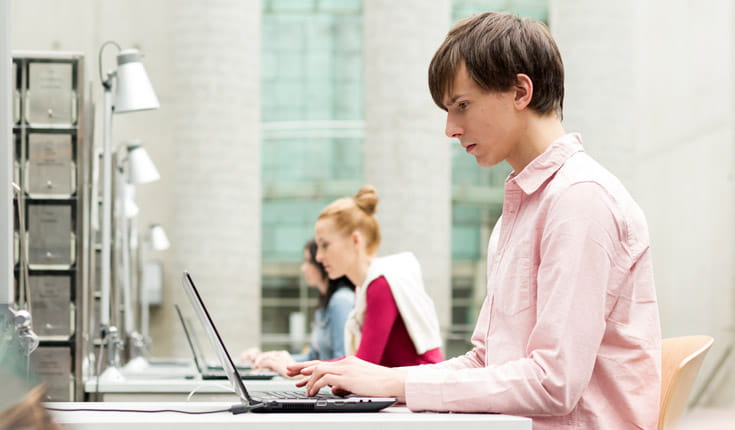 What kind of career do you want for yourself? If earning a higher salary, managing high performing teams, and being a part of an extensive network of successful international businesspeople appeals to you, then applying to a Canadian business school for your MBA or business master's degree might be the next step you're searching for.
Everything you need to know about applying to a Canadian business school
Read on for our top tips and resources as you consider COVID-19's impact, identify your best fit program type, navigate the admissions process, and prepare for the GMAT exam.
Why should you choose a Canadian business school?
Home to some of the world's top business schools, Canada boasts top MBA and business master's programs which can enrich your life and career in the following ways:
In demand skills. Gain the skills and credentials that will help you stand out in a competitive hiring market and add value to your company right away.
Network support. Relationships can mean a lot in business, and being a part of an extensive business school alumni network can open doors for your career.
Career opportunities. Having a business master's or MBA signals to your employer that you are management material and can put you on the fast track to higher levels of responsibility.
Return on investment. Investing in yourself now pays off over the long term. Business school alumni rise higher and faster than peers without degrees, and over the course of their careers they earn significantly more than they would have otherwise.
A chance for an international career. For many, earning an MBA or business master's in Canada creates employment opportunities through Canada's immigrant-friendly post-graduation work permit policies.
COVID-19, your career, and a Canadian graduate business degree
During periods of recession like the current one brought on by the COVID-19 pandemic, job competition increases while job supply diminishes. Therefore, you should use this time to do whatever you can to increase your employability and set yourself apart from the crowd in terms your skill sets. Read our analysis of the current Canadian job market and how to upskill yourself in our article: How to Get Hired in Canada During COVID-19.
While COVID has wrought unparalleled change and uncertainty, your business education and career trajectory are two areas that you can continue to develop. Read our take on why during the pandemic may be the perfect time for you to pursue a graduate business degree: Is COVID-19 a Good Time for Me to Pursue My Graduate Business Degree in Canada?
Of course, not all the learning you'll do in business school happens in the classroom. Among the most valuable aspects of the MBA experience is the business school internship. Internships offer priceless opportunities to gain experience in a different job function or industry, test your fit with a specific organization, and build new skillsets in an actual workplace setting.
Amid all the havoc wrought by COVID-19, are companies offering MBA internships right now? Read our analysis of recent survey data that shows how 9 in 10 companies plan to offer business school internships this year, although most will at least begin virtually.
Which program type is your best fit?
An important decision you'll need to make on your journey to business school in Canada is what program type you want to pursue. Schools offer a diverse portfolio of program types, all geared toward different types of students seeking different outcomes and learning experiences.
The number of options can feel overwhelming, so here's some of our best guidance for making the right choice.
A full-time MBA is a strong choice for applicants with about three to seven years of experience. A Master of Business Administration, or MBA, is a general graduate business degree that teaches students technical, managerial, and leadership skills. Earning an MBA gives you valuable business acumen, expands your professional network, and creates new opportunities. It's an ideal option to consider whether you want to enhance your career, transition to a new industry, or become an entrepreneur.
Read more: How an MBA Can Help You Prepare for an Uncertain Future
What if you're an experienced professional? Executive MBA (EMBA) programs are designed for seasoned professionals who are already leaders in their organizations and want to expand their network, accelerate their leadership development, and learn new skills in the classroom that they can immediately apply at work. Because their classmates are leaders of other companies, EMBA students can learn how their colleagues solve problems at their respective companies and use that knowledge to benefit their employer.
Of course, an EMBA isn't your only option; there are other professional b-school programs, such as executive master's or online and flexible MBAs, that cater to candidates looking for more flexibility in their advanced degree.
Take the quiz: Is Now the Right Time to Go Back to School?
What if you're right out of undergrad or just starting your career? Unlike MBA programs, business master's programs are designed specifically for students with little to no work experience. Many are generalist programs, but business schools also offer a number of specialized business master's program that teach in-demand skills specific to a particular role or industry—like a Master in Finance, Master of Accounting, or Master of Data Analytics, to name a few. Developing one of these skillsets at the start of your career can help you stand out to top employers.
The Master in Management is a generalist option, providing you with the theoretical groundwork you need before starting your career through a broad, general management curriculum.
Read more: Post-College Career Advice for the Class of 2020
Canada is especially welcoming of international students
Business schools in Canada are many international students' destination of choice for high-quality education at an affordable cost in a safe, welcoming, multicultural environment. The mix of high quality of life, cohorts of highly engaged and talented students, and an overall immigrant friendly environment make Canada among the world's top destinations for internationally mobile business school applicants.
Read more about the requirements for studying business in Canada as an international student, postgraduate work permits, and pathways to permanent residence in our article Launch Your Career in Canada: Study and Work Permits for International Students.
Are you a non-Canadian citizen currently in Canada? Check out this article for guidance on where to pursue your graduate business degree and continue your career: Should You Pursue Business School in Canada or Return Home?
Get into your top choice Canadian programs with our admissions tips
MBA.com has a wealth of resources and guidance to help you differentiate yourself in the business school admissions process. Here's a collection of some of our top tips:
For more helpful application tips, download our guide: The Key Pieces of My Application
Stand out in a competitive applicant pool with a strong GMAT exam score
Putting your best foot forward in the business school admissions process begins with achieving your best GMAT exam score. MBA and business master's programs at Canada's leading business schools accept the GMAT exam because it's a proven predictor of your ability to succeed in their classrooms. Applying with a competitive GMAT exam score demonstrates your commitment and motivation and helps you stand out in the admissions process.
Read more: GMAT Exam Prep: Three Steps to Identify Your Testing Strengths and Weaknesses
Learn about the five ways for you to tailor your GMAT prep and access other useful prep resources, like the 8-week study planner and the GMAT Mini Quiz.
Wondering how much time you need to devote to prep? Use our interactive tool to estimate your required study time and receive a study plan tailored to your available time.