10 Most Common Business School Interview Questions
10 Most Common Business School Interview Questions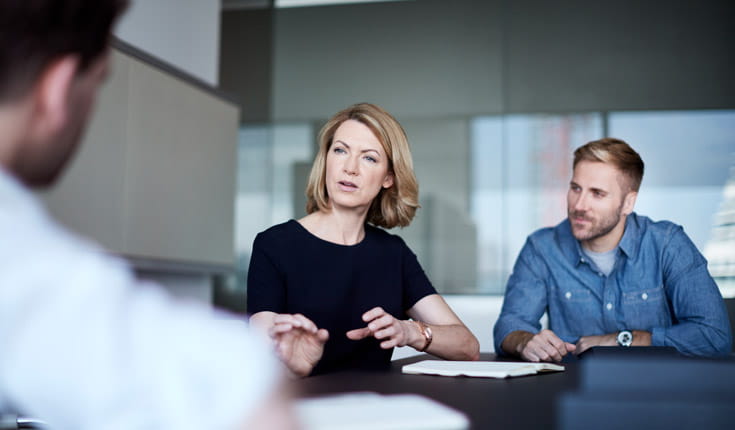 Why do you want an MBA from our school? What's your leadership style? If you had $100 million, what would you do with it?
The questions you may be asked during your business school admissions interview run the gamut from common to completely unexpected. Your best strategy is to be prepared to answer questions like these so you can rock your business school interview.
Common business school interview questions you may be asked:
1. Tell us a little about yourself.
This open-ended question will sink you if you don't prepare ahead of time to address your background and experience concisely (2-3 minutes, max). Plan to talk about topics like your undergraduate education and why you chose that major; your past and recent work experience and accomplishments; and what your future career goals are.
2. Describe a failure in your life. How did you overcome it?
Identify a real failure; your reaction to the situation; and what you learned in a way that connects it to a future success story.
3. What are you strengths and weaknesses?
Answer this by focusing on transforming your weaknesses into strengths.
4. What have you accomplished as a leader?
Prepare several leadership examples in your work, as well as your volunteer or community roles.
5. Discuss a time when you had to deliver bad news.
This question gives business schools valuable insight regarding your emotional intelligence, teamwork skills, and communication capabilities.
6. Describe an ethical dilemma you faced.
Share one that didn't have a clear solution so it demonstrates your leadership, integrity, and ability to navigate a difficult circumstance effectively.
7. Why do you want to earn a graduate business degree?
Explain your motivation in detail and how it will augment your career aspirations.
8. How will you benefit from our resources?
This is not a trick question—it's how your prospective b-school determines what you know about their program (curriculum, activities, etc.) and if it's a good fit for you.
9. Why should we admit you?
This question gives you a chance to promote your accomplishments and align them with how your experience will help enhance their program.
10. Do you have any questions for us?
Have a list of questions to ask. Read on to learn more…
Turn the Tables: Questions You Should Ask
A successful business admissions interview is one where you're engaged, curious, and interested by asking questions. Be prepared with questions that show you've done your research about that business school, such as:
Class or course-specific questions about what your program of interest offers.
How that school supports its students during their graduate business degree experience, as well as post-graduation.
Interests outside of the program you're applying to (community-focused organizations, professional clubs, etc.).
It's also good to ask about their opinion of the school or graduate business program. Another smart question is to ask the admissions officer what advice they would give an incoming student. Impress your prospective business school—consider these and more MBA interview questions you should ask.
Want to learn more about preparing for your b-school interview? Check out our article, "How to Ace Your MBA Admissions Interview."