Launch Your Career in Canada: Study and Work Permits for International Students
Careers in Canada: Study & Work as an International Student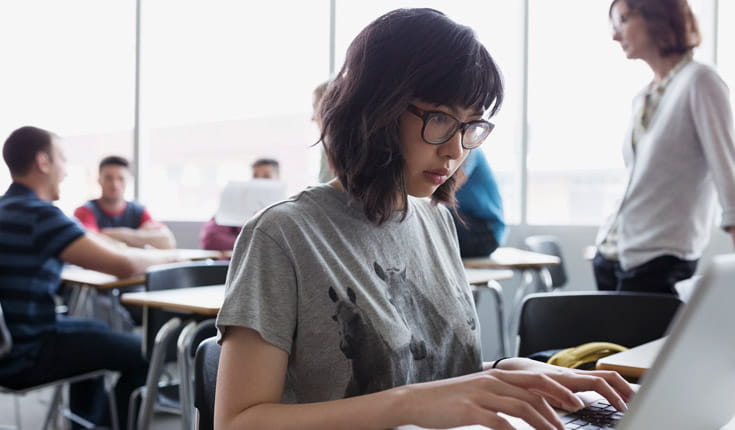 Are you thinking of studying abroad for business school but are unsure where to go? If you really want to study in an international-friendly environment and stay after you graduate to launch your career, studying and starting your business career in Canada may be exactly what you're looking for.
Why pursue a business career in Canada?
Business schools in Canada are many students' destination of choice for high-quality education at an affordable cost in a safe, welcoming, multicultural environment. There are a number of reasons why Canada is an especially attractive study destination for international applicants and a great place to begin a career in business.
Quality of life. Canada ranks as the number one country in the world for quality of life, considering a variety of factors including access to food and housing, quality of education, job security, political stability, individual freedom, environmental quality, and more.
Learn with some of the world's brightest students. Some of the world's leading universities and business schools are located in Canada, and the country attracts top talent from around the world to study in its classrooms.
Immigrant friendly environment. Canada's values are informed strongly by its multicultural, multiethnic, and multilinguistic citizenry. More than 1 in 5 Canadians are immigrants themselves, and the government's policies toward immigration are informed by its understanding that immigrants bring tremendous economic and cultural value to the country.
What are the requirements for studying business in Canada as an international student?
After taking the GMAT exam, submitting your applications, and being admitted to a Canadian MBA or business master's program, you will apply for a study permit online with your letter of acceptance, proof of identity, and proof of financial support.
What is a Study Permit? A Canadian Study Permit is a document that allows foreign nationals to study at designated learning institutions in Canada. Keep in mind that a study permit is not a visa—by itself it does not allow you to enter Canada. When you're approved for a Study Permit, the Canadian government will also issue you a Visitor Visa.
How long can you stay in Canada with your Study Permit? You can stay in country 90 days after the completion of your program, which is enough time for you to either prepare to leave Canada or apply to extend your stay through a work permit or begin the process for permanent residence.
Work permits and pathways to permanent residence
Interested in working in Canada after earning your business master's or MBA? You can obtain a Post-Graduate Work Permit (PGWP) after your studies, allowing you to work anywhere in Canada for up to three years—depending on the duration of your program.
If you complete a one-year MBA or business master's program (with a program length longer than 8 months but shorter than two years), you can receive a PGWP for the same length as your program. If you complete a two-year MBA program, you are eligible for a 3-year PGWP. You will have 180 days after you get your final marks to apply for a PGWP.
Canada offers multiple different programs for becoming a permanent resident, as well. The Canadian government's Come to Canada Tool makes it easy for you to understand which immigration programs you can apply for.
As a graduate of a Canadian business school program, you will likely qualify for Express Entry—the application process for skilled immigrants who want to settle in Canada permanently. If during your PGWP you complete a minimum of one year of Canadian work experience, you can apply for Canadian Experience Class, one of the three federal programs managed through Express Entry. If you have less than one year of Canadian work experience, you can apply as a Federal Skilled Worker. Speak with the business school programs you're interested in and ask about the norms around working while you study—and paths to post-graduate work and permanent residence.
Read more on the Government of Canada immigration and citizenship website.
Canada's leading business schools accept the GMAT exam
Putting your best foot forward in the business school admissions process begins with achieving your best GMAT exam score. MBA and business master's programs at Canada's leading business schools accept the GMAT exam because it's a proven predictor of your ability to succeed in their classrooms. Applying with a competitive GMAT exam score demonstrates your commitment and motivation and helps you stand out in the admissions process.
Explore Canadian business school programs in Program Finder.
Are you ready to launch your career in Canada? Your first step is to earn your best GMAT score by finding your best test prep solution. Learn about the five ways for you to tailor your GMAT prep and access other useful prep resources, like the 8-week study planner and the GMAT Mini Quiz.
Ready to take the test? Create an mba.com account to reserve your exam appointment today!
Wondering how much time you need to devote to prep? Use our interactive tool to estimate your required study time and receive a study plan tailored to your available time.