Studying Business in Germany: A Complete Guide for GMAT Exam Candidates
Studying Business in Germany: A Complete Guide for GMAT Exam Candidates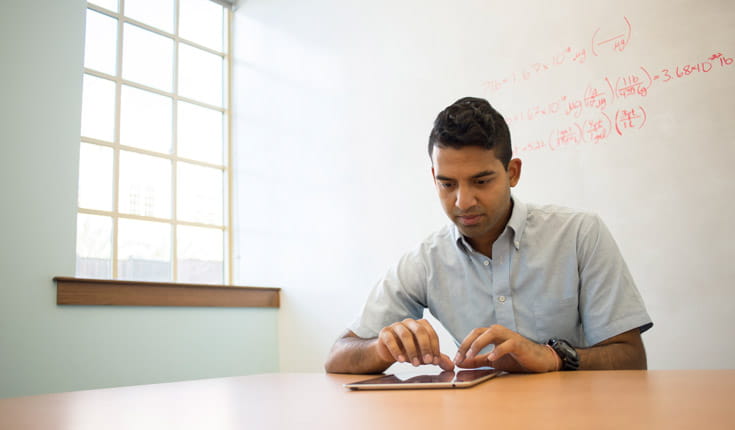 Germany is home to the fourth-largest economy in the world, with a nominal GDP of nearly four trillion dollars. Marked by a healthy and resilient labor market and substantial expenditure on research and development, the country is a perfect place for ambitious professionals.
According to the World Economic Forum's 2018 survey, Germany is the third most economically competitive country in the world. This environment is one filled with opportunities for intelligent and creative business students. There are a wide variety of business education programs in the European nation, and the options for business education expand significantly with a good GMAT score.
Read on to learn more about the modern landscape of business in Germany, the country's institutions, and how the GMAT can help aspiring business professionals access career-changing opportunities.
Germany's lucrative environment for business graduates
Germany's environment is full of opportunity for business graduates. Whether looking for work in Berlin or Munich, in finance or pharmaceuticals, graduates can be sure they will find a position that maximizes their potential. Here's an overview of some of Germany's various industries, cities, and the possibilities contained within them.
German cities are full of innovation and opportunity
While Germany is home to some of the most recognized brands in the world, small and medium-sized businesses are in many ways the foundation of the economy. This is beneficial for prospective business school graduates, as it creates an economic landscape filled with unique opportunities. Different cities within Germany create different kinds of opportunities within their local innovative sectors.
Berlin, for example, has a significant research and development sector. Companies such as Volkswagen, Pfizer, and SAP all have innovation labs in the city, which also contains the Berlin Adlershof Science City—the technology park with the biggest revenue in the country. Frankfurt, on the other hand, is a traffic hub as well as home to one of the largest Internet Exchange Points in the world. It also contains large finance, insurance, information technology, and telecommunications sectors.
To the south, Munich is a wonderful city for startups, including brand new institutions in the fields of nanoscience, aerospace, and environmental engineering. The city of Cologne, by contrast, is a global center for the insurance and chemical industries, known worldwide for its "chemical belt" where innovative international companies cluster together. Over in Hamburg, various levels of government are collaborating on infrastructure that supports innovation, like creative urban redevelopment projects.
There are many fields where graduates can establish their careers in Germany
With Germany's openness to smaller and medium-sized businesses, it's a great place to stoke an entrepreneurial spirit, switch industries, or grow an established career. There are many inspiring career opportunities for business school graduates within Germany's varied industries. One of Germany's most important sectors is the automotive industry. Referred to as the spine of the German economy, this field creates approximately 60% of the research & development growth of the entire continent. The household names of Volkswagen, Mercedes-Benz, BMW, and Audi all began there.
The mechanical and plant engineering sector, however, is also a huge player within Germany's economy and is the nation's largest employer. Business school graduates can find jobs within this industry by pursuing positions in management, finance, or as an entrepreneur. The finance and insurance industry, by contrast, is one of the country's fastest-growing, bolstered by the location of the European Central Bank in Frankfurt. As mentioned earlier, Germany's lucrative chemical and pharmaceutical industry can also be a great place to establish business success: the country maintains the title of international leader in chemical exports.
An introduction to German business education
Receiving a business education in Germany can be a great way to break into the manifold opportunities within its different cities and industries. Aspiring business students can enroll in an education that hones their skills and abilities, preparing them for a professional career in the bustling, lucrative German environment. There are many different programs available in Germany that can suit a students' individual career aspirations, and these programs are structured to foster and validate diversity.
How German business education helps aspiring entrepreneurs
In Germany, the Mittelstand, or the small- and medium-sized businesses, account for more than half of the nation's GDP. This creates a lucrative environment for aspiring entrepreneurs, who can take advantage of the country's receptiveness to small and novel businesses.
This also creates an environment where new professionals can connect with many other like-minded entrepreneurs and form critical connections. The best way for these professionals to take advantage of this climate is through a business education.
A business education can be conceptualized as a kind of risk management. Though a business professional doesn't need a degree to succeed, education can school them in topics they won't have to learn through trial and error. Effective communication, concept development, leadership, and finance skills are all carefully examined. A student's time in a German business institution can also help them establish relationships with important mentors and coaches, as well as other contemporary professionals in their fields.
The specialized business programs available in Germany
A student seeking business education in Germany can enroll in a typical MBA, but there are also many institutions in Germany where students can enroll in highly specialized business programs. Schools like ESMT Berlin, the Frankfurt School of Finance and Management, and the Otto Beisheim School of Management offer programs that are specific to unique business interests.
One such program that students can enroll in after taking the MBA entrance in Germany is a Master of Finance program. Within these programs, students learn about financial theory, investments, markets, and mathematics. This prepares them to take on finance-specific careers in fields such as investment and risk management.
Another specialized program offered by several business schools in Germany is a Master's in Management. Within this program, students are educated in a broad range of subjects relevant to business. These programs are differentiated from traditional MBAs by being grounded more in theoretical concepts and geared towards teaching leadership skills.
Importantly for our modern, digital world, a specialized Master's in Applied Data Science program can prepare German business school students for the practical management of data. These programs teach students how to engage with data using a combination of scientific methods, processes, systems, and algorithms. They can go on to use data to improve their business outcomes and potentialities.
How German business schools embrace diversity
The maintenance of diversity and equality are important issues for business schools in Germany. There are several methods by which these institutions ensure their environments are diverse. Many schools, such as the Mannheim Business School and the Frankfurt School of Finance & Management, institute scholarship programs so that students of diverse backgrounds don't pass up study opportunities due to financial issues.
In addition, other methods these institutions take include events and workshops dedicated specifically for women or diverse students, hosting roundtables and discussions on inclusion both in education and the workplace, making pledges and commitments to implement tangible equality measures, and adjusting their infrastructure to ensure it's barrier-free.
The necessary skills students are taught at German business schools
Business students in Germany learn several skills during their education, from the time they take the GMAT exam through to when they graduate. These abilities will help prepare them for success within Germany's competitive economy, from finance expertise to data analysis to sought-after soft skills. Here's an overview.
Expertise in finance can help students in Germany excel
The GMAT exam helps demonstrate a student's aptitude and current level of skill and knowledge. One of the parts comprising the test is quantitative reasoning, wherein test-takers prove their ability to draw conclusions after analyzing data, reason mathematically, and solve problems. These skills all assist test-takers in demonstrating their abilities when applying to top programs in Germany. For those interested in finance, the opportunity to develop these skills even further can offer many benefits.
Want to learn about how the right program can open doors for career opportunities? Click here for more information.
Expertise in finance can enable business professionals to budget accurately, make sensible investments, and practice informed borrowing. Whether working as an entrepreneur or for a company, these skills can help enable success and upward mobility within Germany's bustling, innovative sectors. Knowing the appropriate financial language and frameworks to relate to other entrepreneurs, colleagues, and organizations can also assist professionals in building resilient financial relationships.
The importance of understanding data for prospective business students in Germany
In many important ways, data is the foundation of the modern economy. New technologies have enabled information to travel faster and be collected at greater rates. This has significant consequences for the business world, as data can provide insights and help make businesses more efficient and effective. Business schools in Germany can help students clearly understand how to use data during their careers.
Business students in Germany are taught a combination of technical skill, strategic thinking, and general business adeptness that help them to effectively manipulate data to uncover the trends and patterns underlying it. The centrality of data-grounded thinking is a priority for many business programs in Germany, where students can learn about marketing analytics, operations analytics, and Big Data.
Soft skills can help German business professionals excel in their careers
Students can enroll in high-quality business programs throughout Germany. Importantly, these programs don't only educate students in technical and administrative skills. They also help students develop their soft skills, which are becoming increasingly important and sought-after.
Soft skills are the interpersonal abilities that enable cooperative and effective business relationships. With these skills, professionals can build strong teams, deliver bad news tactfully, lobby criticism productively and effectively, and more.
Learning these skills is different from learning the hard skills associated with a business education. It can be more difficult to internalize how to interact empathetically with other people. However, soft skills tend to have a high return on investment; these skills are both in demand and scarce.
Recruiters consistently identify communication and interpersonal skills as more valuable and sought after than other skills. By completing a business school education in Germany, students can focus on developing their soft skills through a variety of initiatives, such as the use of collaborative projects, workshops, and course modules on subjects such as team building and intercultural communication.
Are you ready to undertake the GMAT exam in Germany?
Together, all of the opportunities within Germany present an exciting prospect for ambitious professionals. Those looking to establish or grow their career in the country can benefit greatly from attending a German business school. You can develop important skills, gain information and insights that make you an asset, and develop a valuable professional network. Of course, it all begins with the application process.