Four Ways Business Schools in Germany Embrace Diversity
Four Ways Business Schools in Germany Embrace Diversity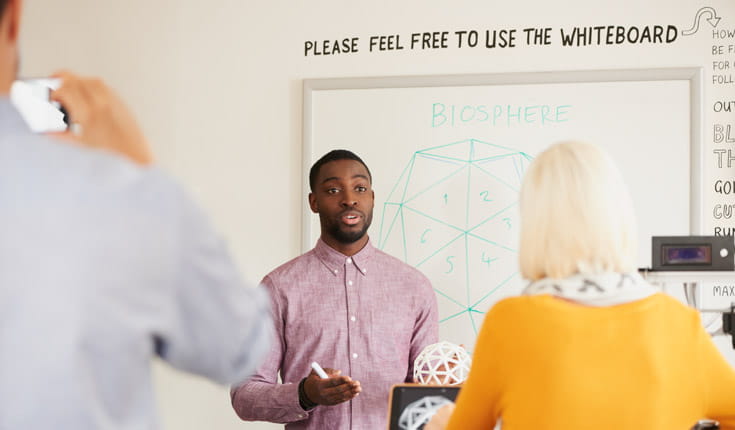 Diversity and inclusion are important to modern academic institutions. It's necessary that schools actively work to counter systemic prejudices. Fortunately, many renowned business schools in Germany put forward policies and practices to make their programs more welcoming to women, people of color, and other minorities.
Investing in a more diverse and inclusive environment isn't only about ensuring programs are accessible to populations that have historically been disenfranchised. Diversity in an institution is a net positive for everyone. Diversifying an academic environment means allowing creativity and innovation to thrive. With greater diversity in voice and perspective comes greater opportunity for new ways of thinking and creating. Read on to find out four ways German business schools embrace diversity and inclusion in real, material ways.
Offering scholarships and aid for diverse applicants
One of the central issues in the relationship between academic institutions and marginalized communities is in the realm of finances. Feeling welcomed sometimes isn't enough because no amount of representation can compensate for a financial barrier. Though pay gaps between genders and racial backgrounds are closing, they still do exist. One of the ways that business schools in Germany compensate for this is by providing scholarships specifically for women and students of diverse backgrounds.
Mannheim Business School, for example, operates a Scholarships for Women in Business program, meant to support female students with outstanding achievements and social commitments in their endeavors. ESMT Berlin also provides scholarships to female candidates who earn a GMAT exam score of more than 650. HHL Leipzig Graduate School of Management, in an effort to draw more students from outside of Europe, offers two scholarships for outstanding part-time MBA candidates with an international background.
Want to learn more about how attending business school benefits women? Check out Entrepreneurial Women Find Success Through Business School.
Pledging to create diverse environments
Business schools in Germany publicly state their commitment to facilitating more inclusive environments. These pledges, going further than just signaling their openness to a diverse student body, result in material changes to policy and infrastructure.
For example, the University of Cologne has pledged to raise the percentage of women in top academic positions. Another leading institution, ESMT, signed on to Germany's Diversity Charter in 2019. This pledge adds them to a nation-wide network of companies, organizations, and institutions committed to creating and maintaining inclusive environments. Within this, they pledge to prioritize and champion the values of non-discrimination with regard to gender identity, nationality, ethnic origin, religion, ability, age, and sexual orientation.
Hosting workshops and discussions on inclusivity and diversity
Another vital way that German business schools embrace diversity is by providing spaces where skills and knowledge can be shared between members of diverse communities. Having dedicated spaces where people can speak to their unique experiences, advocate for themselves, and raise awareness is central to an inclusive educational environment.
Many business schools in Germany take initiatives along these lines. ESMT Berlin hosts roundtables and clubs on Inclusive Leadership and Women in Leadership, facilitating discussions on the importance of diversity and inclusion in the workplace. Mannheim Business School takes part in the Vital Voices Mentoring Walk, an event where both established and emerging women leaders meet and connect with one another. Otto Beisheim School of Management has an Initiative Women into Leadership program, designed for women to empower one another in a supportive environment. They also have a Diversity at WHU student initiative, that seeks to discuss and bring attention to LGBT and race issues in business.
Investing in equitable infrastructure
Business schools in Germany embrace diversity and work to be inclusive by adjusting the infrastructure of their institutions so that no student is left out. They do this by providing necessary accommodations for persons with disabilities, building an effective access policy, and working to ensure that any barriers to student participation are addressed.
For example, the University of Cologne has invested in infrastructure that is family-friendly and accessible. They offer parent-child offices on campus, as well as childcare during events. This, in addition to policy measures that seek specifically to counter discrimination and ensure equal treatment on campus, help to foster inclusion. Policy measures seek to create equal opportunities within staffing, elections, and support measures, and to counter discrimination by integrating gender, LGBT, and diversity studies in all research and teaching. Through these approaches and more, business schools across the country are embracing diversity.
Are you ready to take the GMAT exam in Germany?
Germany's leading MBA and business master's programs accept the GMAT exam because it's a proven predictor of your ability to succeed in their classrooms. Taking the GMAT exam in Germany and applying with a competitive score demonstrates your commitment and motivation and helps you stand out in the admissions process. Register today to reserve your testing appointment.
There are hundreds of excellent MBA and business master's programs in Germany for you to choose from. For more, go to Program Finder and search "Germany" as your location.