Five German Cities Full of Innovation and Opportunity for Aspiring Business School Students
5 German Cities for Aspiring Business School Students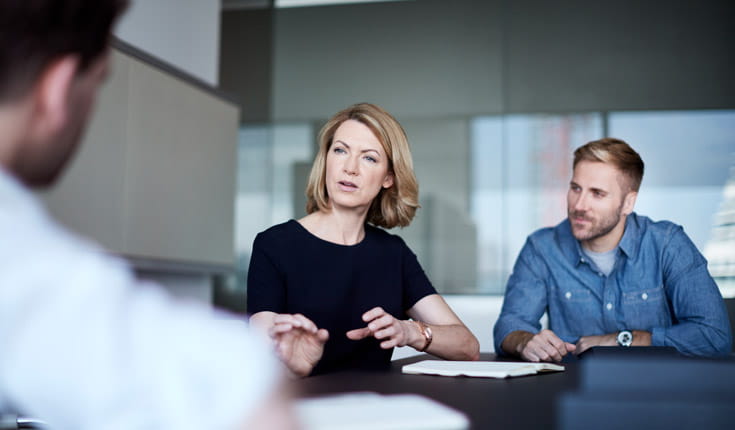 Are you considering an MBA or business master's in Germany? Discover the potential for GMAT test takers in five of the nation's most exciting cities.
Germany is home to some of the most innovative professionals in the world. Though the country is famous for its successful corporations like Volkswagen, Adidas, and Siemens, small and medium-sized businesses form the foundation of its economy.
This combination puts it at an advantage in terms of innovation and business opportunity, evidenced by the fact that the country was ranked seventh in terms of economic competitiveness in 2019 by the World Economic Forum. It also makes it an ideal location to attend business school for both current German residents and prospective international students.
As you weigh your business school options and prep for the Graduate Management Admission Test™ (GMAT™) exam, you may be searching for a city that's as enterprising and determined as you are. Here are five German cities that could fit the bill.
Job opportunities in the bustling capital of Berlin
The German capital is its largest city in terms of both landmass and population, and its scale gives rise to many bustling and innovative industries. Research and development (R&D) is a particularly economically significant sector in Berlin. Large internationally renowned corporations such as Volkswagen, Pfizer, and SAP all have innovation laboratories in the city, while smaller, newer technology startups cluster around the Eastern area of Mitte.
Berlin is also home to a number of internationally renowned business schools, including ESMT Berlin and GISMA Business School. These schools adopt the technologically advanced nature of the city with innovative enterprises. ESMT Berlin partners with a number of national and international schools, startups, and businesses on a number of progressive projects, while GISMA Business School uses initiatives like their Innovation Lab to foster creativity and novelty.
Are you researching different business schools? Watch our video about how to determine which school is the best fit for you.
Business School entrance in Munich is ideal for those interested in tech and innovation
Munich's balanced medley of industries, excellent infrastructure, and recreational facilities gives it a prosperous economic climate and an undeniable appeal to innovative young professionals. The city is an exponentially growing metropolis, which also makes it one of the most important and lucrative property markets in Europe.
Students preparing for a business master's or MBA program in Munich can expect to find a center of expertise in technology and innovation. New institutions in fields like nanoscience, aerospace, and environmental engineering occupy the same spaces as household names such as BMW, General Electric, Google, and Intel. To get some sense of the city's economic potential, a quarter of all German private equity investments happen here.
This diverse economic climate makes it the perfect environment for a student in business. A GMAT score can grant students access to institutions like the Munich Business School, which hosts seminars on digital innovation to inspire students to shape the future.
Cologne is renowned for its insurance and chemical sectors
Cologne is bursting with economic potential, serving as a global center for both the insurance and chemical industries. Home to both well-established insurance corporations and newer, more innovative companies, Cologne's InsurLab Germany e.V. works as a networking hub that connects the entire industry to facilitate innovation. You can choose to study at an institution like the University of Cologne, which offers a Master in Management program.
The city is also home to a well-known research and academic community in medicine and biotechnology. Cologne's "chemical industry belt" is one of the world's leading regions for chemicals and pharmaceuticals, containing around 260 chemical companies of different sizes and specialties. These companies produce a variety of products, from engine fuel to toiletries. If you want to work in the insurance or chemical sectors after earning your MBA or business master's, Cologne is a great option for you.
Finance opportunities in Frankfurt, Germany's financial capital
The city of Frankfurt boasts more than 43,000 different companies of varying size and industry, from finance and insurance to information technology (IT) and telecommunications. The city is a traffic hub and central internet exchange point, and there is close collaboration among companies, regional universities, and research institutes--which makes it an essential spot for innovation.
Frankfurt is Germany's financial capital as well as one of the most important financial centers globally. This is increasingly true after Britain's exit from the EU, as many international banks are now opting to relocate from London to Frankfurt. The significance of being home to both the German Bundesbank and the European Central bank bolsters opportunities within the financial sector.
Study options for prospective business school applicants include the Frankfurt School of Finance & Management. This school conducts research on the intersections of artificial intelligence, finance, and management at their Centre for Human and Machine Intelligence, a combination which perfectly reflects its home city.
Hamburg is building the smart city of the future
Hamburg is a key location for innovation in part because of the supporting efforts by local and regional governments. Local policy measures have been instituted to support initiatives in the aviation, creative, healthcare, life sciences, logistics, maritime, media and IT, and renewable energy sectors.
Hamburg has also introduced new projects to support smarter city initiatives. On the Elbe River, the in-progress HafenCity district is the largest urban redevelopment project in Europe, bringing together the most innovative architects, planners, and technology companies to create the downtown core of the future. GMAT test takers interested in being part of this bustling environment could consider studying at Kühne Logistics University, which makes digital transformation a central part of its mission.
Achieve your best GMAT exam score and launch your career at a German business school
The exciting and innovative career of your dreams is within reach! Leading German business schools know that if you take the GMAT exam you are serious about earning a graduate business degree, and a GMAT exam score demonstrates your commitment, motivation, and ability to succeed in their classrooms.
Do you want to start working towards sitting the GMAT exam and studying in Germany? Start preparing for the GMAT exam today by checking out our top 10 study tips and using our interactive tool to create your own personalized study plan!