What Are the Most Popular MBA Specializations?
What Are the Most Popular MBA Specializations?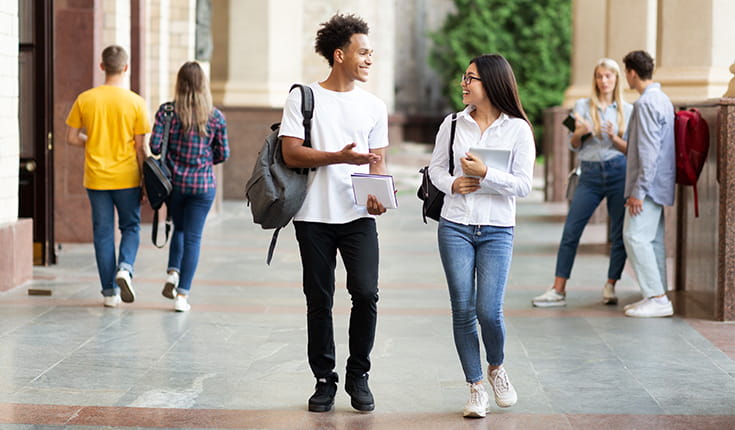 The MBA degree is known for giving you a holistic overview of business. Core MBA modules cover marketing, finance, strategy, accounting, and more vital management topics, and additional electives allow you to dive into what interests you.
As a result, this degree opens doors to plenty of career opportunities in business management, international business, and business administration. MBA courses lend students good communication skills, knowledge of business strategy, and strong leadership capabilities, and this makes them highly in demand.
In fact, according to the Graduate Management Admission Council's 2022 Corporate Recruiter's Survey, 87 percent of corporate recruiters are either confident or highly confident in business schools' abilities to prepare students to be successful in their future roles.
So, we know that the MBA prepares students well for future career opportunities. But, what if you want to dive further into a specific topic?
Even though the MBA is a general business management degree, there is still a way for you to do that: through MBA specializations.
An MBA specialization offers you the chance to complement your generalist management training by becoming an expert in a chosen field. A specialized MBA is a way for you to prepare for a specific career in business or just explore an interest in-depth.
But how do you know if a specialized MBA is for you? Which specialized management program should you choose? And what are the most in demand MBA specializations?
Table of contents
What is an MBA?
To start with, let's clarify exactly what an MBA is. A Master of Business Administration is a generalized management degree that usually lasts one or two years. You can also complete this type of program online or part-time.
An MBA is generally for students with at least three to five years of previous work experience. The program will introduce you into business concepts like financial management, human resources, project management, and business strategy.
You may also take additional courses in leadership or explore innovative technological concepts like business analytics and AI.
Because the MBA is a general management degree, many people use it not only to advance their careers but also to switch industries in the business world. MBA students gain knowledge in a wide variety of areas, meaning you can follow a career in any number of industries.
In India, you'll often see an MBA degree described as a PGP, or post graduate diploma in management.
What is an MBA Specialization?
Specialized MBAs allow you to build expertise in a particular industry or function during your MBA. As part of your specialization, you will follow mandatory MBA courses in your chosen subject, which aim to enhance your knowledge.
In a traditional two-year MBA, you may spend your first year focusing on your core modules before specializing in your second year through electives concentrated on a specific topic area.
This could include a summer internship centered on your specialization, but you may also get to specialize further during your final MBA dissertation.
In a full-time, one-year MBA degree, as with a two-year program, you'll only begin to specialize during the final part of your course - usually the last three to six months.
There are lots of specializations to choose from, covering everything from general management and finance to marketing and entrepreneurship. However, not every MBA college will offer every specialization.
MBA specializations typically come in two forms, either as dedicated specialized MBA programs or a traditional MBA with a specialization track.
On a dedicated program, you will likely have most of your classes with other students who are following that MBA specialization. On a specialization track, your larger MBA class will usually split into specializations during the latter part of the program.
Why Should I Choose an MBA Specialization?
MBA specializations are particularly valuable for students who already know they want to pursue a career in a specific industry or role. In this case, a specialization on an MBA course can grant you advanced knowledge in this particular area and increase your chances of finding a suitable role after you graduate.
However, specializations are also a way to make your MBA program more tailored to your interests. Even if you don't know where you want to work afterwards, a specialized MBA can make your MBA experience more personal and ensure you stay motivated throughout your course.
What is the Difference Between an MBA Specialization and a Major or Concentration?
At some MBA colleges, you may not see the word 'specialization' associated with MBA programs but 'major' or 'concentration' instead.
However, all of these words refer to similar things - a more focused program of study that provides you with specific knowledge in a particular area of business. These specialized degrees will prepare you for a specific career area while supplying you with the same skills as a general MBA program.
Popular MBA Specializations
MBA General Management
As the name suggests, a general management specialization covers everything you need to be the ideal generalist in the workplace.
An MBA is already a generalist management degree, so an MBA general management concentration gives you the option to build out your general management skills even further, offering a wide array of electives covering topics like people management, operations, and digitalization.
The variety of roles that you could move into after graduating means the MBA General Management specialization is a good choice if you're looking to keep your career prospects open.
Topics most frequently covered on a general MBA program include:
Accounting
Marketing
Finance
Decision-making
Entrepreneurship
Strategy
Negotiation
Top B Schools for MBA Specializations in General Management
There are plenty of prestigious general MBA programs around the world. Many of these are located in the United States, though there are other high-ranking programs in Asia and Europe.
According to the Financial Times, these MBA colleges offer the best generalized MBA programs in the world:
Careers after an MBA Specialization in General Management
Graduates of a general MBA degree are ready for a wide range of careers. The most popular areas for graduates of a generalized degree include consulting, finance, investment banking, business development, and technology.
However, a generalized MBA degree also offers the skills required for students to start their own businesses. Similarly, many people use a general MBA course to go into family business management.
MBA International Business
Are you interested in travelling or working abroad during your business career? Then you might consider an MBA program with a specialization in international business.
This MBA program will follow the same curriculum as a general MBA course, but with a focus on global business, including international finance, economics, and cross-cultural management.
You'll learn how other countries conduct business from a legal and cultural standpoint, as well as how to manage and lead diverse teams. Your specialization will likely also include study trips abroad, where you can apply your skills to real life business situations.
Top B Schools for MBA Specializations in International Business
According to the US News ranking, the MBA program at the University of South Carolina Moore is the best in the US for international business study. Other programs in the top five include Harvard Business School, Georgetown University McDonough, NYU Stern, and Florida International University.
In Europe, you can study an MBA in International Business at institutions including EU Business School, Emlyon Business School, and the University of Birmingham.
Careers after an MBA Specialization in International Business
An international business specialization can prepare you to enter an array of roles with multinational companies that operate around the world.
If you study abroad, you may also get the opportunity to learn a language alongside your business studies, opening up further career opportunities in international management.
An MBA specialization in International Business can also prepare you to work in a family business or a smaller, more local organization that has international aspirations.
MBA Finance
Have you set your heart on a role with Goldman Sachs or JP Morgan? If that's the case, then an MBA finance specialization could be your ticket to launching a coveted career after your MBA.
Finance is one of the most in demand MBA specializations, primarily because finance is one of the most popular routes for MBA graduates. An MBA finance specialization may deep dive into asset management, fintech, how to control strategic and financial risks, and how to value your own or another company.
Typical MBA finance courses cover:
Private equity and venture capital
Valuation and M&A
International financial management
Fintech and digital finance
Corporate finance
On an MBA in Finance, you may also be able to apply your business skills in hands-on workshops with finance software like Bloomberg terminals.
Top B Schools for MBA Specializations in Finance
According to QS, the top five business schools for an MBA in Finance are: University of Pennsylvania, Wharton, Stanford Graduate School of Business, Harvard Business School, Columbia Business School, and University of Chicago Booth.
However, it's not just US business schools that offer specialized finance MBAs. The top-ranked European MBA program with a finance specialization is at Oxford University's Saïd Business School, though London Business School and HEC Paris also have high-ranking finance concentrations.
Careers after an MBA Specialization in Finance
Graduates from an MBA in Finance degree will have the skills required for a variety of roles in financial management, both in traditional banking and corporate finance. You might also explore the international finance job market, working in global financial centers like Hong Kong, New York, and London.
For example, you might find yourself moving into any of the following careers:
Financial manager
Investment banker
Financial analyst
Auditor
Hedge fund management
However, you can also target C-Suite roles after your MBA in Finance, and some graduates find themselves taking roles as chief financial officers at international companies.
MBA Marketing
If working in marketing sounds like an appealing career move for you, then an MBA marketing specialization is a logical path.
An MBA in Marketing is one of the most common MBA specializations as marketing roles require more specific business management skills. This specialization will give you the knowledge and skills necessary to succeed in this sub-sector of business.
A typical MBA in Marketing will give you a grounding in core topics, including:
Consumer behavior
Marketing management
Marketing analytics
Pricing strategy
Brand management
New product development
You'll also explore innovative topics like digital marketing and big data. Additionally, many programs allow you to apply your skills through a hands-on marketing project or marketing internship.
Top B Schools for MBA Specializations in Marketing
The best MBA Marketing programs are found in the US, at Stanford Graduate School of Business, Michigan Ross School of Business, and UCLA Anderson.
In Europe, the best MBA Marketing program is at Esade Business School, though other top-ranked European MBA programs also offer a marketing specialization, including HEC Paris, IESE, and SDA Bocconi.
Careers after an MBA Specialization in Marketing
The benefit of a marketing specialization is that it can be applied across all industries, so you're not restricted in industry choice when you graduate.
If you have a target industry in mind, though, your MBA marketing specialization may also allow you to further concentrate your education and focus on a specific industry like luxury or healthcare.
The most common roles for MBA in marketing graduates include:
Marketing manager
Advertising manager
Brand manager
Market research analyst
You may also be able to target high-level roles in the C-Suite, like a chief marketing officer. Other graduates choose to pursue entrepreneurship, founding their own digital marketing agencies.
MBA in Business Analytics
If you're looking to enter a fast-growing field and build your level of expertise when it comes to all things analytics, then you should look for a program that offers a strong business analytics track.
After focusing on your core business modules, you might dive into how to use data and models to support decision-making in business; how to build links between the impact of advertising on sales; how historical data predict stock returns; and how to analyze business performance across a number of key performance indicators.
MBA in Business Analytics modules typically cover:
Data mining
Data visualization
Risk management systems
Data analytics
Trading strategies
Customer insights research
Top B Schools for MBA Specializations in Business Analytics
An MBA in business analytics is one of the most specialist concentrations, and, compared to the number of business schools offering majors in finance or marketing, there are fewer schools with a specialist focus in this area.
However, some top-ranked schools that do offer a business analytics specialization include the University of Pennsylvania Wharton, University of Chicago Booth and Hult International Business School.
At many schools, a concentration in business analytics may not be offered as an official specialization, but you will likely be able to tailor your MBA to specialize in this subject through electives.
Careers after an MBA Specialization in Business Analytics
Career paths for MBA in Business Analytics grads might include marketing, consulting, or finance, in roles to do with brand management, management consulting, operations, and strategic planning.
More specific roles that business analytics graduates go into include:
Financial analyst
Business analytics specialist
Big data analyst
Data scientist
Marketing manager
MBA Consulting
An MBA prepares you well for a career in consulting, and considering consulting is one of the most popular MBA careers, specializations in consulting are extremely in demand.
By learning to work and lead diverse teams, develop your communication and presentation abilities, and gain an understanding of how a business works from top to bottom, you're tailor-made for the industry by the time you graduate.
A typical MBA consulting specialization will develop your people skills, business case cracking ability, and knowledge on how to overcome a variety of business challenges. There will also be ample opportunities to deliver presentations and practice public speaking.
Top B Schools for MBA Specializations in Consulting
All MBA programs prepare you well for a career in consulting. However, some schools do offer specialized consulting tracks. The University of Rochester's Simon Business School offers a STEM-designated MBA with a specialized consulting track, and the University of Alberta's Alberta Business School offers a Strategy & Consulting Career Track.
HEC Paris also offers an MBA specialization in Strategy, designed for students who want to become top strategy consultants.
Careers after an MBA Specialization in Consulting
The most common career route for graduates in consulting is as a management consultant at one of the Big Three consulting firms: Bain & Company, Boston Consulting Group, and McKinsey & Company.
However, there are also opportunities for MBA graduates at boutique consulting firms. This might suit students who have a specific interest in a particular area of business such as telecommunications or AI and want to work with clients in just this industry.
Getting a startup off the ground can be tough. An MBA in Entrepreneurship can help you to develop the skills necessary to take your startup idea from conception to launch.
You'll focus on developing both the hard and soft skills needed to create a successful startup, and you may have the chance to finish your degree by pitching your startup to an expert panel of venture capitalists, accelerators, and entrepreneurial experts.
An MBA in Entrepreneurship will teach you about the key aspects of the entrepreneurial journey and the frameworks you need to manage uncertainty.
Among other things you'll learn about:
Creating a value-driven business model
Engaging and communicating with stakeholders
Building a successful team
Venture creation
Platform disruption
Scaling up and business growth
Top B Schools for MBA Specializations in Entrepreneurship
In the US, the best MBA in Entrepreneurship is at Stanford Graduate School of Business. Other top-ranked MBA programs with an entrepreneurship specialization include MIT Sloan and Harvard Business School.
The best MBA program for entrepreneurship in Europe is at Imperial College Business School. Elsewhere, you can also follow an entrepreneurship track at Copenhagen Business School and IESE Business School.
Careers after an MBA Specialization in Entrepreneurship
Unsurprisingly, many graduates of an MBA in Entrepreneurship go onto to start their own business.
However, there are other career opportunities available to graduates, including director or C-Suite roles in technology companies or working as a business consultant or venture capitalist.
MBA in Human Resource Management
Human Resources isn't just about fixing internal employee issues; it's an important strategic function for any business looking to attract and retain the best talent. As a result, an MBA in human resource management prepares you to work in a fast-paced, vital sector.
An MBA specialization focusing on HR will cover human resources analytics, consulting, operational management, and employment law. One caveat is you need to be sure that a career in the HR field is for you, as the specialization equips you with specific, focused knowledge in one area.
You'll acquire the ability to manage employees and deploy training and development initiatives, as well as design jobs, ensure health and safety measures are up to date and manage exits from your company.
Top B Schools for MBA Specializations in Human Resource Management
At many business schools, an MBA in human resource management won't be offered as an official specialization, but you may be able to use optional electives for focus your study.
Business schools that do offer a specialization in human resource management include Brigham Young University's Marriott Business School and Vanderbilt University's Owen School of Management.
Careers after an MBA Specialization in Human Resources Management
The primary career for graduates of a MBA in human resources is as a HR manager. As almost all companies will have a dedicated HR department, the career opportunities in this area are almost endless.
For example, many students accept positions at a Big Four accountancy firm or at other major international companies.
MBA in Supply Chain Management
Supply chain is a sector that is rapidly changing, making a MBA in this subject one of the most innovative specializations on offer.
On an MBA in Supply Chain Management, you'll explore general management topics as well as electives tailored to the supply chain sector, including:
Logistics
Procurement
Risk management
Supply chain strategy
This is an ideal specialization for students interested in logistics and strategy, and those interested in working in international business roles with a large scope.
Top B Schools for MBA Specializations in Supply Chain Management
Supply chain management is similar to operations management or logistics management. As such, you can take an MBA in either topic and still be prepared for a career in this high-pressure area.
High-ranked schools with a specialization in operations management include MIT Sloan, Michigan State Broad College of Business, and IE Business School.
Careers after an MBA Specialization in Supply Chain Management
Graduates of an MBA in supply chain or operations management can follow a wide range of careers. These might include roles in:
Logistics management
Supply chain management
Project management
Business consulting
In the US, institutions like the University of Maine and the Colorado University Denver Business School offer specializations in health care management or health administration.
MBA in Healthcare Management
An MBA in healthcare management is ideal for students who have an interest in, or previous experience in, the healthcare industry. This specialization prepares students to react to challenges in this industry in particular, including strategic planning in health and social care settings.
You will likely follow electives in the following subjects:
Business strategy
HR
Healthcare policy
Health economics
Digital health transformation
Top B Schools for MBA Specializations in Healthcare Management
MBAs in healthcare management are less common than other specializations, but it is still possible to find concentration in this area at top-ranked business schools.
For example, University College London offers an MBA in Health, taught at their specialized Global Business School for Health.
In the US, institutions like the University of Maine and the Colorado University Denver Business School offer specializations in health care management or health administration.
Careers after an MBA Specialization in Healthcare Management
Healthcare management is the best MBA specialization to follow if you want to boost your career in healthcare or wish to begin a career in the health industry. You will gain specific knowledge about the industry and the challenges it faces, and upon graduate you will be ready to take a senior management position in the sector.
Other job opportunities include:
Director of Nursing
Account Executive
Director of Operations
Hospital Administrator
Medical Records Director
Which Specialization is Best in MBA?
If you're wondering which are the best MBA specializations, then you might be disappointed to hear that there is no 'best' specialization - they all depend on you.
If you know you want to follow a career in a particular area, then a specialization can help you focus your MBA knowledge and apply it to your future career, making you more competitive in the job market.
In the end, the best MBA specialization is the one that feels right for you and will set you up for your ideal MBA career.
How to Choose an MBA Specialization
Despite our attempts to create an MBA specializations list, there isn't actually an exhaustive list of all specializations available.
Additionally, as new industries and trends emerge, schools will adapt and launch new concentrations to meet demand. This means that, in the future, specializations may exist that aren't on offer right now.
Additionally, specializations also depend on a school's specialist knowledge. There are business schools that offer specializations in digitalization or governance and sustainability. There are also schools with a tight focus on fintech and cryptocurrencies, as well as those that focus on healthcare and supply chain management.
This means that choosing an MBA specialization often goes hand-in-hand with choosing an MBA degree in general, as well as a business school. There is no easy way to make this decision. Especially considering the cost of an MBA, this isn't something you want to rush into.
However, you could start by considering your personal career goals. Where do you see yourself in 5 or 10 years time? Which sector do you see yourself working in? Or, are there specific skills you would like to utilize in your career?
If this is too difficult, think instead about what it is you enjoy about business. Is it digital marketing? Operations management? Identifying areas of interest can help you to think about potential careers that you would enjoy, and consequently the MBA program or specializations that can help you get there.
Once you've decided on a specialization, whether or not an MBA program offers the concentration you're interested in is a key factor in finding your best fit program.
Our free guide, Finding Your Best Fit Full-Time MBA Program, gives you the expert tips and guidance you need to confidently narrow your options and identify the programs that make the most sense for your needs, preferences, and career goals.
How to Apply to MBA Specialization
The application process to an MBA specialization will be the same as for a general MBA program. This means eligibility criteria will still apply, such as:
3-5 years work experience
Bachelor's degree and undergraduate transcript
However, as part of your application, you may be asked to explain why you wish to study an MBA specialization in particular. Here, you should talk about your specific career goals and interests, and why the specialization is the best choice for you.
If you've chosen your program and MBA specialization, our Complete Full-Time MBA Application Guide will help you navigate the difficult world of MBA applications.