How Graduate Business Education in Germany Helps Aspiring Entrepreneurs Excel
Entrepreneurs: Consider a German Graduate Business Education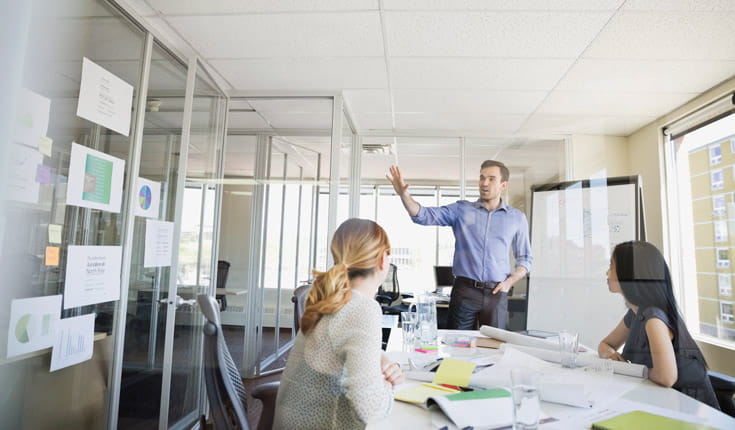 Becoming a successful entrepreneur doesn't require a graduate business degree, but working towards one may give you a big edge over your competition. Hopeful entrepreneurs who enroll in business school are given the critical faculties, knowledge, and skills to help them successfully launch their own business.
If you're thinking about where to study, Germany is a great place for an aspiring entrepreneur to learn the skills they need to build their business. The country has stable economic growth and a healthy labor market situation. In contrast to other countries in the EU, the economic crisis at the end of the 2000s didn't have much of an impact on self-employment and business creation rates.
The German business environment is also defined by stability, innovation, and substantial expenditure on research and development. Read on to learn how business education in Germany can help aspiring entrepreneurs excel.
Graduate education connects students with the innovative field of German entrepreneurship
Small and medium-sized businesses are the foundation of the German economy. Known as Mittelstand within the nation, they account for more than half of the country's GDP. Though the household names of Volkswagen, Adidas, and Bosch might be what come to mind when considering German businesses, the smaller contenders are those that truly color what business in Germany looks like. This is great news for aspiring entrepreneurs.
The receptiveness of Germany to small businesses supports novelty, creativity, and innovation, all of which are conducive to a successful entrepreneurial tradition. A business education assists entrepreneurs not only by educating them, but by connecting them with other innovative, like-minded entrepreneurs and helping them forge connections within the lucrative German business environment.
Experts have noted a growing trend towards entrepreneurship in Germany. "There's a feeling that it's easier to found a company now than it was a decade ago, with the rise of the internet. Also, there's a trend among German media to promote the topic, whereas in the past, entrepreneurship wasn't so widely accepted in the media. We also see success stories motivating people to become entrepreneurs," said Dr. Steffen Löv, the Assistant Dean and Program Director of MSc degrees at the Otto Beisheim School of Management in Vallendar, Germany.
There are also a range of policies and initiatives in place at the national, regional, and local levels that render entrepreneurship easier for marginalized demographics. Support programs are tailored to women, educated youth, and new immigrants to assist them in becoming effective and successful entrepreneurs. Graduate business education in Germany plays its part by giving aspiring entrepreneurs useful skills and resources to begin their careers.
Graduate business education in Germany imparts entrepreneurial skills
The skills and knowledge that the GMAT exam and graduate programs in Germany teach to young professionals are widely applicable to the everyday reality of being an entrepreneur. Robust, rigorous critical thinking is one of the factors that separates successful aspiring entrepreneurs from their counterparts. Understanding risks and how to wisely navigate them, play an important role in the world of entrepreneurship. Applying strategic thinking and critical assessment can help entrepreneurs judge when to take risks and when to be cautious.
In a way, attending business school before attempting to start a business is a form of risk management. Though skills can be learned through trial and error, taking the time to learn essential entrepreneurial principles before founding a business can be worthwhile.
In addition to strategic thinking, business education can help students develop effective communication skills, concept development, leadership, and managerial finance skills. Research and development education, in particular, is one area where German business schools excel. The nation is known for its substantial expenditure on research and development, with over 3% of their total GDP directed towards R&D.
Want to know what it takes to become a successful entrepreneur? Learn about Five Traits of Successful Businesspeople.
The many facets of graduate business education in Germany
Finding valuable mentors is an important part of a business education, and Germany is rife with creative, intelligent guides. Germany is known for its ingenuity in producing innovative technologies, in its burgeoning tech startup field, or its developments in biotech, chemicals, and insurance technology. German business schools employ many inspiring researchers and professors that aspiring entrepreneurs can look to for advice, resources, and tips.
There are a variety of educational paths for students to choose from after they sit the GMAT exam in Germany. Though the MBA degree is still a relatively niche option in the nation, its popularity is growing. Our data shows that the number of MBA programs in Germany increased from 32 in 2007 to 49 in 2017.
Aspiring entrepreneurs can also choose from a number of different business master's paths. For instance, students can opt for a Master's in Entrepreneurship, like the Otto Beisheim School of Management offers, which was developed specifically for ambitious students who want to lead their own companies.
They also have the choice to enroll in a Master's in Management, offered by institutions like ESMT Berlin, where they can learn about the latest business and management theories and research. The wide variety of program offerings makes German business schools particularly attractive to aspiring entrepreneurs.
Taking the GMAT exam in Germany can bring you one step closer to your entrepreneurial goals
What are you waiting for? Explore the graduate business school programs in Germany that are a good fit for you using Program Finder, set your GMAT exam date, and check out our top 10 study tips to be sure you're ready for the big day.