Everything You Need to Know About Earning a Graduate Business Degree in the US
Earning a Graduate Business Degree in the US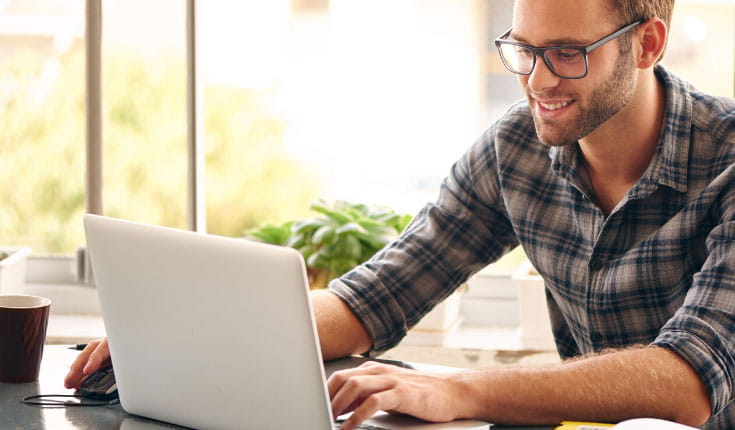 Are you ready to kick your career into high gear? The proven path for professionals of all experience levels to boost their salary potential, accelerate their career trajectories, and access elite networks of likeminded professionals is to earn a graduate business degree in the United States from a leading business school.
Explore your business school program options in Program Finder today!
But with so many options, where do you begin? Don't worry, we're here to give you the guidance you need as you evaluate your choices. Read on for our top tips and resources as you consider COVID-19's impact, identify your best fit program type, navigate the admissions process, and prepare for the GMAT exam.
With COVID-19, is now a good time to apply to a US business school?
While COVID-19 has upended so many aspects of our lives, surprisingly few business school candidates have changed their mind about pursuing an MBA or business master's degree. According to a recent poll of mba.com registrants, nearly 7 in 10 said they have not changed their plans at all as a result of COVID-19 and fewer than 1 in 10 are thinking of abandoning their pursuit of a degree altogether. Read our best advice for things to consider when deciding whether to pursue business school during COVID-19.
Read more: How to Engage with Business Schools Virtually Amid COVID-19
While much of the attention has been rightly focused on the health and safety of students, faculty, and staff—and whether or not courses will take place in-person or online this fall—less discussed is how the actual content of MBA and business master's courses are undergoing an unprecedently rapid evolution, perhaps unlike any time in the history of graduate business schools. Read our coverage of how business schools are pivoting to teach skills for the post-COVID world; what you'll learn in a business school classroom now may be more relevant than ever before.
Read more: Business Schools Pivot to Teach Skills for the Post-COVID World
Of course, not all the learning you'll do in business school happens in the classroom. Among the most valuable aspects of the MBA or business master's experience is the business school internship. Internships offer priceless opportunities to gain experience in a different job function or industry, test your fit with a specific organization, and build new skillsets in an actual workplace setting.
Amid all the havoc wrought by COVID-19, are companies offering business school internships right now? Read our analysis of recent survey data that shows how 9 in 10 companies plan to offer business school internships this academic year, but most will at least begin virtually.
Did you know? Study in the States—a resource for international students interested in studying in the United States—has a devoted COVID-19 resources page with relevant updates for prospective students. Monitor this site frequently if you're an international applicant to schools in the United States.
Why a US business school?
The United States is home to some of the world's most prestigious business schools, and earning an MBA or business master's from one of them conveys significant benefits:
Return on investment. A graduate business degree pays off many times over in the long run. A recent survey found that 9 in 10 alumni report a positive ROI, recouping their investment just a few years following graduation.
Career opportunities. Business school graduates are employable across sectors and job functions. You can opt to accelerate your trajectory on your current career path, pivot into a new role or industry, or launch your own business.
In-demand skills. Gain the skills that will help you stand out to top global employers. Nine in 10 corporate recruiters say they're confident in graduate business schools' ability to prepare students to be successful in their organizations.
Network support. Relationships can mean a lot in business and being a part of an extensive business school alumni network can open important doors for your career.
A chance for an international career. For many, earning an MBA or business master's in the United States creates US employment opportunities through the H-1B work visa. In addition, MBAs are favored at global companies throughout the world, so wherever you want to take your career, your MBA will bring value.
Did you know? Earning an MBA from a STEM-designated program in the US qualifies international students for a 24-month extension to their Optional Practical Training (OPT), making for a total of 36 months (3 years).
Read more: What's a STEM MBA and Why Is It So Popular?
Which program type is right for you?
An important decision you'll need to make on your journey to business school is to choose what program type you want to pursue. Graduate business schools offer a diverse portfolio of program types, all geared toward different types of students seeking different outcomes or learning experiences.
The number of options can feel overwhelming, so here's some of our best guidance for making the right choice for you.
The MBA is the most popular degree type at US business schools. A Master of Business Administration, or MBA, is a general graduate business degree that teaches students technical, managerial, and leadership skills. Earning an MBA gives you valuable business acumen, expands your professional network, and creates new opportunities. It's an ideal option to consider whether you want to enhance your career, transition to a new industry, or become an entrepreneur. Most often, full-time MBA applicants have somewhere between three and seven years of professional experience.
Read more: How an MBA Can Help You Prepare for an Uncertain Future
What if you're an experienced professional? Executive MBA (EMBA) programs are designed for seasoned professionals who are already leaders in their organizations and want to expand their network, accelerate their leadership development, and learn new skills in the classroom that they can immediately apply at work. Because their classmates are leaders of other companies, EMBA students can learn how their colleagues solve problems at their respective companies and take that knowledge back to their own place of employment.
Of course, an EMBA isn't your only option; there are other professional b-school programs, such as executive master's or online and flexible MBAs, that cater to candidates looking for more flexibility in their advanced degree.
Take the quiz: Is Now the Right Time to Go Back to School?
What if you're right out of undergrad or just starting your career? Unlike MBA programs, business master's programs are designed specifically for students with little to no work experience. Many are generalist programs, but business schools also offer a number of specialized business master's program that teach in-demand skills specific to a particular role or industry—like a Master in Finance, Master of Accounting, or Master of Data Analytics, to name a few. Developing one of these skillsets at the start of your career can help you stand out to top employers.
The Master in Management is a generalist option, providing you with the theoretical groundwork you need before starting your career through a broad, general management curriculum. Read more about how earning a specialized business master's degree can give you the skills you need to start your career during COVID-19.
Read more: Post-College Career Advice for the Class of 2020
F-1 visas for international students
Every year, US business schools welcome thousands of international students from all over the world to their classrooms, enriching the educational and cultural experience for all students. International students at US schools are required to apply for an F-1 visa, which is a nonimmigrant visa for students who wish to study in the United States. It allows you to enroll as a full-time student at an accredited university in a program that culminates in a degree, like an MBA or business master's.
While there was some uncertainty and confusion regarding the F-1 visa amid COVID-19 earlier this year, rest assured that F-1 visas are available to international students, and US business schools continue to actively recruit candidates from all over the world to be a part of their business master's and MBA cohorts.
Read more: US F-1 Visa Reversal: What Does It Mean for International Students?
Our top tips for the admissions process
MBA.com has a wealth of resources and guidance to help you present the best version of yourself in the business school admissions process. Here's a collection of some of our top tips:
For more helpful application tips, download our guide: The Key Pieces of My Application
Earning your best GMAT exam score can help set you apart
Putting your best foot forward in the business school admissions process begins with achieving your best GMAT exam score. MBA and business master's programs at the United States' leading business schools accept the GMAT exam because it's a proven predictor of your ability to succeed in their classrooms. Applying with a competitive GMAT exam score demonstrates your commitment and motivation and helps you stand out in the admissions process.
Read more: GMAT Exam Prep: Three Steps to Identify Your Testing Strengths and Weaknesses
Learn about the five ways for you to tailor your GMAT prep and access other useful prep resources, like the 8-week study planner and the GMAT Mini Quiz.
Wondering how much time you need to devote to prep? Use our interactive tool to estimate your required study time and receive a study plan tailored to your available time.