Business Schools Pivot to Teach Skills for the Post-COVID World
Business Schools Pivot to Teach Skills for the Post-COVID World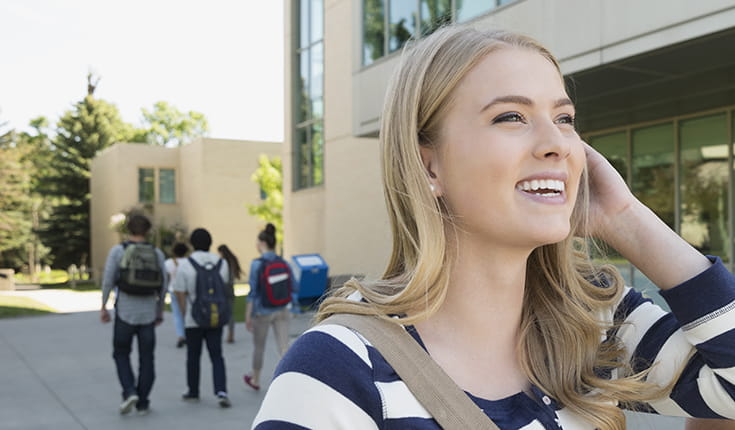 It's not just you—we live in a different world than we did six months ago. The COVID-19 pandemic has touched just about every aspect of our lives, as well as the major institutions within them—including the business schools you're targeting for your applications.
While much of the attention has been rightly focused on the health and safety of students, faculty, and staff, and whether or not courses will take place in-person or online this fall, less discussed is how the actual content of MBA and business master's courses are undergoing an unprecedently rapid evolution, perhaps unlike any time in the history of graduate business schools.
Over the summer, business school faculty were busy retooling their curriculums to adapt to their new virtual or hybrid settings, and updating their content to prepare students for the post-COVID world they'll graduate into.
Business schools are changing their coursework in real time
Business school faculty the world over are working quickly to overhaul their curricula to meet the demand for the new skills and insights that the post-COVID world requires.
"Students always want the most up-to-date material," the Wharton School Professor Mauro Guillén told the Financial Times' Andrew Jack. "They are expecting us to have material that's relevant for what's going on now. We cannot teach the same stuff or we would be obsolete."
Guillén is just one of the many professors working diligently to retool their coursework. At the onset of the pandemic last spring, Guillén launched an attendance record-setting course on the impact on business of coronavirus, structured around interviews with nearly 50 alumni in senior positions. This fall, he'll teach a course on how different companies are adapting to the pandemic.
Skills for the post-COVID world
Driving business schools' rapid evolution is the need to equip their students with the knowledge and skillsets they'll need to hit the ground running when they graduate.
As a part of the Graduate Management Admission Council's (GMAC) annual Corporate Recruiters Survey, recruiters at some of the world's leading companies were asked how the importance of different skills or abilities have changed as a result of COVID-19.
Overall, about 2 in 3 recruiters agree (68%) that new hires' ability to navigate the challenges of tech disruption has grown in importance, more than any other skill. This includes leveraging different tech platforms to manage teams effectively in remote work, as well as managing companies' digital strategies as organizational priorities have shifted amid new social distancing norms.
More than half of responding recruiters also said strong communication skills (61%), innovation (54%), having a versatile skillset (54%), and strategic thinking (50%) have also grown in importance amid COVID-19.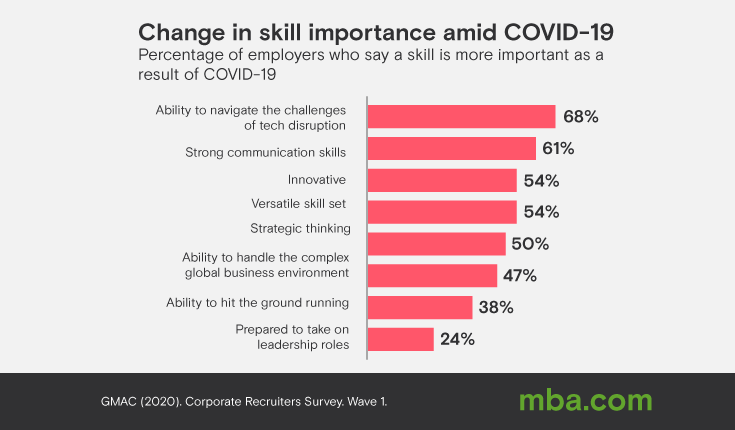 Read more: Business Skills Employers Will Want in a Post-COVID World
Management soft skills in the new reality of virtual work
These findings sync with the direction many faculty are taking their coursework.
"There is the question of how you motivate employees doing remote work. People are very happy to stay at home at first but there is a lot of burnout," says Wharton's Guillén. "We have 30 years of experience of virtual teams in multinational companies—about working apart, forming teams, and pulling together talent from different parts of the world."
One need look no further than LinkedIn's online course offerings to get a sense of how urgent a need soft skills training has become among managers. Mordy Golding, director of content strategy for LinkedIn Learning, told CNBC that the number of people learning soft skills online has doubled year-over-year and that some of the organization's most popular online courses reflect the emotional interests of millions of online learners.
Business's role in society
Another key theme emerging from business school faculties' curricular retooling is a reexamining of the societal role of business. Dezsö Horváth, dean of the Schulich School of Business, York University, told the Financial Times' Andrew Jack that many of the issues raised by COVID-19 reflect broader shifts that had already been underway since the 2008 financial crisis: the move away from the singular focus on shareholder value and toward having a wider positive impact, as was reflected in the Business Roundtable's redefining of the corporation last year.
Read more: An MBA Is Your Springboard to a Career of Social Impact
Finding the right business school program for you
Are you ready to prepare yourself for a career post-COVID? There's no better way to do it than to earn a business master's or MBA. Browse thousands of programs and filter them by location, program type, GMAT score range, and more using Program Finder—mba.com's business school program directory.
Did you know that 9 out of 10 new MBA enrollments in the Financial Times top 100 Global MBA programs are made using a GMAT score? The world's leading business schools accept the GMAT exam as a part of the admissions process because it's a proven predictor of your ability to succeed in their classrooms. Taking the GMAT exam and applying with a competitive GMAT exam score demonstrates your commitment and motivation and helps you stand out in the admissions process.
Are you ready to take the GMAT exam? Create an mba.com account and reserve your testing appointment today. Before your exam, be sure to check out the five ways to tailor your Official GMAT prep to be sure you're ready to earn your best score.