What's a STEM MBA and Why Is It So Popular?
What's a STEM MBA and Why Is It So Popular?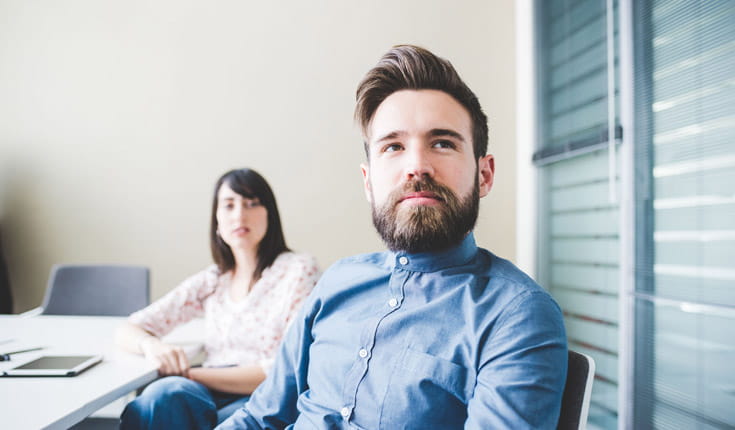 There's no denying that tech and business go hand in hand. Being an effective manager in the dynamic business landscape of the future will mean leveraging tech and data tools to lead diverse, cross-functional teams. A STEM MBA—an increasingly popular offering at US business schools—is a smart way to gain those skills in one comprehensive business school experience and stand out to employers across industries.
What is a STEM MBA?
First things first: STEM is an acronym for science, technology, engineering, and mathematics.
A common question is "is an MBA a STEM degree?" Business and management programs like MBAs actually do not traditionally fall under the STEM umbrella, but in recent years many leading US business schools have created STEM tracks within their MBA programs in response to sky-high demand from leading US companies for management talent that knows how to lead and problem solve in a tech-driven environment.
Want to hear from schools who are interested in you as a future student? Share your profile with schools that are searching for candidates like you. Learn more.
STEM MBA programs are designed to develop students' management skills and technical expertise in harmony, producing a new class of future executives who are bilingual in business and tech.
International students can benefit from an extension to Optional Practical Training (OPT)
While you may have heard about the recent H-1B work visa changes in the United States, what you may not realize is that the Optional Practical Training (OPT) program was left completely in place. OPT allows international students to stay and work in the United States for 12 months after graduating. Because US companies have such a high demand for STEM-trained master's graduates, those who graduate from STEM-designated programs, like many (but not all) STEM MBAs, are able to apply for a 24-month extension to their OPT, making for a total of 36 months (3 years).
When it comes to landing a US job as an international student, this OPT extension can make an important difference to employers. Not only do employers not have to sponsor OPT hires (as opposed to H-1B hires), but companies may be more likely to bring on an OPT hire with the prospect of three years of eligibility versus just the 12 months of non-STEM grads.
"[The OPT extension] gives our MBA STEM students a longer opportunity to gain experience while they build a network…and take advantage of the career coaching and job search resources provided by the Krannert Professional Development Center," says Greg Beaver, Executive Director for MBA, Professional Master's and PhD Programs for Purdue University's Krannert School of Management, which offers a STEM-designated MBA STEM program.
Your Profile = Getting discovered by Global Business Schools. Get started today!
Are you a good fit for a STEM MBA program?
But of course, US STEM MBA programs are not just for international students. The value proposition of a STEM MBA on the resume of international and domestic students alike is incredibly high.
"At Fuqua, we have both international and domestic students pursuing the STEM MBA," says Russ Morgan, Senior Associate Dean for Full-Time Programs at Duke University's Fuqua School of Business, which offers a track credential in Management Science and Technology Management (MSTeM) as a part of the Duke MBA. "For any graduate, it not only provides a path that focuses more heavily on the underlying analytical tools and applications but also makes a clear signal that the student has chosen that path."
How much can you earn with an MBA? Use our interactive tool to find out!
An important factor to consider when assessing your fit for a STEM MBA program is that some programs are designed specifically for students who majored in a STEM field as undergraduates or are currently STEM professionals, and others are open to students from non-STEM backgrounds.
The STEM MBA program at Texas Tech's Rawls College of Business, for example, is designed specifically for students with a STEM undergraduate degree. "Our STEM MBA is designed for recent graduates with STEM degrees and young professionals within STEM industries who aspire to increase their management and leadership opportunities," says Anna Delano, Director of Recruitment and Admissions. "We introduce business concepts as they apply to STEM industries…providing the skills and business savvy that provide promotion opportunities sooner than later."
On the flip side, the STEM MBA programs at Purdue Krannert and Duke Fuqua are STEM-designated and accept students of all undergraduate majors.
"Having some diversity of background, experience, and thought is actually beneficial for all participants in STEM MBAs," says Duke's Russ Morgan. "Our view of STEM as it connects to an MBA is that it is cross-disciplinary and leverages science, technology, engineering and math by building a foundation in analytical tools and frameworks to better enable analysis and decision making in business. Those from a science field may have greater prior exposure and experience to this mindset, but we feel STEM MBA programs in no way exclude those without a science background."
What careers does a STEM MBA prepare you for?
Part of assessing your fit for individual STEM MBA programs should be to engage with the admissions staff and ask what types of organizations recruit from their programs and what types of roles their graduates typically fill. Then you should decide if that matches your goals. While some programs may specialize as a pipeline to STEM industry employers, a STEM MBA can set you up for long-term career success across sectors and doesn't necessarily pigeonhole you into any one industry or job function.
"STEM MBAs don't just provide a unique set of skills for some specific careers, but complimentary skills from the breadth of the program," explains Duke's Russ Morgan. "That combination is the value driver. We have heard from alums in fintech, consulting, tech, marketing, and more who are grateful for the depth of exposure they had within our STEM MBA track."
Our interactive Career Explorer tool helps you identify the skills you need to achieve your career goals and gives you personalized program recommendations to develop them. Try it now!
"[A STEM MBA] is a perfect fit for students looking to develop their analytical and problem-solving skills while taking courses that are aligned with their career interests," says Purdue's Greg Beaver. "Graduates with a STEM skillset and practical experience who can make data-driven decisions are in high demand."
Take the first step toward your STEM MBA
STEM MBAs are perfect for business school candidates who envision themselves leading tech and data-driven teams in dynamic business environments. For international candidates who'd like to work in the United States after graduating, there's an added bonus in the OPT extension at STEM-designated programs, making you eligible for three years of work without company sponsorship.
Are you ready to take your first steps toward your STEM MBA? The best way to get started is to develop a crystal-clear understanding of why you want to earn a STEM MBA and why now is the right time. The mba.com Your Early Profile Guide gives you step-by-step guidance from experts on how to develop a compelling, personal, and specific answer to the question "why business school?" and articulate why now is the right time for you to go to business school professionally, academically, and personally.