The New Skills You Need to Start Your Career During COVID-19
The New Skills You Need to Start Your Career During COVID-19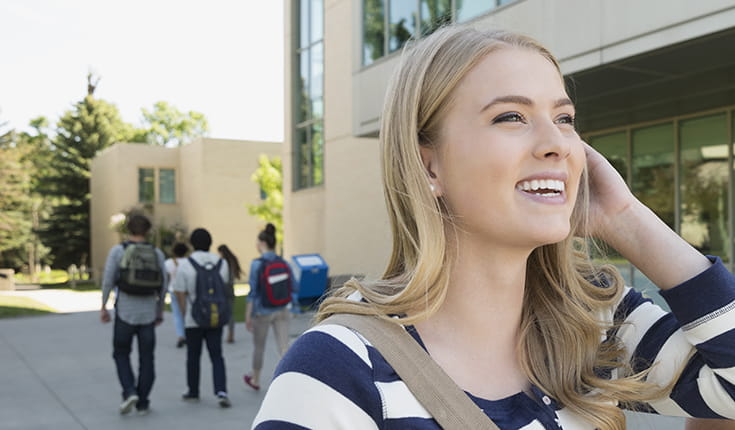 Let's be honest: COVID-19 has made it a really difficult time to start your career. Amid all the uncertainty, many job and internship opportunities have simply disappeared, and many recent bachelor's graduates and other young professionals are left wondering what to do as COVID-19 decimated what was until very recently a strong hiring market for young people just starting out.
The good news is that there are pragmatic choices you can make now to significantly improve how you start your career and put yourself on the path for long-term career success.
Read our post-college career advice for the Class of 2020.
Starting your career during COVID-19? Consider investing in a specialized business master's degree
A proven path to improving your employability with top companies is to invest in a specialized business master's program, like a Master of Finance, Master of Data Analytics, or Master of Accounting.
Which business master's program type is right for you? Take our quiz and find out for yourself!
These business master's programs are largely designed for recent bachelor's graduates and young professionals like you, and typically do not require any prior work experience. These programs teach cutting-edge, in-demand skills that will help you stand out in the hiring process.
Having a specialized and marketable skill set is a huge differentiator in a tight job market
Even in a challenging job market, young professionals who position themselves with the right skillsets to meet companies' current needs can find great opportunities. Earning a specialized business master's signals to employers that you have the skills to make an immediate difference to their bottom lines.
"In a difficult job market, companies face the challenges that come with reducing the size of their workforce," says Monica Powell, Senior Associate Dean at the Jindal School of Management at the University of Texas at Dallas, which offers a number of specialized business master's programs. "When companies shrink, they need fewer leaders and more specialized problem-solvers that not only bring strong technical skills to sticky problems but can quantifiably assess the effectiveness of their solutions."
"Companies need problem solvers that bring specific technical skills that specialty masters programs can help employees obtain," says UTD's Powell. "In this unstable environment, these hard to find 'technical' skills are key and those who have these skills or who pursue these skills are going to be well-positioned for career advancement."
"Now, more than ever, due to unforeseen and immediate challenges brought on by the global pandemic, businesses are relying more and more on employees with the ability to quickly analyze meaningful data, adapt communication to digital platforms, and diversify their technological tools," says Jackie Buchy, Senior Assistant Dean for Graduate Enrollment at the George Mason University School of Business, which offers five different business master's programs. "These digital-first skills are just as important as softer skills such as sharp communication, teamwork, and leadership in order to be able to fully execute one's skills in a team."
Who's hiring right now and what they're looking for
Adding the specialized skillset of a business master's degree can clearly signal to employers that you have what it takes to instantly add value amid current uncertain economic conditions.
"Graduates of business analytics, information technology management and supply chain are in robust demand," says UTD's Powell. "The demand for companies to make expedient decisions has become exaggerated in this COVID-19 environment, forcing them to process and assess vast amounts of data, so they can transition or survive an unexpected change in the market."
The Graduate Management Admission Council's (GMAC) 2020 Corporate Recruiters Survey found that more than 2 in 3 recruiters agree that an employees' ability to navigate the challenges of technological disruption has increased in importance as a result of COVID-19, more than any other skill. Also increasing in importance are strong communication skills, innovation, and having a versatile skillset.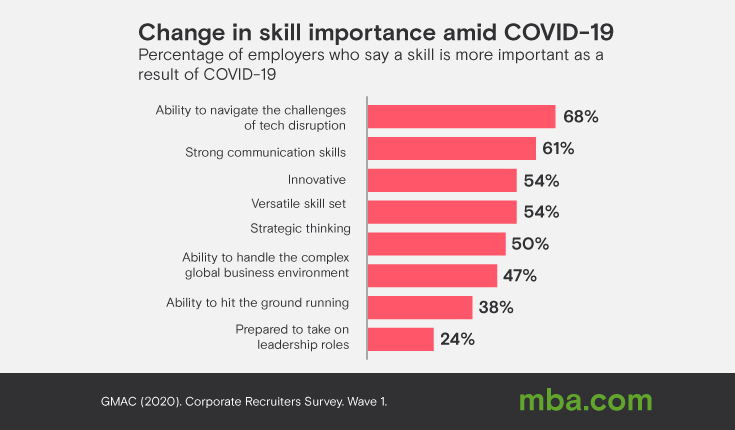 "In this COVID-19 world, employers also need these technical employees to produce information without hands-on supervision as most of these employees are working from home," says UTD's Powell.
"Due to the global pandemic, hiring across all industries is uncertain and employers are being very cautious and selective in who they are hiring. However, new doors are opening for prospective employees on a global scale through remote work," says Kimberly Blue, Graduate Career Manager, Career Services, at the George Mason University School of Business. "Technology, healthcare, banking and finance, real estate, supply chain, business analytics, and online learning companies are the top industries hiring talent in today's job market. At companies like Zoom, Microsoft, Slack, Pfizer, Salesforce, P&G, United Health Group, Accenture and Oracle Philips Co. (Electric Co.), the sudden increase in demand has driven hiring activity."
Business school career services are a huge asset in the job search
Investing in a business master's degree comes with so much more than merely the cutting-edge skillsets you'll develop. You'll also gain the expertise and guidance of career services to help you land your first job.
"The truth is most students don't truly know how to write a solid resume—one that says not what you did, but what you can do—and don't know how to prepare for an interview or how to do research to target the right companies," says Powell. "A good Career Management Center…can not only bring great employers to the students but also help them to be prepared and successful in the interview process."
Beyond the job search, business school career services can help you navigate the new COVID-19 workplace and help you advance far beyond your first job out of school.
"In today's job market, employers are increasingly looking for employees who can navigate teleworking and various digital tools with specialized skills and soft skills," says George Mason's Kimberly Blue. "[We] help students launch their careers by developing these skills and coaching students through the job search process… Even after graduating or landing that first job, [we are] a resource to assist alumni in professional development through individualized career planning and professional development."
A specialized business master's is not only a smart investment for right now—it will continue to pay off over the course of your career
The value of your business master's degree doesn't end with landing your first job after business school. In fact, most business master's alumni agree they've had opportunities for quicker career advancement than their peers without a degree.
"Much like money, the investment you make early will compound over the years so an early investment has many years to grow," says Powell. "Years ago, it was widely said that the path to a c-suite position was through core knowledge in finance…today quantitative information is no longer just financial—it's process information, consumer purchasing data, web analytics, and more," she explains. "A business master's degree definitely gives an employee a head start in acquiring the skills needed to rise to the top."
"It always pays to have a strong understanding of business fundamentals so you can effectively translate your skills to business needs. A business master's degree helps lay that foundation so students can build on this foundation for life with the right tools," says George Mason's Blue. "A business master's will bring a new network of business contacts that students can leverage in their career advancement for their specific goals. Whether a student is looking to progress their career within their company or industry, or build a new business, the program provides so many new opportunities through the growth in network, skills, and business knowledge."
Top specialized business master's programs accept the GMAT exam
Leading specialized business master's programs accept the GMAT exam because it's a proven predictor of your ability to succeed in their classrooms. Applying with a competitive GMAT exam score demonstrates your commitment and motivation and helps you stand out in the admissions process.
Are you ready to take the GMAT exam? Determine if the GMAT Online exam or the test center-based exam is right for you and register today to reserve your testing appointment.
How long does it take to prepare for the GMAT exam? Use our interactive tool to estimate your required study time and receive a study plan tailored to your available time.