How to Engage with Business Schools Virtually Amid COVID-19
How to Engage with Business Schools Virtually Amid COVID-19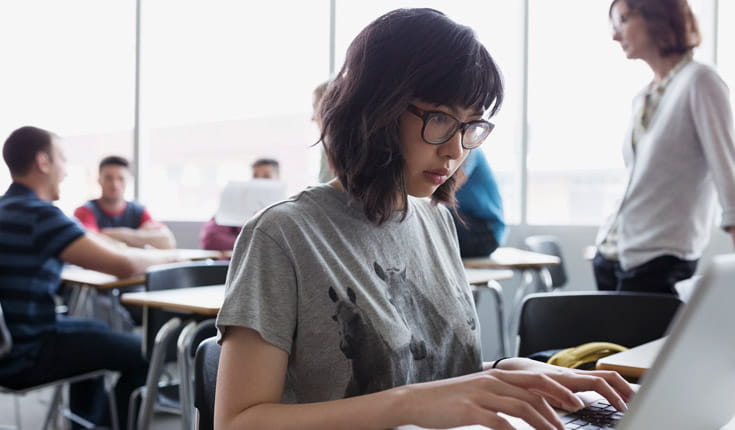 I think we can all agree that the world looks very different in 2020. Our professional landscape has shifted from cubicles to virtual home offices, we dine out by eating takeout delivered—contact free—to our doorsteps, and even the hallowed halls of American institutions are now silent, including those of higher education.
For many of us, we feel suspended somewhere between normalcy and the Twilight Zone, wondering how much we should be resigned to simply ride out this storm or change course entirely. For those of you at a crossroads or perhaps at a plateau professionally and considering business school, the good news is that schools are still very much open and eager to engage.
Tips for engaging with business schools virtually
The challenge: navigating this new landscape will require an open mind and some creativity now that most functions have shifted online. Here are six tips for successfully engaging with business schools in this new and almost completely virtual environment.
1. Start with the obvious: school websites
What was a highly experiential, interactive, and dynamic process seems to have devolved into something static at best and virtually nothing at all at worst. But the truth is that business schools, much like every other organization trying to operate during a pandemic, are shifting in how they engage with their target audience. Once dependent on in-person campus events and global tours to woo students, schools are now working round the clock to make their website content more robust and timely.
Check websites frequently for updates on application requirements, messaging from the leadership on trends, relevant business policy and data shifts that are shaping our economy, and how the programs plan to operate during the pandemic, which is very much a moving target.
2. Leave a digital footprint
Right now, virtual communications are about all that schools have. Demonstrate your interest by signing up for virtual tours, info sessions, and webinars.
Shari Hubert, Associate Dean of Admissions at Duke University's Fuqua School of Business, provides some advice on how to connect with schools: "If you're ready to engage, we provide an opportunity for prospects to connect through admissions chat sessions. For those looking for a more passive way to connect, we recommend a virtual information session where prospects can learn about the school and engage at their own pace."
In the same way that many schools tracked your engagement pre-COVID, they are still concerned with your interest level. Showcase your interest by regularly engaging in the virtual process with them. This demonstrated interest very much helps to send a signal that you want to attend, which is an important element as schools work to bolster their yield. Additionally, this is a great way to learn about school-specific offerings, traditions, and upcoming changes.
3. Follow social media accounts
Many schools as well as clubs and organizations within those schools have social media accounts. Start following them. This helps you to get a better sense of the culture, particularly as it relates to some of your specific interests. Social media accounts can also provide insight into how the students have fun as well as some of their core values.
While we're on the topic of social media, this is also a good time to conduct an audit of your own social media presence. Increasingly, schools are considering your digital footprint as they weigh candidates for admission. What would people learn about you in scrolling through your accounts?
🔎 Read more about how to prepare your social media for the business school admissions process
4. Connect with students and alumni
There are still lots of ways to connect with current students, even if face-to-face meetings are no longer possible. Start with school ambassador programs, which are composed of students eager to share information, anecdotal and factual, about their respective schools and experiences.
Duke's Hubert encourages outreach to students an effective way to get know a business school: "We have student ambassadors and encourage applicants to reach out and engage—it's a great opportunity for prospective applicants to get a sense for the business school experience at Fuqua."
Remember, though, that these students often have a vested interest in presenting their schools in a favorable light, so try to engage a few different sources to see if common themes emerge. In addition, connect with student leaders at campus clubs where you have a specific interest in joining if you matriculate.
For perhaps more objective advice, try connecting with students and alumni via platforms like LinkedIn. You can look for second and third connections of people you might have in common; alternatively, you can look for students who have similar professional backgrounds and interests and try to make connections from there. In an age of overabundant information sharing, many people are happy to provide their opinions and feedback.
5. Sign up for virtual MBA tours
You may be bummed that there's no in-person tour events right now, but the tours have been innovating by providing online experiences and engagement opportunities with schools and admissions experts. You will still be provided the opportunity to connect and engage with schools in one place very efficiently.
At a minimum, you'll get a better understanding of the programs and campus; you'll leave another digital impression to demonstrate your interest; and you are not constrained by your physical location, so you can "tour" in a city that is convenient for you and not just geographically.
6. Use online research tools to help you through the process
There is no shortage of additional resources to help guide you through the business school selection and application process. A company such as Admit.me providing free admissions resources are here to provide robust and relevant content on all things business school, engage with current students and other applicants, and provide free content for things like essay writing, resume development, and interview prep. When deciding which resources you'll use beyond those being offered by the schools themselves, look at things like longevity, overall presence in the b-school space, and the backgrounds of the experts.
Are you ready to start tackling your business school applications? Access the free Key Pieces of My Application Guide by creating an mba.com account.
Eric Allen is the President and Founder of Admit Advantage, one of the leading admissions consulting companies and Admit.me, a free online graduate management education admissions resource. He earned an MBA from the Wharton School at the University of Pennsylvania and worked on the admissions staff at the University of Pennsylvania. Eric is a member of AIGAC and IECA and has personally worked with thousands of clients over his 13 years working in the admissions advising space.