What Are the Most Sought After Business Master's Degrees?
What Are the Most Sought After Business Master's Degrees?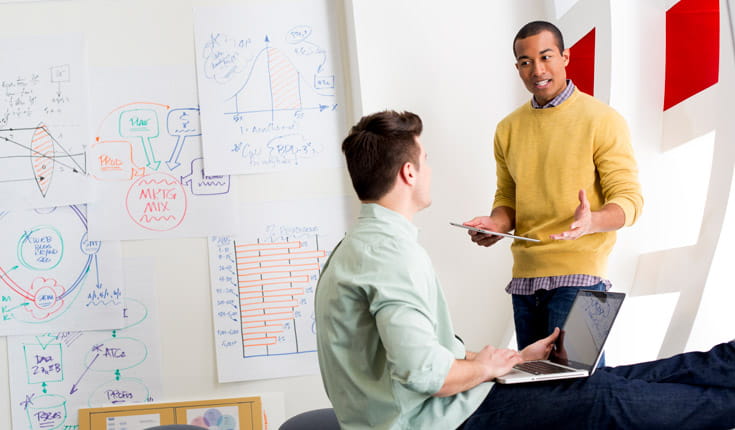 Getting a business master's degree requires an investment of yourself, time, and money, so you want to be sure you're getting the best return. Degrees that offer in-demand skills and a path to employment can give you an advantage during recruitment and help maximize your earning potential.
The following fields and degrees offer several ways to enhance your opportunities and maximize the value of your business master's degree.
Go the generalist route with a Master in Management
You might consider a Master in Management (MiM) because of how versatile it is. Your skills aren't limited to a certain industry, and graduates work in job functions across management, marketing, consulting, and more. This flexibility gives you more options when it comes time to make post-graduation decisions. The broad curriculum, strong hiring demand, and high starting base salary make the MiM a highly value degrees.
Take the quiz: Which Business Master's Degree Should I Do?
According to the Graduate Management Admission Council's (GMAC) annual Corporate Recruiters Survey, this year recruiters plan to offer MiM graduates a median starting base salary of US$75,000—15 percent higher than the median starting salary for bachelor's new hires. Over the course of your career, that head start in earnings will lead to significant cumulative earnings boost that could make a big difference in your life.
Get specialized with a Master of Data Analytics
The rapidly evolving business landscape has companies looking for leaders who can solve organizational problems using data. Master of Data Analytics programs intersect business and technology, providing students with the skills required to succeed in industries that rely on data, which is just about all industries, but particularly banking, consumer products, energy, government, health care, insurance, manufacturing, and pharmaceuticals.
Students graduate with a solid understanding of how to manage industry, product, consumer behavior, and social media data and deliver it in formats that can be used to make strategic and tactical decisions – all critical skills in today's wired global economy.
Demand for the skillsets taught in these widely popular programs is evident in the starting salaries of graduates. According to the Corporate Recruiters Survey, companies will offer data analytics graduates a median starting salary of US$85,000 this year—more than any other business master's program type and 30 percent more than the median bachelor's graduate will earn.
Read more: How Much Do Business Master's Graduates Earn?
Go with the tired and true: Master of Finance
The Master of Finance is all but synonymous with business master's degrees. This mainstay has grown into a powerful degree with lucrative employment prospects. More than 1 in 5 business school alumni work in a finance/accounting function, and new degree earners will get median starting salary of US$80,000 this year. This degree can be especially rewarding if you're interested in working for larger companies, specifically in Latin America and Europe.
According to GMAC's Alumni Perspectives Survey, four out of five alumni consider their graduate management education an outstanding or excellent value and agree it was personally, professionally, and financially rewarding.
Take the quiz: Is Now the Right Time to Go Back to School?
The GMAT exam is your pathway to earning a spot in a top business master's program
Leading business master's programs around the world accept the GMAT exam as a part of the business school admissions process because it's a proven predictor of your ability to succeed in their classrooms. Applying with a competitive GMAT exam score demonstrates your commitment and motivation and helps you stand out in the admissions process.
Are you ready to take the GMAT exam? Create an mba.com account and reserve your testing appointment today!
Prep smarter, not harder. Get expert step-by-step guidance on preparing for the GMAT exam with our 8-week study planner. Go from zero to GMAT-ready in just 8 weeks!