What Are the Different Types of Business Master's Degrees?
What Are the Different Types of Business Master's Degrees?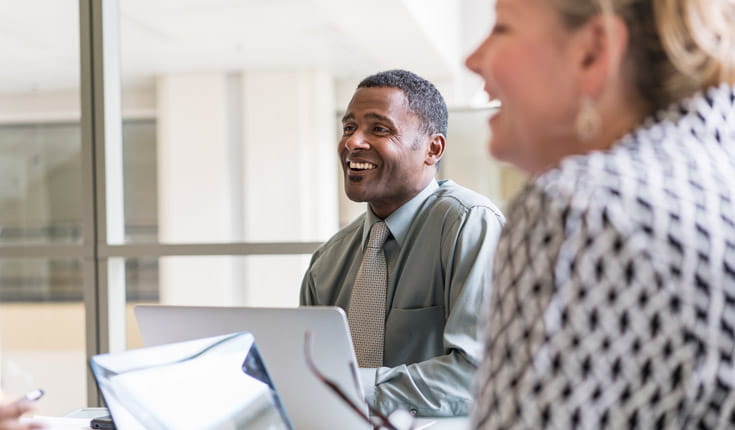 Explore the different types of generalist and specialist business master's degrees.
When it comes to graduate business school degrees, you've got two options: cover the fundamentals of business with a generalist degree or become a subject-matter expert with a specialist program. Regardless of the path you choose, you'll leave with the skills and strategies to launch your career to the next level. If you're still deciding which type of business master's degree best meets your needs, use the information below as a guide for evaluating the different alternatives.
Generalist business master's degrees
If you're interested in pursuing a general postgraduate degree in business, you can choose from either an MBA or a Master in Management (MiM). In both cases, your b-school degree will afford you a comprehensive and strategic understanding of common business principles and open doors across a variety of industries and job functions.
MIM
If have you have less than two years of work experience and want to learn general management principles, a MIM degree could suit you. While most programs are designed to complement all undergraduate studies, check first! Some MIM programs require you to have studied some specific business and/or economics topics to qualify for admission. With a curriculum grounded in theory, your learning can be supplemented with activities designed to help you gain the corporate perspective (such as consulting projects or internships). Upon graduation, students are typically recruited for entry-level positions but according to the Graduate Management Admission Council (GMAC) 2018 Alumni Perspectives Survey, three in four MIM alumni reported that they've moved further along in their career than peers without their degree. Want to learn more? Click here to read about MIM programs.
MBA
Historically, one and two-year MBAs have been the most common advanced business degree. Most programs require several years of work experience and a typical full-time MBA student is between 28 and 32 years old. As an MBA student, you can expect to learn through hands-on, practical application via group work and consulting projects. An MBA degree has a prestigious reputation around the world, and many degree holders are recruited for mid to senior-level positions. The survey also states that 7 in 10 recent full-time MBA grads say they could not have landed their current job without their degree and respondents reported an immediate salary growth of USD $40,000 upon graduation. Click to read more about the current state of the MBA degree and decide if this is the degree for you.
Specialized business master's degrees
In-depth knowledge in a specialized subject area may be the key to accelerating your career—74 percent of b-school alumni say their degree provided opportunities for quicker career advancement, and 82 percent say it increased their earning power. If you pursue a specialist degree, be prepared to spend 12 months focusing on a specific topic and recognize that many of these programs do not require either work experience or to have previously studied the topic.
A specialist degree will help you shine in your chosen field and is a great way to start your career in business. The curriculum, admission criteria, and costs will depend on the institution, location, and program, among other things, so use the Program Finder feature to discover and connect with schools based on your preferences.
Ready to take the next step? Preparation is key, and you'll want to make sure you have adequate time to research schools, save money, and prepare for your GMAT™ exam. Begin by completing a self-assessment and then work your way through the business school application checklist.