The #1 Question: How Much Time Should I Spend Studying for the GMAT™ Exam?
The time you should spend preparing to take the GMAT exam is unique to you. While we don't know what's right for you, we do know how much time others spend, on average, to prepare for the exam and their self-reported GMAT results. We also know that successful business school candidates gave themselves 3-6 months to prepare.
Those who do better on the GMAT exam tend to spend more time studying for it. There is no cause-and-effect process at work, however. Studying 90 hours does not guarantee that you will score in the 700 range.
According to the GMAC™ (2016) mba.com Prospective Student Survey of more than 3,600 GMAT test takers, 62% of test takers begin their preparation four or more weeks ahead of their exam date. Those who began their preparation earlier accumulated more total prep hours. Those who studied more scored higher–60 hours or more yielded scores of 500 or higher.
Use the information in the charts below as a guideline. Be mindful that the times shown in these charts are self-reported.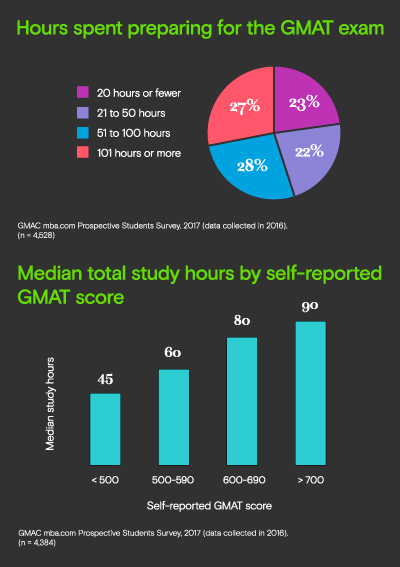 Pacing is Key
Your study plan is as individual as you are. Build a plan that sets a pace that works for you and your lifestyle. Here are a few things to keep in mind:
Knowing your own skill and ability level, what areas you are good at, and what you still need to master
Adjusting your own study habits accordingly
Being patient with yourself and the study process
It's Really All About Studying Smart
Ultimately, it's how smart you study, not just how long you study that matters. Develop a study plan that includes not just when you'll study, but also what you'll study. Think about how you can best prepare, given your discipline, motivation, and personal preference (e.g., self-study, one-to-one tutoring, study groups, and classes). Check out the GMAT Study Timeline to assist you in preparing.