Why Higher Education is Important for Women
Why Higher Education is Important for Women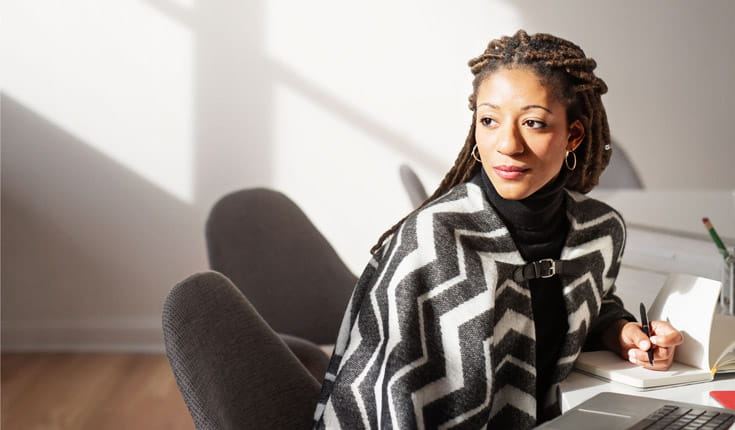 As business schools worldwide experience slight declines in enrollment, one population segment is setting records in graduate business school attendance: Women. Higher education proves to be a potent tool for helping women realize their true potential, hone their skills, and make real progress in closing the gender pay gap.
Break the mold, buck the trends
Although recent surveys show that total graduate business school applications are down 3.1 percent, women are reversing that trend and are steadily narrowing the gender divide in applications to graduate business school. According to the National Center for Education Statistics, women now represent 47 percent of individuals receiving graduate business degrees from US business schools—a significant increase from less than 5 percent in 1970. Furthermore, in 2018, a record high of 47.1 percent of GMAT exams were taken by women.
Why are more women than ever dominating the graduate business school arena? Career-focused women make ideal MBA and business master's candidates because they exhibit key qualities that business schools look for:
Inherent l

eadership

.

Many women are innately driven to bring people together to achieve something bigger than themselves. They

often motivate and inspire others to think in new ways and overcome obstacles.

Exceptional c

ommunication

skills

.

Women excel at soft skills, like communication, in a professional setting; they demonstrate an ability to unify teams and work well with others.

Upward career trajectory.

Women are not only motivated to complete tasks; they have an astute, wide-angle view of what is most beneficial for their careers in the long run.
Because more women than ever before are pursuing MBAs, experts are hopeful that women will help close the gender pay gap that estimates them earning US$0.80 cents for every dollar earned by a man.
What's in it for Women?
Whether you're entering the corporate or entrepreneurial world, below are five ways you can benefit from business school:
Meet the demand of graduate business schools.

Business schools have robust programs in place to recruit women. Sixty-seven percent of full-time, two-year MBA programs as seeking more female candidates.

Hone important skills.

The skills gained in graduate business school have a positive effect on women both professionally and personally. Recent data reveals that earning an MBA helps prepare you for leadership positions, carves out a clear path to career advancement, and helps you attain a better work/life balance.

Accelerate your career.

Women with MBA degrees go on to work in a vast range of industries and job functions, with more than half of them working in mid-level positions, and 22 percent of them hired at the senior level.

Increase employment opportunities.

An impressive 86 percent of women received a job offer within three months after earning their business management degree.

Earn more money.

MBA salaries demonstrate a valuable return on investment: Your degree can increase your earning potential by 90 percent. The median starting wage for women earning a full-time, two-year MBA is US$95,000 a year, while part-time MBA program graduates earn an average of US$75,000 annually.
Beyond the benefits of an MBA, the best testament to the value of a business master's degree is to hear success stories from other women like you. Danielle and Maria share their perspectives on how business school has advanced their corporate and entrepreneurial pursuits and helped them transform their passions into rewarding professions.
Read more: Groundbreaking Women MBAs
A global perspective on gender equality and educational opportunities
The trends, qualities, and benefits of women earning an MBA are clear, but how does graduate business education impact gender equality on a global perspective? This comprehensive resource that compares gender parity in more than 30 countries shows a positive socioeconomic trend. The statistics show a growing number of women in many nations are pursuing business studies.
So, where are women pursuing their graduate business degrees? This list touts the top 10 European countries for women in business school, as well as five other top countries for business school:
Europe
Germany

Norway

France

Iceland

Sweden

Finland

Republic of Ireland

United Kingdom

Netherlands

Slovenia
Other Countries/Regions
Hong Kong

India

Singapore

Canada

United States
How to start your graduate business school journey:
Pursuing your MBA is a life-changing endeavor. These five steps will help you stay focused and organized from now until you step into your first class:
Do some soul searching.

What are you passionate about and what motivates you? Determine how that passion and motivation translate into your career, so you can define your goals and find schools in sync with your values. Start by taking this self-assessment.

Use a comparison tool.

The Program Finder can help you discover and evaluate programs based on your preferences. You can find and compare multiple schools that match your criteria, and peel back layers of what each one offers. Compare features such as admission requirements, course offerings, and teaching styles.

Expand your application horizons.

Many make the mistake of only chasing after the most prestigious business schools, when the real key to success is finding the right program that fits your needs. Expand your search to include all the incredible b-schools around the world that offer amazing academic programs.

Plan campus visits.

Today's digital landscape lets you do so much virtually, but nothing can replace an in-person visit to a business school. Immersing yourself in the culture and environment will help you decide if that b-school is truly a good fit for you.

Get ready for your GMAT exam.

Don't let your search for the right school distract you from preparing for the GMAT exam. Plan to carve out 3-6 months to get ready—start your prep with these

free resources

.
Are you ready to start on your path to b-school? Create your free profile today.