Should I Get an MBA? How to Know You're Ready
Should I Get an MBA? How to Know You're Ready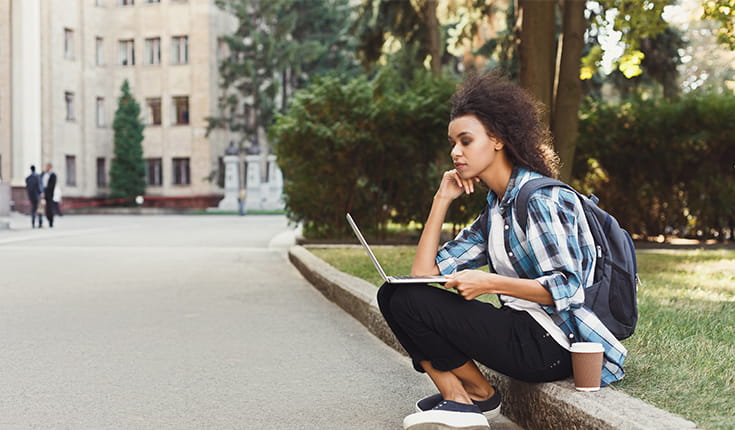 So, you've been accepted into an MBA program after putting all your effort into the application process. What now?
Here are eight tips on how to prepare for an MBA.
1. Complete micro MBA courses
One of the best ways to feel prepared for the intensity of an MBA program is to take some time to learn core business topics so that you can enter the classroom ready to roll.
The Graduate Management Admission Council™ (GMAC) and Kaplan have partnered to launch GMAC Business Fundamentals, powered by Kaplan courses to help students sharpen their quantitative knowledge and prepare for the rigor of business school before starting an MBA program There are three courses covering statistics, accounting, and finance.
You can study all three courses or pick and choose to suit your background and needs. The courses can be completed at your own pace and are taught by experts who provide lessons as real-world business scenarios. Professor Sidhartha (Sid) Das, a teaching and research faculty member at the School of Business, George Mason University, reviewed the Statistics course, saying "… [it] provides an excellent introduction to the fundamentals of business statistics. Basic statistical concepts have been well addressed, providing the student both the knowledge and tools to move forward and handle more complex statistical ideas and concepts."
2. Create an MBA reading list
Aside from brushing up on your quantitative knowledge, pre-MBA it's a good idea to start reading into critical MBA areas like problem solving and management.
While most business schools will provide a list of books to read in advance, it's also worthwhile reaching out to individual professors or alumni to ask for their recommendations on the books to read before an MBA.
NYU MBA Kushal suggests reading outside your comfort zone to become a more well-rounded candidate. One book that he recommends is Kindra Hall's Stories That Stick, which delves into the value of storytelling in business.
"You should also consider reading the business news and journals. We've become a society that reads headlines and bulleted lists – refocus and retrain yourself to read the entire article," advises Jenifer Turtschanow, CEO of ARINGO MBA Admissions Consulting.
Jenifer also recommends having a regular flick through publications like the Financial Times, Economist, Wall Street Journal, and McKinsey's discussion papers.
3. Research MBA clubs
One of the best aspects of the MBA experience is being able to access a variety of clubs and societies at your business school. From sports-focused and debating clubs to diversity-based groups like Women in Business networks and the Black MBA Association, you're sure to find a group that suits your goals and ambitions.
"Once an applicant has committed to a school, they should leverage the relationships they built during the application process to seek out advice," says Melody Jones from Vantage Point MBA Admissions Consulting.
Whether there was an alum you spoke to who has connections with a certain club, or a faculty member who discussed the value of a given society, reach out to these people for more information about specific MBA clubs and how they can add value to your business school experience.
4. Practice your networking skills
You'll have the word "networking" drilled into you from the very beginning of your MBA journey. But don't feel like should wait until you're at business school to practice the skills you'll need to utilize at MBA networking events.
MBA programs usually hold virtual and on-campus events prior to the start of the program to give students a taste of the business school experience. You should aim to take full advantage of these events and start your MBA networking ahead of time.
"Start meeting your peers and being a part of the community as early as possible. Join the group social page and introduce yourself," says Jenifer from ARINGO.
5. Organize your time
There's no denying the fact that juggling studying with personal commitments and the social aspect of an MBA will be difficult at first. That's why it's crucial to have a plan in place to organize your time before you start.
"Students should have very clear goals and objectives for their MBA going into it. It's not to say that your goals won't change along the way but having clear priorities will help you manage your time in the best way for you," says Melody from Vantage Point.
To help order your priorities and meet your MBA goals, Jenifer from ARINGO suggests using organization tools like Evernote or Trello.
It's also good practice to include some downtime within your plan to ensure you don't put yourself at risk of burnout. You'll already have experience of managing the stress of the MBA application process, so incorporating some of these coping mechanisms into your daily MBA routine will stand you in good stead.
"Try to develop daily activities that support your mental health, and once in the MBA, work to maintain these activities. Whether it's exercise, a hobby, or mindfulness techniques, you will want to be prepared for the exciting but demanding experience of completing your MBA," says Danae from Menlo Coaching.
6. Consider MBA specializations
During the MBA application process, you'll likely have had thought about your career goals. These goals should define the specializations, concentrations, or tracks you'll focus on in the MBA program.
Many MBA programs offer MBA specializations in topics like marketing, technology, entrepreneurship, or operations, so dig into what you'll learn in these programs to ensure you select the right MBA specialization for you.
"Each program has a vast range of course offerings and faculty backgrounds – learn about the electives that interest you and the professors you want to learn from. This will make the transition smoother when you are deciding what classes to choose during the program," says Kushal from NYU Stern.
7. Scope out your business school's career links
Studying an MBA also gives you access to your business school's career links. If you're already dreaming of a career at a specific firm, then you should take time out to strategize how you can improve your chances of landing a job there before beginning business school.
"By doing your homework ahead of time and knowing what roles you want to recruit for, what companies are high on your list and who visit campus, and what their recruiting process is will help ensure you're prepared when the time comes," says Melody from Vantage Point.
Many top firms, including Bain and Deloitte, also offer pre-MBA internships, so it's a good idea to research these opportunities.
"It's never too early to begin networking. Grabbing a cup of coffee with an alum at one of your target companies the summer before you start your MBA can only help your process," adds Melody.
8. Update your resume
To make the most of the career guidance, make sure to arrive on campus with a fully updated MBA resume that reflects your achievements to date.
"Most programs will introduce you to your career center and coaches over the summer, so make sure you track your achievements post-admit to hit the ground running," says Jenifer from ARINGO.
These career coaches can also give you information about recruiter events and will advise you on how to stand out.
While there's a lot to consider before joining an MBA program, you already have put many important skills into practice – including networking and organization – during the MBA application process. Now it's just about continuing to practice these skills and filling in certain knowledge gaps along the way.
Don't feel like you need to go through the process of how to prepare for an MBA alone – try to speak to as many faculty members, alumni, and students as you can to gain different perspectives become confident and ready on day one.