Do You Need To Get an MBA?
Do You Need To Get an MBA?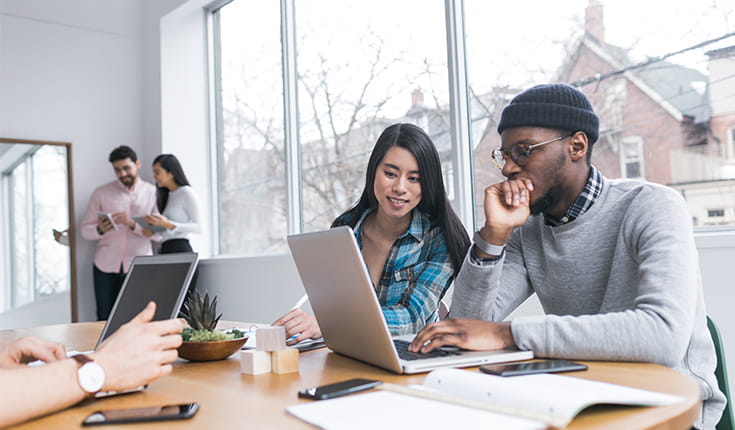 An MBA program is a big undertaking, requiring time, money, and effort. So, the question is, do you really need to get an MBA?
MBA programs are typically aimed at candidates who are already in the workplace and wish to develop their business skills and management style to switch careers or launch their own businesses. They can be a vital way to move up in your career and develop your network, but an MBA program can be a significant drain on your finances.
When deciding if you need to get an MBA degree, there's a lot you should consider: your career path, work experience, and future goals. Business school can be expensive, particularly an MBA degree, and if you don't need one for your future, then it might be better for you to leave it.
To make the decision-making process easier for you, this article will take you through why an MBA might be valuable for you and help you determine whether you need one.
What is a Master of Business Administration?
A Master of Business Administration (MBA) is an advanced business degree that helps young professionals with at least a few years of experience boost their careers.
With an MBA degree, you'll gain a solid foundation in traditional areas of business, such as finance, sales, and operations, while developing your leadership skills and critical thinking abilities. This blend of specialized business knowledge and 'soft skills' makes it a good choice for anyone looking to switch industries, get a promotion, or move their career to a new region.
What Types of MBAs Are There?
The standard MBA is a full-time MBA program, which usually takes up to 18 months to complete. This is the standard revolutionized by Harvard Business School in the 20th century and remains the standard type of MBA in regions like the United States and Asia.
In Europe, however, you're more likely to see full-time MBA programs that last for just one year. These will cover the same core topics – and include options like an internship or immersive study abroad experience – but last for anywhere between 10 and 16 months.
You can also study a part-time MBA, which allows students to work full-time while attending business school. Part-time MBA programs differ in length, but most will take approximately 24 months to complete and feature a blend of on-campus and online learning.
Executive MBA programs (EMBA) are also built specifically for senior managers with more managerial experience than MBA applicants. This business administration degree will tackle subjects at an even higher level and prepare students to work in senior and executive positions in an organization.
What are the Benefits of Doing an MBA Program?
An MBA degree is an intensive experience that will see you explore fundamental topics in business and hone your management skills. MBA students gain practical business skills while building their confidence in management and building professional connections that will be valuable in their future career path.
The breadth of subjects studied on an MBA degree means MBA graduates are prepared for a vast range of career opportunities in popular business sectors. These include:
Finance

Marketing

Sales

Operations

Supply chain management
As an MBA graduate, you'll also earn a far higher salary than graduates of an undergraduate business degree. For example, graduates of top MBA degrees frequently see six-figure salaries. In the US, companies that plan to hire MBA graduates will offer an average starting salary of around US$115,000.
More than any other business degree, an MBA will allow you to form connections with other working professionals, potentially leading to future job opportunities. The best MBA degrees and top business schools gather students from various industries and regions.
As a result, the connections you make could lead to lucrative leadership positions in global companies. Other MBA grads launch their own business ventures with their fellow students.
What is the Minimum Work Experience Required for an MBA?
As one of the core MBA entry requirements, most MBA programs usually require you to have a minimum of two years of experience. The average MBA student has between three and five years.
But being within or outside of that range doesn't guarantee an MBA application's success or failure.
An MBA program refines your skills rather than developing them from scratch. That's why it's essential to have some understanding of the working world.
"MBA programs are designed to be hands-on, experiential learning experiences, where students draw from the context of their past professional experience and their peers' experience to enrich the learning environment," explains Melody Jones, co-founder of Vantage Point Admissions Consulting.
Without work experience, class discussions would have to rely much more on theory, offering fewer opportunities for students to learn from each other's past mistakes and successes.
"They expect a certain degree of maturity, skillset, and managerial ability that comes with experience," Melody adds.
Work experience also contributes to your post-MBA career development, which requires academic credentials and real-world experience.
Since recruiters do not only consider the additional skills gained through an MBA degree, but also the experience brought in from before, it is much harder to convince an employer to consider a candidate who has no kind of professional experience," says Stephanie Kluth, head of admissions for ESMT Berlin.
What Kind of Work Experience Do I Need?
There really is no "typical" kind of work experience for an MBA candidate. Business schools look to build diverse cohorts with MBA students from different industry backgrounds.
"Diversity of experience and professional background are what make MBA programs so unique," Melody points out.
MBA students hold undergraduate degrees in a wide variety of disciplines like STEM, business, and humanities. They come from a broad range of fields, including technology, healthcare, nonprofits, the media, and consulting.
Some have worked for big, well-established firms, while others have experience in very small startups.
Ultimately, what matters is not the work experience itself but what it's taught you and how your responsibilities evolved throughout your experience.
MBA admissions teams don't look for big-name companies but instead for evidence of leadership. They want to know how you approached challenges and how your role helped you develop your problem-solving, communication, analytical, and managerial skills.
"Factors like leadership capacity, teamwork, emotional intelligence, and international outlook play a major role in this assessment," Stephanie says.
Can I Get an MBA Without Work Experience?
Clearly, work experience is important in your MBA application. But it's not the sole predictor of success.
If your application stands out in other ways – exceptional Grade Point Average (GPA), a strong GMAT score, self-taught data analysis skills, for example – that may be enough to counterbalance a lack of professional work experience.
Activities outside of work, including hobbies, extracurriculars, and community service involvement, can also strengthen your MBA application, especially if you can indicate evidence of leadership development.
As with professional experience, the type of activity doesn't matter as much as your approach to it and what you've learned. Admissions teams are less interested in a particular title than in a demonstrated sense of initiative and willingness to make an impact.
If you have little to no work experience, you can still get an MBA. Early career MBA programs, for instance, equip you with the expertise and network for a successful first step into the professional world.
You could also consider a deferred MBA program.
Do I Need to Get an MBA?
So, we land on the critical question: does an MBA degree matter? Do you need one?
The answer depends on prior business education and business background. If you've already completed a specialized business master's and find yourself comfortably moving up in your industry, you may not need one.
However, if you wish to access new career opportunities, particularly in a different industry or even somewhere else in the world, then an MBA could be your ticket there. An MBA degree will help you develop skills vital in senior managerial positions and equip you with the knowledge to explore a new industry.
What Other Pre-Experience Business School Options Are There?
Suppose you think you're too young for an MBA or don't want to dedicate a long period of time to business school. In that case, another alternative could be a business master's degree, which is targeted at recent university graduates and doesn't require any work experience.
Like an MBA program, a business master's can provide a holistic understanding of business practices. But while MBA class discussions rely on real-world expertise, learning for business master's students is usually more theory-based. However, real-world learning experiences like consulting projects and company visits are often baked into the curriculum.
If you're unsure which degree is the right fit for you at this stage of your career, then ask if you should study a business master's or an MBA later. Some candidates do both.
Either way, a lack of professional work experience shouldn't put you off applying for an MBA. Although most top programs will expect you to have a minimum of a few years of experience before applying, other options are available.