What's The Average MBA Starting Salary Around the World?
What's The Average MBA Starting Salary Around the World?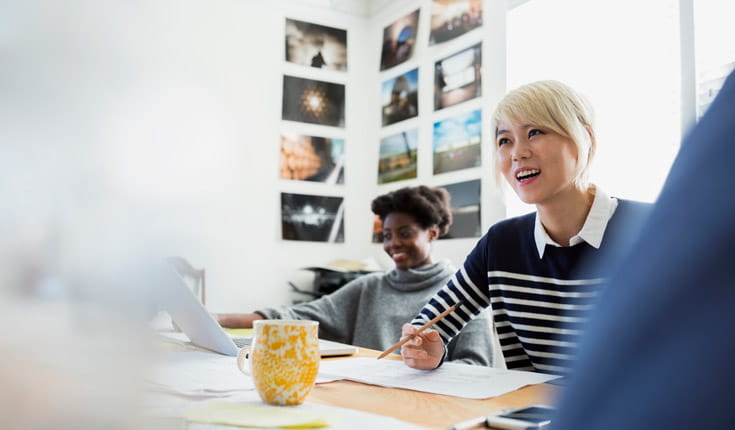 On top of increased networking opportunities and a chance to develop new skills, one of the major appeals of an MBA degree is the lure of a higher salary.
No matter where you are in the world, an MBA program can teach you in-demand skills in leadership and management, helping you unlock competitive salaries in high-paying fields from the finance industry to the fast-evolving technology sector.
So what kind of starting salaries can business school graduates from around the world expect to earn with an MBA degree?
Average MBA starting salary: Europe
Boasting financial hubs in culturally rich cities such as London, Paris, and Amsterdam, embarking on a career in Europe can be an exciting path for MBA graduates. Not only that, but the continent also provides some of the highest starting salaries for new MBA hires.
For example, MBA graduates from France's INSEAD – an FT top-ranked MBA program in Europe – can expect to earn an average starting salary of $113,700.
However, this figure changes depending on the field they enter. For INSEAD MBA grads entering tech, the median starting salary is $100,000, while for consulting and finance, the figure amounts to around $117,000. In the field of corporate services, the median base salary rises to $145,000.
MBA graduates from IESE business school, Spain, can expect an average starting salary of just over $99,000 – though this figure rises drastically when factoring in their average MBA salary bonus, which stands at $78,000.
Graduates of the London Business School MBA program enter into an average starting salary of about $125,000. However, this figure is higher in certain industries.
For LBS MBA grads going into consulting, the average salary of $129,000, while those embarking upon a career in the finance industry can expect an average base salary of $135,000.
Average MBA starting salary: US
If you've ever dreamed of moving to the bustling streets of New York or starting a glamorous life in sunny LA, you'll be pleased to find that US companies offer some of the highest starting salaries for MBA graduates.
In 2023, a GMAC corporate recruiters survey found the median starting salary in the US for recent MBA graduates stands at an impressive $125,000.
However, this figure can increase depending on what business school you go to. Graduates from the top ranked MBA programs tend to enter into roles with even higher starting salaries. As of 2022, the median starting salary for MBA grads from top business schools like Stanford, Dartmouth and Harvard Business School is $175,000.
The average base salary for MBA grads also differs depending on different industries. In the technology sector, the average MBA salary for graduates is about $128,000, while those landing a career in finance can begin on $138,000.
Given its higher salaries and lucrative signing bonuses, another career path that MBA graduates tend to lean towards is consulting. Here, the average starting salary is over $140,000 – but in top companies this can be even higher.
In 2023, the Big Three consultancy firms increased their MBA salaries in the US. McKinsey & Company and Bain & Company now both offer a base salary of $192,000 per year for MBA graduates. On top of this, Bain offers MBA grads performance bonuses of up to $63,000 and signing bonuses of $30,000, while new MBA hires at McKinsey can expect performance bonuses of up to $45,000.
Average MBA starting salary: India
Whether you fancy hustling in the thriving financial capital of Mumbai or living in the ancient city of Delhi, as one of the world's greatest emerging economies, India can provide enticing opportunities for MBA graduates.
Starting MBA salaries for graduates of the FT top-ranked Indian School of Business are around $41,000, with some of the most popular industries being IT, consulting, and manufacturing.
Following closely, graduates of the prestigious MBA program at IIM Ahmedabad can expect an average salary of about $38,000, while MBA graduates from IIM Bangalore earn average salaries of around $39,000.
At another FT ranked business school, IIM Calcutta, the average salary for new MBA graduates is currently $37,000.
Similarly, the average salary for graduates of the highly ranked IIM Indore MBA program is currently $36,000. However, they also had one of the highest recorded starting packages in 2023, with one of their graduates receiving a domestic job offer with a MBA salary of $140,000.
While grads from Indian business schools earn comparatively lower salaries, this is largely because Indian students tend to begin MBA programs earlier on in their careers, while most students in the US and Europe begin a MBA degree with an average of three to five years of professional experience under their belt.
This means that while Indian MBA graduates may not start off with as high an average MBA salary as in the US, they can expect to see pay increases as they progress through their careers.
For example, after three years of graduation, the average MBA salary for IIM Ahmedabad graduates is $186,420, a higher figure than many US and European MBA degrees.
Average MBA starting salary: China
The glittering towers of Shanghai are famed for producing and attracting some of the most successful businesses – and MBA programs – in the world. With high starting salaries and world-renowned business schools, it's easy to see why so many MBA graduates choose to build their careers in China.
For graduates of China's number one FT-ranked MBA program at CEIBS, the median starting salary is around $67,000. However, this base salary can be higher depending on the industry grads choose to enter.
For MBA grads, the technology sector provides an average starting salary of around $70,000, while graduates entering into consulting or healthcare can be offered base MBA salaries of over $125,000.
Similarly, the most popular sectors that graduates from the Fudan University MBA program enter are technology, consulting and manufacturing. While the majority earn an average MBA salary between $28,000 and $56,000, some Fudan graduates can earn a base MBA salary of over $80,000.
At the Peking University Guanghua School of Management MBA program, graduates of the class of 2021 went on to earn base salaries between $55,000 and $83,000, while over 13% of graduates landed MBA salaries of more than $125,000. The two most common industries that graduates entered were finance and tech.
The region you choose to study depends largely on your career goals. Whether you're aiming to launch your career in Asia or land a role in the US, an MBA can help you secure your target job and unlock your salary potential.