Guide To Your Average MBA Salary
Guide To Your Average MBA Salary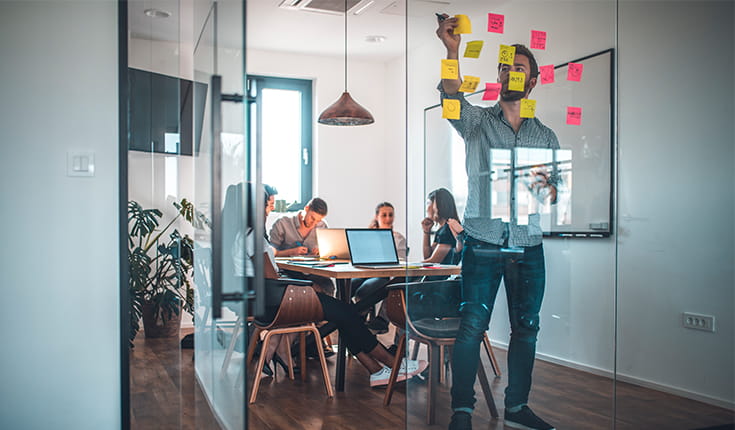 Money may not be able to buy happiness, but a bigger paycheck wouldn't exactly make you sad, would it?
One of the top professional goals among prospective MBA students is to increase their earnings, and studies from b-school alumni show that the average post-MBA salary doesn't disappoint. Overall, nearly 9 in 10 MBA alumni agree that their degree increased their earning power and just as many rate the overall value of their degree as good to outstanding.
But how much money do MBAs actually earn? This is your in-depth guide to MBA salaries, including the average MBA starting salary for different industries and MBA programs as well as the factors that could affect how much you earn as an MBA graduate.
How Much Can You Increase Your Salary After an MBA?
MBAs typically earn far more than graduates of other degrees, whether that's a business master's or a different program entirely. Doing an MBA degree is thus a sure-fire way of increasing your salary.
The Graduate Management Admission Council's (GMAC) annual Corporate Recruiters Survey gathered 941 responses from global recruiters to understand average MBA salaries. Responses proved that the average starting salary for MBA graduates isn't likely to decrease and is much higher than for other similar business school degrees and MBA alternatives.
In fact, in 2021, the average starting salary for MBAs was between 22 percent and 40 percent higher than for bachelor graduates. Overall, 71% of corporate recruiters agree that employees with a business school education earn more at their companies.
It's not just recruiters who notice the earnings potential of MBA graduates – 79% of graduate business alumni strongly agree that their degree increased their earning potential.
What is the Average Salary for MBA Graduates?
The most recent data from GMAC's Corporate Recruiters Survey shows that US companies plan to offer new MBA hires a median starting salary of US$115,000 – notably higher than the median for Master in Management degree hires (US$95,000), and bachelor's degree hires (US$75,000).
The compensation premium is even more apparent for Fortune 100 companies and the big-three industries that hire MBA graduates – consulting, finance, and technology. For example, at US$145,000, the median salary of MBAs in the consulting industry is twice that of bachelor's degree holders.
However, your MBA salary could reach even higher. A 2021 study from the Forté Foundation found that the average salary for MBAs up to two years after graduating was between US$133,511 and US$144,956.
Your graduate salary package may also include additional forms of compensation such as a signing bonus, bringing up your salary. This is most common among US companies, where 76% of companies offer a signing bonus, which could be as high as US$10,500.
What Can Influence Your MBA Salary?
While most MBA graduates will see high salaries after their degree, there are lots of things that could affect how much you make in your average annual salary and, ultimately, your return on investment (ROI).
You should also remember that your total MBA salary package may also include things like a signing bonus, performance bonus, and stock options, which will influence your total compensation. In general, when referring to salaries in this article, we're referring to a base salary, but your salary package could add up to more.
We'll explore each of these factors in-depth later in the article, but for now, here are the main things that can influence how much you earn post-MBA.
Program
Studying a specialized business management program may lead you to higher-paid jobs, as you'll be working in a technical niche. Similarly, Executive MBA graduates may earn more after graduating because they generally have more work experience than students on a traditional two-year MBA program.
Remember, too, that it will take you some time to make a return on investment from your degree because of the cost of your program. On average, it takes full-time, two-year MBA graduates approximately 3.5 years to recoup their investment. Additionally, if you took out loans to fund your degree, this could affect your take-home MBA salary.
Location
Salaries for MBAs are higher in the US than in other countries, though working at a multinational company in Europe or Asia can still offer a significant salary. Within the US, there's also variation in MBA salaries depending on if you work in a larger city or town.
Business School
Attending a top-ranked school can increase your chances of achieving a high salary after your degree. Prestigious MBA colleges will have strong company links and large alumni communities, increasing your chances of finding a top-paid role after graduation.
Regardless, wherever you get your MBA, you're still on track to increase your salary compared to others who don't have a business administration degree.
Industry
Some industries naturally offer higher salaries to MBAs than others. For example, graduates who stay in consulting and finance after their degree could see their salary approach US$200,000, not to mention high salary packages that often include performance bonuses.
Average MBA Salary By Location
Your average MBA salary will also depend on your country of employment. In the US, where an MBA degree is highly valued, graduate salaries can reach much more than the average.
Data from GMAC's Corporate Recruiters Survey shows that MBA graduates in the US see the highest salary, reaching US$115,000. The US also sees the largest disparity between average salaries for MBA graduates and bachelor graduates.
In East and Southeast Asia, an average MBA salary is US$65,000, and in Africa, an MBA graduate can expect a starting salary of US$35,000. The average MBA salaries in the Middle East and Latin America are US$30,000 and US$25,000, respectively.
Average MBA Salaries in the United States
It's worth looking more closely at MBA salaries in the United States, as average compensation varies considerably depending on where you live and which school you attended.
The United States has some of the most highly reputed colleges in the world. Graduates of Stanford Graduate School of Management, for example, can expect an average MBA salary of US$222,000 – over US$100,000 higher than the average for the US as a whole.
It's the same for other top business schools. Graduates of Harvard Business School see an average annual salary of US$210,000, while the figure is US$211,500 for Wharton MBAs.
Your MBA salary in the US will also depend on where you work. In general, larger cities offer higher average annual salaries for MBAs, though it'll depend on the types of companies headquartered in each city.
For example, in Seattle, WA, the average MBA salary is US$88,834, the highest salary for major US cities. Seattle is followed by Boston, MA, which has an average MBA salary of US$82,485. Other major US cities like Washington, DC, Charlotte, NC, and Austin, TX, offer MBA salaries of over US$70,000.
Average MBA Salary By Industry
The average MBA salary you can expect after graduating also depends on your chosen post-MBA industry and role. There are a huge number of job opportunities for MBA graduates, and salaries vary considerably.
As we've explained, the most popular industries for MBA graduates tend to offer much higher salaries than other industries. However, most MBA graduates will still find high average salaries in lots of other industries.
Consulting
Consulting has been one of the top routes for MBA grads for many years. About half of prospective graduate business students say they wish to explore consulting after their degree.
As well as offering MBAs a chance to apply a multitude of skills in communication, problem-solving, and multitasking, the consulting industry also comes with high salaries. In fact, in 2022, the Big Three consulting firms – McKinsey, Bain, and the Boston Consulting Group – raised the average starting salary for MBA consultants by US$10,000.
This means that as a consultant at a Big Three firm you could expect a salary of US$175,000. Signing bonuses are also high, at US$30,000.
You won't necessarily take a salary hit by accepting a position at a boutique consulting firm like Accenture Strategy, either. Many boutique consultancies have raised their average salary in line with Big Three firms.
Overall, consulting salaries have risen 10% over the last year. Even if you don't find a job with a Big Three consulting firm, the average MBA salary for consulting still tops US$100,000. With consultants continuing to be in demand, it's unlikely that these salaries will decrease any time soon.
Finance
It's not just high salaries that draw MBA graduates to the finance industry, but it certainly helps. The average MBA finance salary is almost US$139,000, which doesn't beat consulting, but comes close.
The highest paying jobs in finance include positions as a finance manager, where you can expect a salary of around US$134,200 in the US.
Many graduates with an MBA specialization in finance also explore job opportunities in investment banking. In this area, you could see a starting salary of around US$125,000, but stay on as an investment banker and you could earn up to US$450,000.
By comparison, a Master of Finance graduate can expect to see a starting salary of US$80,000.
Technology
Technology is one of the fastest growing areas of interest for MBAs, particularly among women. Overall, between 2019 and 2021, the percentage of MBA students interested in the industry grew from 34 percent to 37 percent. Today, many MBA students follow an MBA specialization in technology, which can also improve job opportunities and salary.
On average, an MBA's salary in the technology industry is US$130,000. Tech giants like Google and Microsoft are among some of the companies that hire the most MBA students, exploring jobs in business analytics or as software project managers.
Remaining in the tech industry for a number of years can also guarantee access to the highest-paying jobs. As a Chief Technology Officer (CTO) in the US, for example, you could earn a finance salary of between US$100,000 and US$350,000.
Energy
Just over 10% of MBA students wish to enter the energy industry every year, and there are a huge variety of job opportunities in the industry – along with higher salaries than in other industries, topping US$120,000.
MBAs are well-poised to see this higher range of salaries. The mean salary for graduates from MIT Sloan's MBA program entering the energy industry was US$127,000 this year. Elsewhere, Payscale reports that graduates of an MBA specialization in energy, working as senior managers, can expect compensation averaging over US$140,000.
Nonprofit and Government
Traditionally, MBAs in nonprofit and government will see starting salaries on the lower end of the spectrum. For example, the average MBA salary for graduates in nonprofits is US$90,000, while the average salary in government is slightly lower, at US$88,000.
However, far fewer MBA students choose to follow a career in these areas after graduation compared with consulting or finance. Of Harvard Business School's 2021 MBA class, just 3% obtained jobs in nonprofit or government after graduating.
Marketing
MBA students are well-placed to get high-paying jobs in the marketing industry, especially for students who follow MBA specializations in marketing. Marketing graduates frequently find high-paying opportunities in digital marketing, for example as a marketing manager and in leading their own marketing agencies.
An MBA graduate who followed a specialization in marketing could see an average salary of up to US$103,000. For a marketing manager, the average salary is US$80,000 per year, stretching to US$177,000 if you take a role as a marketing director.
Average Salary By MBA Program
Your average salary as an MBA graduate can also depend upon which program type you have studied. Full-time and Executive MBA graduates tend to earn more than graduates from other programs, though average salaries for online MBA degree holders are increasing each year.
Full-time MBA
The full-time MBA program is still the most popular program type for prospective MBAs. More than 40% of prospective graduate business students have a preference for the full-time MBA over other program types.
Typically, the full-time MBA has also been the most respected program type among corporate recruiters, with salaries for graduates of the top-ranked MBA programs, especially in the US, regularly averaging over US$200,000.
Part-time MBA
53% of incoming part-time MBA students identify increasing their salary as one of the main reasons for getting a postgraduate degree in business. This is compared to 45% of incoming full-time MBA students. Part-time MBA programs attract professionals who want to fast-track their careers and aim for a salary increase without having to take time out of their job to study.
But part-time MBA students don't have to worry about their salary after graduating. On average, part-time students increase their salary by around 30% during their studies and could expect a salary increase of 137% in the six-to-eight years after graduating.
Executive MBA
Executive MBAs attract experienced professionals who already have an average of 5-10 years of work experience. These students may already be in high-salary roles but want to use the degree to switch industries or enter the C-suite.
As such, salaries for Executive MBAs are high. According to one survey, EMBA graduates see an average 14.1% salary increase after their program, taking their earnings to US$193,200.
Online MBA
Over the last year, there has been a significant change in how MBA recruiters perceive the value of online programs.
The percentage of global recruiters who view graduates of online and in-person GME programs equally increased from 34 percent in 2021 to 60 percent in 2022, suggesting significant growth in the acceptance of online programs across MBA recruiters.
On average, students from the top 15 online MBA programs see a salary increase of 30% or more within three years of graduating. Graduates of the best online MBA program in the world at Warwick Business School see an average salary of US$207,725 after graduating.
Why are MBA Degree Salaries So High?
So, why are MBA salaries so high? Well, this comes down to how much value MBAs can offer an organization compared to other degree holders.
What makes MBA graduates so valuable to companies? For one thing, MBAs can hit the ground running and make a positive impact in a short period of time. Overall, 9 in 10 global corporate recruiters say they are confident in graduate business schools' ability to prepare students to be successful in their organizations.
Specifically, a majority of recruiters say the reasons for their high confidence in business school hires are that they have a versatile skill set (72%), they are strategic thinkers (71%), and have strong communication skills (69%).
Versatile Skillsets
The broad-based, generalist curriculum of MBA programs spans the spectrum of topics relevant to business leadership, providing students with a solid footing in the principal concepts that will underpin their career development for decades into the future.
"An MBA is a very effective way to broaden your skillset very fast," says Zaneta Motkowicz, head of training and development for MBA and Master programmes at SDA Bocconi School of Management. "It's the perfect opportunity to build up your strengths and expand and diversify your skills in new areas."
The breadth of knowledge that MBA new hires bring to the table makes them a great match for leadership positions, especially in overseeing teams from different functional areas.
Strategic Thinking
The number one subject that MBA candidates agree is a "must-have" in their ideal curriculum is strategy, and for good reason: strategic thinking is a major skill that sets MBAs apart from the pack in the hiring process.
Overall, 59 percent of global corporate recruiters identify managing strategy and innovation as the number one most important skill for business school graduates to possess for current job openings.
"Many MBAs are being asked to come in at a level where they are managing people. They're being asked to make strategic decisions (not just implement them), and they're being asked to creatively solve problems, which is what innovation truly is," says Abby Scott, assistant dean for MBA Career Management and Corporate Partnerships for the Haas School of Business, University of California Berkeley. "This skill perfectly suits what an MBA teaches, and employers can gain genuine value from it."
Looking to the future, recruiters predict their demand for strategic thinking will only increase.
Sixty-two percent say that managing strategy and innovation will experience growing demand in the next five years – more than any other skill in the survey. This is a strong indication that investing in your strategic thinking abilities now will have major career benefits in the future.
Communication
Communication is one of those things that we all do every day, but it can be done poorly. The good news is that effective communication is learnable, and business school is the place to master it. In a survey of full-time MBA alumni, 4 in 5 agreed that business school played a meaningful role in developing their communication skills.
"An MBA combines hard data and tech skills with soft skills like emotional intelligence and empathy – which are increasingly important in the digital world and will only grow in demand in the future," explains Dr. Christine Menges, director of the MBA Career Center at WHU – Otto Beisheim School of Management.
Recruiters most commonly identified interpersonal skills as important to their current job openings, which include communication and soft skills like active listening, social perceptiveness, coordination, and persuasion and negotiation.
Particularly as the business world becomes increasingly digitally focused, the importance of human connection and understanding for managers will increase significantly. Overall, 57 percent of recruiters say interpersonal skills will grow in demand over the next five years.
Find Your Best-Fit MBA Program
So, you're ready to invest in yourself and your future with an MBA. The question is, will the investment pay off?
See for yourself by exploring how much more money you could earn with an MBA using our interactive salary calculator tool. Our tool is based on real salary outcomes from MBA students and can help you estimate how much of a salary increase you could see after your program.
Are you thinking about studying for a Business Master's degree instead? Then take a look at which Business Master's degrees pay the highest salaries.