When Can I Expect to See a Return on My Investment for a Business Master's Degree?
When Can I Expect to See a Return on My Investment for a Business Master's Degree?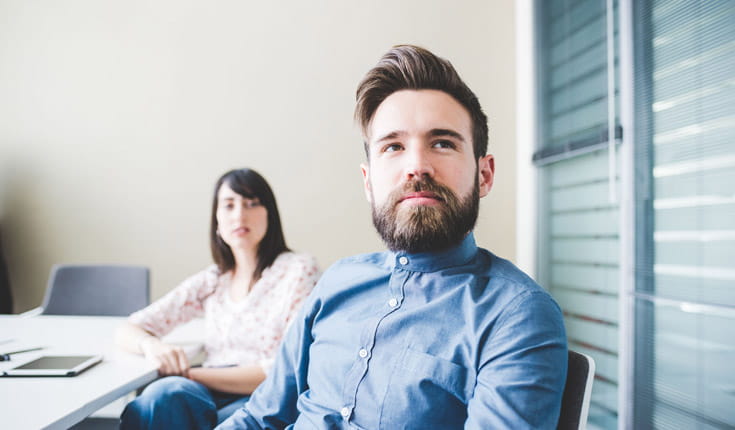 A business master's can often be the key to a higher salary, but how soon can you expect to see a return on your investment?
The benefits of graduate management education are longstanding and far-reaching. Your degree can take you to the cutting edge of the business world and to greater heights in your career. But completing a business master's is no small commitment, and you may be wondering when you can expect to see a return on your investment (ROI).
What factors influence the ROI of a business master's?
Before we can discuss the pace of your return, we must first establish what influences will determine the outcome of your business master's education.
First, you need to evaluate and calculate the out-of-pocket costs to attend your chosen institution, which include both your tuition and living expenses, as well as the opportunity cost of lost wages.
However, it's worth bearing in mind that if you study your master's degree online, you'll be able to offset some of the cost by working while you study. You also won't need to pay travel and living expenses as you would for an in-person specialized master's degree.
Second, estimate the salary – and signing bonus – you expect to earn upon graduation and throughout your career. In general, if your salary is lower than the cost of your education, it will take you longer to see a positive ROI, and vice versa.
Test out our ROI calculator here.
How long does it take to see an ROI on your business master's degree?
This calculation will be different for everyone, and there is no certain answer. However, exploring alumni salary data and business school rankings compared with the cost of studying will help you to gage an approximate length of time it will take you to see a return on your investment.
For example, according to the BusinessBecause Cost of MBA Report 2023, the most expensive MBA program in the world is at Columbia Business School. The total costs of the program including tuition fees, living expenses, healthcare costs, and so on reach $247,163.
The Financial Times MBA ranking 2023 reveals that within three years, Columbia Business School grads earn on average $226,359.
As the total costs of the Columbia MBA program – ranked the best in the world by the FT – are higher than the weighted salary, it will likely take the majority of graduates over three years to see a positive ROI.
In the Graduate Management Admission Council's™ latest Alumni Perspectives Survey, around nine in 10 business school alumni report a positive return on investment from business master's degrees.
B-school alumni reported that it takes, on average, fewer than four years to recoup the cost of their graduate management education. It takes full-time, two-year MBA alumni about 3.5 years to recoup their investment, followed by 2.5 years for one-year accelerated, part-time, online, and executive MBA graduates. Specialized business master's programs reported faster ROI times when compared with MBA programs.
When considering how long it takes to earn back your investment, you must also factor in opportunity costs from taking time out of work to study. Once you have recouped these calculated costs, plus the cost of your education, you will start to see a positive return.
"The first few months post-graduation are tough as I rebuild my savings. That said, not only did I triple my salary immediately, but my earning potential is completely reimagined," says Paige Smith, an MBA graduate from the University of North Carolina's Kenan-Flagler Business School.
The rate of your return can also be affected by external circumstances, such as the time period when you graduate and current economic conditions. Consider these alongside your projected growth as you weigh the ROI for different schools and programs.
Beyond increased earning potential, what is the value of business master's degrees?
What's not present in the numbers, however, are the non-monetary gains achieved by business master's students.
You can expect to realize an incredible amount of personal growth when undertaking a graduate business degree. In fact, 79% of prospective student say that their main reason for pursuing business education is to enrich their life and develop potential.
Not only will you develop your interpersonal "soft skills," but you'll gain a sense of pride, confidence, and independence from successfully completing your degree. You can begin to gain these skills as early as the application phase and expect them to last throughout your career.
Many business school graduates also cite the network as a huge aspect of a good ROI. Forging strong connections during your degree can have untold benefits throughout your career.
"Return on investment for me is knowing I can continuously open doors for myself and never get bored. The connections I made and the program itself meant there has been a huge diversity of experiences available to me," says Courtney Wenneborg, MBA graduate from the University of Washington Foster School of Business.
What does a business master's degree get you?
Is a business master's worth it? The short answer: yes.
If a strong ROI is at the top of your agenda, the best place to start is by assessing the affordability of your chosen business master's degree and how to cut down your student debt.
Think about your scholarship and finance options and come up with some ways to save money and plan a budget while you're studying.
During your degree, you should also work to maximize your return on investment by taking advantage of everything business school has to offer. Attend recruitment events to get your foot in the door in your target industries, join business school clubs to upskill and network with classmates with the same goals, and be proactive in group projects to get noticed by industry professionals.
Start your b-school search today when you complete your profile on mba.com.