Is An MBA Worth It? How To Know The Answer For You
Is An MBA Worth It? How To Know The Answer For You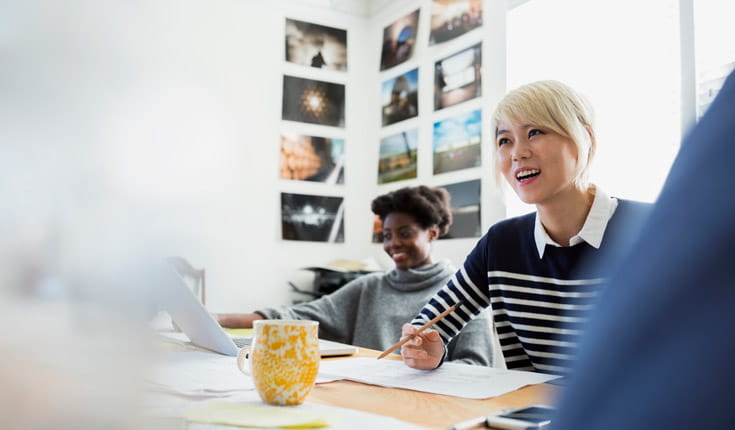 Studying an MBA—which stands for Master of Business Administration—could help accelerate your career, let you pivot to a new function or industry, or land an exciting promotion. But since everyone has different circumstances and aspirations, is an MBA worth it for you?
There are so many reasons to do an MBA, but like any postgraduate degree an MBA is a significant investment. As well as the financial outlay, many programs require you to take a year or two out of the workforce, or even relocate.
For this reason, it's important to work out if an MBA will help you meet your goals, and what other options are out there for you to consider.
Here's what you should bear in mind when working out if an MBA is the right next step for your career.
Broad business knowledge
An MBA could be worth the investment if you want to develop a broad base of business knowledge.
The typical MBA curriculum covers topics like corporate finance, strategy, marketing, organizational behavior, and accounting. Students graduate with a good understanding of what each business function does, and how they interact with one another.
Some MBAs will also allow you to specialize in a specific area of business that aligns with your interests and career goals, such as corporate social responsibility (CSR), finance, or human resources.
The curriculum tends to be highly practical, with classes centering on real-world case studies and group discussion.
If you want to take a deep dive into a specific area, or take a more theoretical approach to learning, an MBA might not be the best option for you.
Career development
Knowing your career goals can also help you work out whether an MBA is the right route for you.
MBA graduates find jobs in a broad range of sectors and functions. Some of the most popular industries for graduates are consulting, finance, and tech, with roles in diverse areas like strategy, product management, marketing, HR, and business analytics.
Among highly ranked MBA programs, common graduate employers include Microsoft, EY, Accenture, McKinsey, and Google. But MBAs also carve out careers in less conventional areas like entrepreneurship and the nonprofit sector.
Because it's a generalist degree, you can apply the problem-solving, analytical, and communication skills honed during an MBA to a wide array of career routes.
This is exactly what Charlotte Burnett managed to do when she graduated from her MBA at UNC Kenan-Flagler Business School. Charlotte joined the MBA after serving in the US Army, and by the end of the two-year program, she'd secured a brand new career as an associate with JP Morgan.
"The MBA program was extremely collegiate and collaborative," she reflects.
When it comes to making a career change through an MBA, Charlotte's not alone. According to a recent study by the Graduate Management Admission Council (GMAC), 50% of business school graduates change industries after their program.
The financial return on investment offered by a typical MBA is equally strong. Graduates from the Financial Times' top 10 ranked MBAs see an average salary bump of 119% three years after graduation.
Although an MBA can open doors in several different areas, it's not a good fit for certain career paths. Highly technical careers, such as working in data science or financial engineering, require a very specific set of skills that an MBA won't provide.
A lifelong network
If building a diverse network is one of your top goals, an MBA could be a great fit. Most MBA programs attract students from a broad array of professional backgrounds and nationalities.
Because the MBA curriculum relies heavily on class discussion, program directors want to bring diverse perspectives into the classroom so that everyone can learn from each other.
As well as connecting with your peers during group work and class discussions, MBA programs are well-equipped to put you in touch with would-be employers through careers services. You'll also be able to tap into a network of fellow alumni who can help you—and be helped by you in turn.
While a broad network is one of the most important benefits you'll get from an MBA, going to business school isn't the only way to build new professional connections.
Other postgraduate programs also come with their own network—although in specialized programs you'll find less professional diversity—and it's worth remembering that industry events or online courses are alternative places to grow your network.
Alternatives to an MBA
Despite the broad range of benefits an MBA can offer, it's not the right fit for everyone—and there are other options out there.
If you're a recent bachelor's graduate who wants to step into the business world, an MBA might not be the best fit. Many MBA programs require you to have at least two years' work experience, for example.
Instead, you could consider a pre-experience Master in Management (MiM). MiM programs are usually one year in length, and equip early-career students with the knowledge they need to kickstart a business career.
If you want to dive deep into one particular area of business, you could also consider a specialized program such as a Master in Finance, Master in Marketing, or Master in Business Analytics.
On the other hand, professionals with 10 years' experience or more might choose a different type of MBA called the Executive MBA (EMBA). EMBA programs are almost always part-time, so you won't have to take a break from your career. They focus more on leadership development and current trends than business fundamentals.
Overall, whether or not an MBA is worth the investment depends on your professional goals, personal goals, and career stage. If you're a professional with a few years' experience who wants to change industry or function, or simply accelerate your growth in the business world, the program could be an excellent fit.
But for more technical careers, recent bachelor's graduates, and experienced leaders, other business school programs will offer a better return on your investment.