What Are the Highest Paying Business Master's Degrees?
What Are the Highest Paying Business Master's Degrees?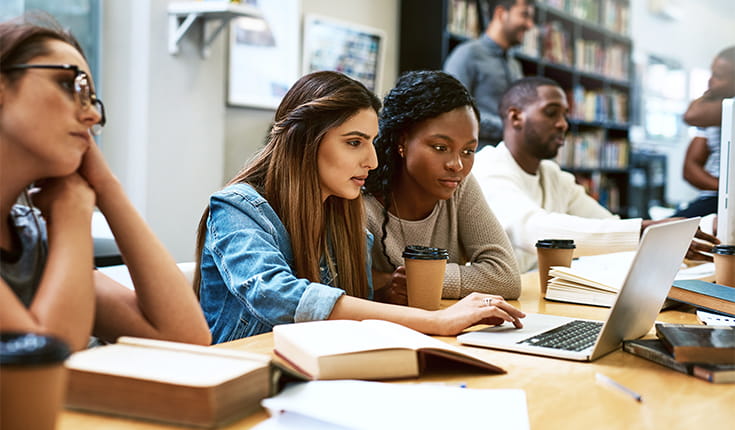 A business master's degree is a path to a top salary, but which pre-experience business master's degrees have the highest-paid graduates?
Your salary after you graduate isn't a definitive sign of career success, but it's a good way to measure career progression.
Top business master's salaries
Understanding average salaries for business master's graduates gives you a good idea of what compensation you can expect when you're searching for jobs after business school.
Here's seven of the highest-paying business master's degrees, based on data from corporate recruiters and Payscale.
7. Master of Marketing, US$68,000+
If you're set on a career in marketing, then a Master of Marketing degree is a good fit. With jobs in marketing ranging from marketing manager to chief marketing officer (CMO), business master's graduates have many options in front of them.
Salaries aren't bad either. US$68,000 a year is the average salary for Master of Marketing graduates in the United States. Marketing managers can expect around US$71,000, while graduates in senior positions like marketing director and CMO can earn US$101,000 and US$175,000 respectively.
5. Master in Management, US$75,000+ (tie)
Master in Management (MiM) degrees are among the most popular business master's programs, with 80 percent of MiM programs reporting growth in 2020, according to the Application Trends Survey by the Graduate Management Admission Council (GMAC).
As a graduate from a Master in Management, you can have high salary expectations. The average global MiM graduate earns US$75,000 after they graduate. As a generalist program, MiM career opportunities are many and varied, from investment management to consulting to retail and fashion.
Depending on where you study, you can earn even higher. MiM graduates in India tend to earn in excess of US$100,000 a year, at schools such as IIM Ahmedabad and SP Jain Institute of Management and Research.
In China, the percentage MiM students increase their salaries by after graduation is particularly high: MiM graduates from Shanghai Jiao Tong University see on average a 125 percent salary increase, according to the Financial Times.
5. Master of Accounting, US$75,000+ (tie)
A Master of Accounting is a popular choice for students looking to accelerate their careers in accounting or corporate finance roles, and as an in-demand sector, jobs are well-paid.
Master of Accounting graduates can earn on average US$75,000 after graduating. Accounting manager and financial controller are two roles at the lower end of the salary spectrum. Tax managers can expect to earn slightly higher, at around US$94,000, while corporate controllers and chief financial officers (CFOs) earn in excess of US$100,000.
4. Master of Supply Chain Management, US$76,000+
Master of Supply Chain Management graduates can expect to earn US$76,000 on average in the United States after graduating. Roles range from supply chain manager, to material planner, to operations manager.
So which companies hire Master of Supply Chain Management graduates? Amazon is a big employer in the US, hiring highly skilled graduates to manage their large-scale global operations. Also popular are aviation firms like Boeing, General Electric Aviation, and Northrop Grumman.
3. Master of Finance, US$80,000+
You probably associate finance with high-rise offices, swanky boardrooms, and, of course, big salaries. Given the range of career opportunities in finance, and the high pressure environment you'll enter into, it's not unreasonable to expect a top salary.
Master of Finance graduates earn US$80,000 on average. There is, however, huge scope for maximizing your salary even further. At HEC Paris, MiF graduates earn just shy of US$150k on average, while many graduates from top-ranked programs earn over US$100k.
Finance graduates can choose from a number of high-paying finance jobs, the most lucrative include investment banking, mergers and acquisitions, and private equity. Many MiF graduates also go into consulting.
2. Master of Business Analytics/Data Analytics, US$85,000+
Data has become common currency in business today—those who are adept at analysing and deploying it are in high demand from employers. Master of Business Analytics/Data Analytics (MBAn) graduates therefore have strong salary prospects. US$85,000 is the average salary graduates can expect to earn.
Graduates in the US tend to earn much higher: MIT Sloan MBAn graduates earn an average base salary of US$122,000, which with bonuses, is almost equal to MBA graduate salaries.
Employers of MBAn graduates range from big tech firms like Google and Amazon, to consulting giants like McKinsey, as well as startups looking to enhance their growth through data.
1. Master of Information Technology, US$87,000+
An ability to navigate technological disruption ranked as among the top skills that companies recruit business school graduates for. With a twin understanding of IT and how to apply it in a management context, Master of Information Technology graduates are well-placed to meet this skill demand.
All this makes Master of Information Technology grads the highest paid pre-experience business masters graduates, earning an average of US$87,000 a year in the US. Salaries quickly increase for senior software engineers, who earn US$120k on average, and IT directors, who earn US$130k on average.
While you can measure return on investment in many ways, your business master's degree will more than likely pay off in terms of salary. Take our quiz to find out which business master's you should do.
*The average salaries in this article are estimates. Data is sourced primarily from the GMAC Corporate Recruiters Survey and, where stated, PayScale, which focuses specifically on average salary data for the US.