What Are the Highest Paying Master's Degrees?
What Are the Highest Paying Master's Degrees?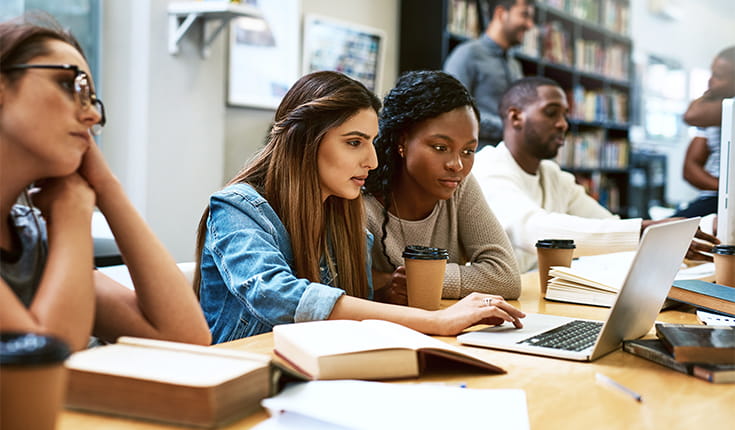 A business master's degree is a path to a top salary, but which pre-experience business master's degrees have the highest-paid graduates?
Master's degrees traditionally come with a much higher postgraduate salary than an undergraduate degree. This is because, with a master's degree, you will start to specialize, developing more advanced skills in a specific business area.
Consequently, you will be able to target more senior-level jobs and those with greater responsibilities – which can often come with higher salaries.
It's worth remembering that a graduate degree isn't a definitive sign of career success. However, it's a good way to measure career progression and can tell you if your role adequately compensates for the investment you've made in your chosen career path.
Before we get into the highest paying master's degrees, let's discuss average salaries for both business master's and MBA degrees. These figures will give you an average of what you can aim for as a graduate with an advanced degree in business.
What is a Graduate Degree?
Rather than gaining just a bachelor's degree, some students choose to pursue further study and gain a graduate degree. The most common graduate degree is a master's program, and there are many specialized business master's for college graduates who want to better prepare for their future careers.
You can study specialized master's programs in a wide variety of business subjects, including finance, data analytics, and management. These graduate programs prepare students to work in mid to senior-level roles in companies or put them on the path to starting their own company.
Prospective students who have worked for several years after their undergraduate business program may also choose to pursue a Master of Business Administration (MBA).
How Much Can I Earn After a Master's Degree Compared to an Undergraduate Degree?
While average salaries for graduates of a bachelor's degree in business are certainly not the lowest, you can earn far more by taking your graduate education further and studying for a master's degree. Master's degree programs are generally more niche than a bachelor's degree and equip you with more specialized skills, allowing you to take on more significant roles in companies.
Understanding average salaries for business master's graduates gives you a good idea of what compensation you can expect when searching for jobs after business school. Safe to say, graduating from a business master's program will give you a step up into higher-paying jobs than a bachelor's degree.
Average salaries for business master's graduates can vary. This is especially true of where you work. In the US, the average salary for a business master's graduate is around US$70,000. This is slightly lower than for comparative master's degrees in computer science and engineering programs like software engineering, chemical engineering, and engineering management.
Regardless, this is still the lowest level of master's salaries, and you could see yourself earning much more.
In Europe, the average business master's salaries are a little lower, at €67,000. In Asia, you could earn more than US$70,000 after your business master's degree.
Your graduate salary will also depend on which business master's you've chosen, as we'll see in the below list of business masters degrees that pay well.
How Much Can I Earn After a Master of Business Administration Degree?
Typically, graduates of a Master of Business Administration program each much more than graduates of a masters degree. This is because an MBA is an advanced degree that is taught at a much higher level than a master's degree and requires students to have some prior work experience.
GMAC's most recent Corporate Recruiters Survey shows that US companies plan to offer MBA graduates an average salary of US$115,000, much higher than other bachelor's degrees or master's degree programs.
Because an MBA program requires additional experience and skills, for many younger business students, a masters degree will be their program of choice at graduate school. This advanced degree will still boost your career and allow you to aim for much higher salaries.
Why Do Some Master's Degrees Have Higher Salaries?
You might be wondering why graduates of some masters degrees will earn more than others. While it's not an exact science – and can depend on other factors such as the business school you attend and your unique skills and experience – graduate salaries can differ for the following reasons:
How in-demand your skills are
Whether your industry is growing or in decline
How competitive your industry is
The amount of specialized technological skills you acquire on your program
The size of the industry you're joining
Regardless, most master's degree programs come with optimistic salary prospects. In fact, a master's degree could increase your salary by 45% compared to someone with only a bachelor's degree.
Register for the GMAT Now!
Register
The Highest Paying Business Master's Programs
As we've seen, graduate students with a master's degree can expect starting salaries of over US$50,000. However, some business master's degrees pay better than others.
Among these highest-paying master's degrees are some of the most popular business graduate degrees, including the Master of Management and Master of Finance.
If you are vying for a high salary after your graduate degree, aim for one of these top-paying master's degrees. Salaries are based on data from corporate recruiters and Payscale.
8. Master of Marketing, US$68,000+
If you're set on a career in marketing, then a master's degree in marketing is a good fit. On this degree, you'll learn how to conduct research and carry out successful marketing campaigns and explore digital marketing skills in social media and SEO.
There are lots of exciting job prospects after a Master of Marketing degree. Many graduates of marketing programs will find themselves in marketing manager roles, but the highest-paying jobs in marketing range from chief marketing officer (CMO) to Director of Digital Marketing. There's also lots of job growth in the marketing world, particularly in digital roles around artificial intelligence and automation.
Salaries aren't bad, either. US$68,000 a year is the median annual salary for Master of Marketing graduates in the United States. Marketing managers can expect around US$71,000, while graduates in senior positions like marketing director and CMO can earn US$101,000 and US$175,000, respectively.
7. Master of Human Resources Management, US$73,000+
A Master of Human Resources degree will give you the skills necessary to work as an HR professional. These roles are continually in-demand at organizations and may become even more vital as companies invest in Diversity, Equity, and Inclusion (DEI) policies and initiatives to support employee mental health.
Your graduate salary after an HR management degree will depend on the size of the organization you enter and how senior your role is. On average, HR management graduates earn US$73,000, a little more than the average business masters graduate salary.
However, some graduates can reach salaries of up to US$114,000 after graduating from this program. This includes lucrative human resource management roles at large multinationals like an MBB consulting firm.
6. Master in Management, US$75,000+ (tie)
Master in Management (MiM) degrees are among the most popular business master's programs, with 80 percent of MiM programs reporting growth in 2020, according to the Application Trends Survey by the Graduate Management Admission Council (GMAC). It's easy to see why this graduate degree is growing, as you'll be set up for high salaries after your MiM.
The average global MiM graduate earns US$75,000 after they graduate. As a generalist program, MiM career opportunities are many and varied, from investment management to consulting to retail and fashion.
Depending on where you study, you can earn even higher. MiM graduates in India tend to make in excess of US$100,000 a year at schools such as IIM Ahmedabad and SP Jain Institute of Management and Research.
In China, the percentage of MiM students who increase their salaries after graduation is particularly high: MiM graduates from Shanghai Jiao Tong University see, on average, a 125 percent salary increase, according to the Financial Times.
6. Master of Accounting, US$75,000+ (tie)
A Master of Accounting is a popular choice for students looking to accelerate their careers in accounting or corporate finance roles, and as an in-demand sector, jobs are well-paid.
On this graduate degree, you'll develop specialized knowledge of financial reports and auditing and likely explore innovative topics like analytics and sustainability. There are also opportunities for you to specialize further in specific areas, leading to career options in some of the highest-paying jobs in accounting, such as financial managers.
Master of Accounting graduates can earn, on average, US$75,000 after graduating. Accounting manager and financial controller are two roles at the lower end of the salary spectrum.
Tax managers can expect higher median pay, at around US$94,000, while corporate controllers and chief financial officers (CFOs) earn more than US$100,000.
5. Master of Supply Chain Management, US$76,000+
Master of Supply Chain Management graduates are well-placed to seek high-paying careers after graduation. This sector has experienced significant job growth in recent years, particularly as businesses seek to future-proof their supply chains. As a result, many opportunities are available at international companies.
On average, the median salary for Master of Supply Chain Management graduates is US$76,000 in the United States. The highest-paying careers in supply chain management could reach up to US$150,000. These roles range from operations management to material planner
So which companies hire Master of Supply Chain Management graduates? Amazon is a big employer in the US, hiring highly skilled graduates to manage their large-scale global operations. Also popular are aviation firms like Boeing, General Electric Aviation, and Northrop Grumman.
4. Master of Finance, US$80,000+
You probably associate finance with high-rise offices, swanky boardrooms, and, of course, big salaries. Given the range of career opportunities in finance and the high-pressure environment you'll enter, it's not unreasonable to expect a top salary from this master's degree.
Finance degree graduates earn US$80,000 on average. There is, however, huge scope for maximizing your salary even further. At HEC Paris, MiF graduates earn just shy of US$150k on average, while many graduates from top-ranked programs earn over US$100k.
Finance graduates can choose from a number of high-paying finance jobs; the most lucrative include investment banking, mergers and acquisitions, and private equity. Many MiF graduates also go into consulting or roles as financial managers in international companies and boutique investment firms.
3. Master of Business Analytics/Data Analytics, US$85,000+
Data has become a common currency in business today – those who are adept at analyzing and deploying it are in high demand. Master of Business Analytics/Data Analytics (MBAn) graduates, therefore, have strong salary prospects.
This master's degree pays, on average, US$85,000 for analytics jobs in the US. However, in more senior roles, you could earn much more. For example, senior data analysts at McKinsey can make upwards of US$125k. The analytics industry's projected job growth is promising as more companies prioritize this vital area.
It's worth noting that graduates of this degree in the US tend to earn much higher than elsewhere. MIT Sloan MBAn graduates earn an average base salary of US$122k, which with bonuses, is almost equal to MBA graduate salaries.
Employers of MBAn graduates range from big tech firms like Google and Amazon to consulting giants like McKinsey, as well as startups looking to enhance their growth through data.
2. Master of Project Management, US$86,000+
A Master of Project Management prepares students to work as project managers in various organizations, including private businesses, charities, and the federal government. The skills you acquire on a project management degree are highly transferable, meaning there is a vast range of career options out there - some with big salaries.
The median salary for graduates of this degree is US$86,000, making project management one of the highest-paying masters degrees. Most of these masters graduates will be hired as project managers, but in some senior project manager positions, salaries can reach over US$110k, particularly in the US.
1. Master of Information Technology, US$87,000+
The ability to navigate technological disruption ranked among the top skills companies recruit business school graduates for. With a twin understanding of IT and how to apply it in a management context, Master of Information Technology graduates are well-placed to meet this skill demand.
All this makes Master of Information Technology grads the highest paid pre-experience business masters graduates, earning an average of US$87,000 a year in the US. Salaries quickly increase for senior software engineers, who earn US$120k on average, and IT directors, who earn US$130k on average.
While you can measure return on investment in many ways, your business master's degree will more than likely pay off in terms of salary. Take our quiz to find out which business master's you should do.
Register for the GMAT Now!
Register