Your Guide to Graduate Student Loans for Your MBA
Your Guide to Graduate Student Loans for Your MBA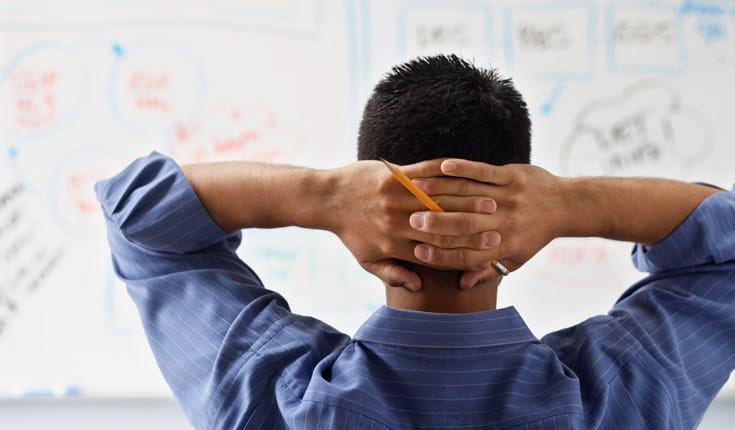 Applying to business school is a journey in itself. There's choosing the right school, GMAT prep, essays to write, and interviews to prepare for. On top of that, there's the small issue of paying for your MBA.
According to BusinessBecause, the total cost of an MBA at a top-ranked US business school can exceed US$200,000.
Although personal savings and loans from family or friends could be an option, it's likely you'll need additional financial aid in the form of a private loan—the average US MBA student takes out US$62,000 in graduate student loans per year.
Graduate student loans for your MBA
The right loan is your ticket to the myriad benefits of attending business school—management training, network, career progression, and a return on your investment.
So, what are your options?
Federal loans
As a domestic MBA candidate in the United States, you have the option of both federal and private MBA loans.
Federal loans are loans provided by the US government, through the US Department of Education. As a graduate student you have access to both Direct Unsubsidized Loans, and Direct PLUS Loans.
You school determines how much you can borrow through a Direct Unsubsidized Loan based on the cost of your attendance and other financial aid you receive. You are responsible for paying the interest on a Direct Unsubsidized Loan, and there is a maximum annual loan limit of US$20,500, with the aggregate limit sitting at US$138,500.
Direct Unsubsidized Loans come with lower interest rates than Direct PLUS loans, so opt for this type of loan first, before topping up your financial aid package with a Direct PLUS loan.
💲 Read more: Exploring How to Pay for Business School
If your financial aid package includes federal student loans, your school will let you know how to accept the loan. Generally, according to studentaid.gov, you'll have 10-to-25 years to repay your loan.
Direct PLUS loans are available to US candidates who have maxed out their Direct Unsubsidized Loan and still need additional funds to cover the cost of business school. To receive a Direct PLUS Loan you mustn't have an adverse credit history. The maximum you can receive is the cost of attendance calculated by your school, minus any other financial aid you've received.
Federal loans have a fixed interest rate and the rate is usually lower than a private loan. You don't need a credit check or a co-signer for most federal loans. Federal loans are only paid back once you've graduated from your MBA.
Private loan providers
There is also the option of taking out a student loan from a private lender.
Nerdwallet ranks providers like Ascent, earnest, SoFi, and commonbond as the best private MBA loan providers for borrowers with a good credit score or co-signer. Going through a private lender means you'll likely pay less in fees. The Grad PLUS loans carry an origination fee of more than 4 percent—most private lenders don't include those types of fees in your loan application.
🙌 Read more: These Business School Scholarships Can Reduce the Cost of Your Degree
Ascent's MBA student loan offers repayment terms of seven, 10, 12, or 15 years with a variable interest rate, or seven, 10, or 12 years with a fixed rate. You can also defer payments up to nine months after graduating from your MBA.
There's also Juno—formerly LeverEdge—set up by former Harvard Business School MBA grads, Chris Abkarians and Nikhil Agarwal. Juno gathers groups of MBA candidates to get top lenders to offer bulk discounts across their student loans. The negotiated deal is shared equally across the group of candidates.
When the pair were first setting up, they got together a group of 700 people who needed loans. A dozen lenders then bid on the rates they would offer to members of the group. Juno is currently setting up another round of negotiations for fall 2021.
Paying off your graduate student loan
Before you take out a loan, shop around for the best deal. A
lower interest rate
with a flexible period to pay off your debt will mean you're more comfortable paying off your loan.
Also, shop around with multiple lenders and compare interest rates and fees. The interest rate of the Grad PLUS loan is around 5.3 percent, on top of the 4 percent origination fee. Don't take out a private loan that doesn't beat the federal PLUS loan.
Once you graduate from your MBA, the likelihood is you'll see a salary spike and paying off your loan won't seem as much of a burden as it did pre-business school. Some schools, like Yale School of Management and Stanford Graduate School of Business, offer MBA loan forgiveness programs too for grads who enter the nonprofit/public service sector.
💲 Read more: What Does President Biden Have Planned for Your Student Loans?
When starting out on your graduate student loan search, consider federal loans first. Then, compare the offers you find with the multiple private lenders operating in the marketplace. Financial aid is there, you just need to know where to look.
Read more about how to pay for business school, including scholarship and financing opportunities.