What You Need to Do If You Want to Go to Business School
What You Need to Do If You Want to Go to Business School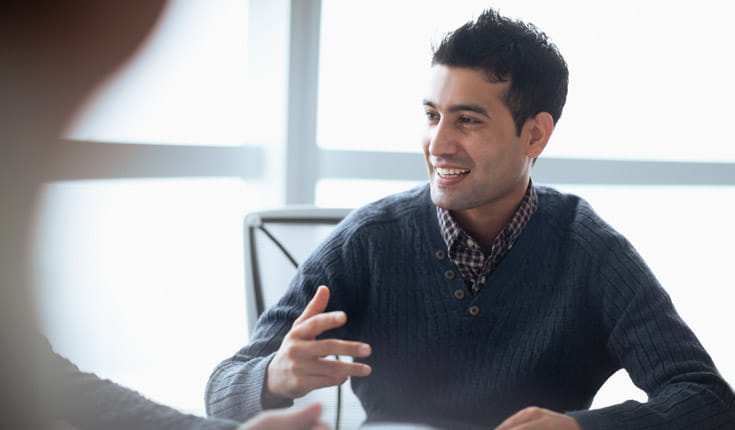 If you're considering business school, you may be a little overwhelmed by the MBA preparation process.
Should you choose a school first or attend local business school events? Should you study for the GMAT™ exam or work on your applications? Regardless of where you are in your business school journey, there are questions to consider and steps you can take to make your preparation as painless and productive as possible—and give you the confidence you need to succeed.
Why should you attend business school?
Attending b-school will impact nearly every aspect of your life: personal, professional, academic, and financial. One of the first steps in your journey should be to identify why you want to pursue business school and how your degree will help you achieve your goals. Use the business school self-assessment to define your intentions and motivations. Your answers will help guide you throughout the admissions process, including your applications, essays, and interviews. If you need some inspiration, read about why your peers chose business school, and how they're applying their degrees.
Find the best MBA program for you
Let your goals direct your business school journey and whether you'll pursue a general or specialized business master's degree. Attending a school-hosted event or business school tour, such as The MBA Tour, is a great place to get acquainted with different program options. You can also use School Search to find, evaluate, and compare business school programs. Look for curricula that emphasize the knowledge and skills that are valuable to your intended career path, and consider how the faculty, class size, and teaching style will impact your experience.
Refine your choices by asking yourself where you're willing to attend business school; how much time you can commit to school each day; what type of people you want in your classes; and how you'll finance your graduate business education. You may also consider a business school's rankings and accreditations, and how its reputation may impact your future earnings. Finally, decide where to apply by choosing five to seven schools that best align with your aspirations.
Start the GMAT exam process
Since schools rely on the GMAT exam to predict your likelihood of academic success, your scores will be a factor in getting into business school. Some schools require minimum scores, but most publish a range of scores or average score they generally accept. Get familiar with the requirements of your target schools and take a mock exam to establish a benchmark for progress. Start your GMAT exam process at least six months before test results are due to your top MBA programs, and plan to test no later than 20 days before this date to ensure adequate processing. If you were recently or are currently an undergraduate student, consider taking the GMAT exam now while your testing abilities are sharp, and your math and verbal skills are fresh in your mind.
Once you register for the assessment, begin preparing for your GMAT exam. Take advantage of the free GMAT™ Official Starter Kit and Practice Exams 1 & 2, and other official prep materials that use questions from past GMAT exams and the same scoring algorithm as the actual test. Follow a minimum eight-week study timeline if you are somewhat familiar with the underlying exam content. Remember, your scores are good for five years. If you're unhappy with your first score, you can test again—once every 16 calendar days, and five times in a rolling 12-month period for a total of eight exams.
Put together your business school applications
With your shortlist of MBA programs in hand, begin the scrupulous task of assembling your business school applications. Since different schools have different requirements, review each program's timelines carefully. Most schools typically request undergraduate transcripts, GMAT scores, essays, a resume, references and letters of recommendation, and information on your extracurricular activities or community/civic involvement. As you gather and complete the various components, factor in how business schools weight these elements so you can effectively—and competitively—position yourself.
The objective of your business school application is for admissions personnel to get to know you better. Ask yourself these five questions to determine the best version of yourself. Dedicate time to the parts of your application where you can express yourself in your own voice, such as your essays, and carefully select your letters of recommendation to solidify what you have articulated.
Prepare yourself for successful business school interviews
Your business school interview is one of the most important steps in the MBA program application process. It allows admissions staff to put a face with a name, and lets you evaluate the culture and fit of the program firsthand. An invitation to interview is also a strong signal that the school is interested in you, and your performance can take you that much closer to acceptance. Ensure you capitalize on your face-to-face interactions by adequately preparing and getting plenty of business school interview practice beforehand.
Understand your interview setting: blind or non-blind; conducted virtually or in-person; with a group; or by a panel of alumni or admissions professionals. Regardless of the circumstance, research the school and come prepared with questions to ask your interviewers. Also, be ready to answer commonly asked questions, such as why you want to attend business school, as well as some tough ones, too. At the end of the day, your business school interview is an opportunity to fill in the blanks on your application and help a school get to know you better. Be attentive, honest, and articulate so you can put your best foot forward.
How will you pay for business school?
Investing in a graduate business education will have a substantial impact on your life and your career, and there are several options when it comes to financing your degree. When budgeting for business school, be sure to account for all the costs associated with your degree, including tuition, course materials, books, housing or accommodations, insurance, and other incidentals. Note that the cost of your program may vary based on your school, its location, and its reputation, plus any plans to study abroad or take part in other elective programming. Take time to get your finances in order, and evaluate high-value MBA programs that can help minimize your student loan debt.
Whether you utilize grants, fellowships, scholarships, loans, savings, and/or earnings will depend on your unique financial situation. Financing plans vary greatly by age, but most candidates rely on a mix of funding sources. If you do need support for getting into business school, there are several financial aid options to help offset your education costs. Plus, don't forget that a good GMAT score can help reduce your tuition fees. As you evaluate your cost, consider the return on your investment and use this interactive tool to estimate your post-degree salary.
Let your business school journey begin!
For admissions success, approach your prep for MBA thoughtfully, and give yourself plenty of time to complete each step. Talk with current students, alumni, and admissions staff to address any questions or concerns that arise during the application process. Relax and be confident. Finally, have fun and find solace in your commitment to your education, and your future!
Explore your MBA options by using our Program Finder.