Employers Still Seek Communication Skills in New Hires
Employers Still Seek Communication Skills in New Hires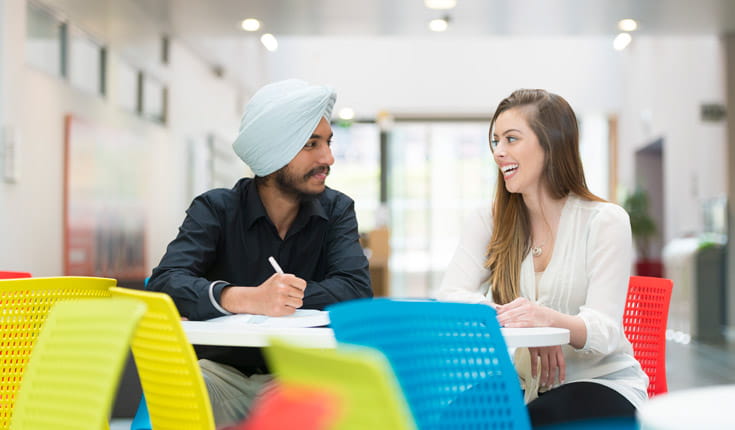 Corporate recruiters from around the world continue to list communication and interpersonal competencies as top skills employers seek.
Successfully pitching a new product idea to your boss or presenting a financial analysis to your company's management team not only requires business savvy, but also a broad set of communication skills. Each year the Graduate Management Admission Council™ (GMAC™) surveys corporate recruiters from around the globe to gain their perspective, and each year the results indicate that communication and interpersonal skills are critical hiring qualifications for employers.
Strong communication skills have always been and will continue to remain important
In the words of a recruiter from a large U.S. products and services company, "Everyone coming out of business school seems to have the technological familiarity we require. Soft skills—like communications and people skills—tend to make the difference."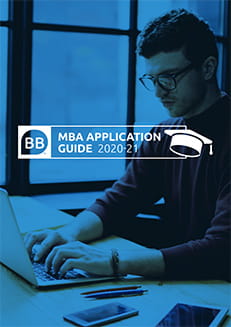 Business Because MBA Application Guide 2020-21
Step-by-step guidance for your MBA applications, including insider advice and deadlines for 2021 entry to the world's top programs.
These communication skills have been and will continue to be a priority for hiring organizations. Even back in 2017 this was the case. During an annual GMAC Corporate Recruiters Survey, employers were asked to identify which skill sets, among five options, they considered to be most important when hiring for a mid-level position. Communication skills topped the list, followed in order by teamwork skills, technical skills, leadership skills, and managerial skills.
As a follow-up, employers were asked to rate the proficiency level required for 25 specific skills within the five broad skill set categories for a candidate to be placed in a mid-level position in their company. Of the five top-rated skills, four fell within the communications category: oral communications, listening skills, written communication, and presentation skills. By employer industry, oral communication was listed as the top-rated skill for consulting, healthcare/pharmaceuticals, technology, products/services, and nonprofit/government. Listening skills were top-rated for the energy/utilities industry.
What are some skills an MBA teaches? Use mba.com's interactive tool to find out.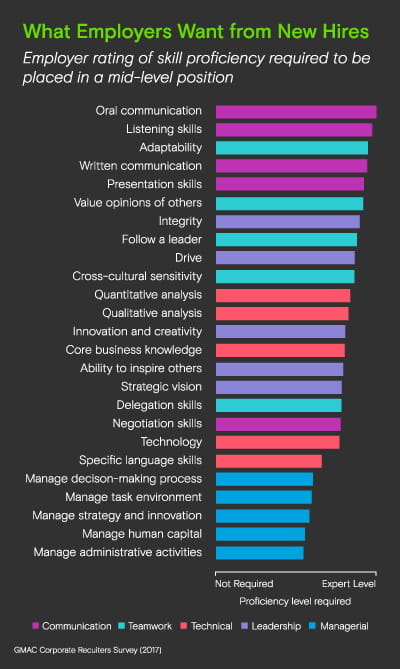 Fast forward to the most recent GMAC Corporate Recruiters Survey, and communication-related skills remain among the top skills employers look for in 2020. According to the survey, 81% of recruiters identify interpersonal skills as important—more than any other kind of skills. Furthermore, 57% of recruiters say interpersonal skills will grow in demand over the next five years, and 69% list strong communication skills as a reason they are confident in hiring graduates from business school.
Therefore, when talking to employers during job interviews or networking engagements, it's important to think about how you describe your communication skills and how you highlight the interpersonal skills that are most relevant. For example, in a COVID-19 environment, it's beneficial to show employers how interpersonal skills, such as empathetic communication and strong listening capabilities, have helped you better manage stress and uncertainty at school or work.
Read more about the top skills employers will look for in a post-COVID world.
Strong communication skills a quality employers look for in hires with leadership potential
Often in hiring business school graduates, companies aren't just trying to simply fill a position, they want to build their leadership pipelines. They seek to hire managers who possess not just the technical skills the job requires, but also the interpersonal and communication skills to develop into strong, effective leaders who are capable of inspiring others and keeping their teams engaged.
With 81% of corporate recruiters identifying interpersonal skills as important, it's worth unpacking this statistic and asking specifically what some of these skills are. In the context of the 2020 survey, these interpersonal skills include competencies that are foundational to compassionate and empathetic leadership, such as active listening, social perceptiveness, coordination, persuasion and negotiation, time management, and management of personnel resources.
Finding ways to develop and improve your communication skills—such as presenting, writing, listening, and negotiating—is always a good idea. In fact, this is why employers love business master's graduates. While enrolled in business school, you can seek out opportunities to develop the skills employers want from graduates and hone these skill sets both in the classroom and through co-curricular projects such as case competitions. When it comes to developing your communication skill sets, it's important not just to practice more frequently, but also to seek out feedback and deliberately train in the areas in which you need the most work. When you know what to focus on, the positive effect of your practice time becomes magnified. Soon your confidence will grow, and your audience will take notice.
Business school gives you the top skills employers look for
Remember, how well you communicate and present yourself will set you apart, both in the hiring process and later as you advance in your career. In another GMAC survey of full-time MBA alumni, 4 in 5 agreed that business school played a meaningful role in developing their soft skills. If you're ready to strengthen the skill sets employers hold most valuable, now is the time to start your business school journey. Curious about which programs are best for you? Program Finder can help you find the skill-enhancing programs you need to succeed.
Plus, read more about the many benefits of attending business school, particularly in uncertain times.