Four Nontraditional Career Paths for B-School Graduates
Four Nontraditional Career Paths for B-School Graduates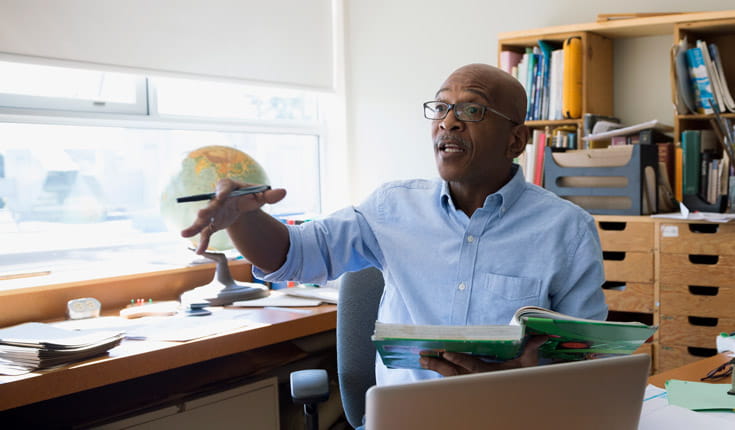 If you think b-school is just for people who want to work in finance or consulting, think again.
Skills like leadership, critical thinking, communication, and problem solving are applicable across the business spectrum, and you can apply both generalist and specialist degrees to a variety of industries you may not have considered before.
Sports and entertainment
Many of us enjoy watching movies, listening to music, and attending sporting events. For Nicole Kankam, these hobbies grew into a career that's spanned over 20 years in the sports and entertainment industry, working for the likes of World Wrestling Entertainment, Inc., MTV, Virgin Mobile, Atlantic Records, and other notable names. Today, Kankam puts her MBA to work at the United States Tennis Association (USTA), overseeing professional tennis marketing in North America and for the USTA Foundation. Without her MBA, this position might not have been possible for Kankam who holds a bachelor's degree in music. When asked about her experience of applying to b-school with a nonbusiness background, Kankam says, "[I] utilized my music background to craft a compelling narrative as to how I could bring a unique perspective to an MBA program."
If you're interested in the media and entertainment industry, think about what your intended job function may be and evaluate graduate business degrees based on your decision. If you're excited by the prospect of marketing sporting events, analyzing album sales, financing a movie, or some other focused role, you may consider specialized business master's degrees in marketing, data analytics, or finance. Alternatively, if you have your eye on a specific company or sector, an MBA can offer greater job flexibility and help enhance your alumni network with industry connections.
Science, technology, engineering, or math (STEM)
Do you see yourself working on the latest pharmaceutical breakthrough? Perhaps you'd like to develop sustainable manufacturing processes or consult on the latest urban development project? If your passion lies within a STEM field, you should consider how b-school can advance your career. Julian Bond uses his MBA to pioneer technological innovation for window coverings retailer Hillary's and Scottish & Newcastle Brewers. When asked about his reasons for pursuing an MBA, Bond says it was to "become a hybrid manager, riding the divide between IT and business." In addition to accelerating your career, graduate business education can help you change industries or job functions. Ritesh Kotak used b-school to catalyze a career transition out of policing and into cybersecurity and digital consulting. He said, "It's a bubble. I needed to burst it and be exposed to points of view from other industries, so the natural thing for me to do was the MBA, where people come together from every profession."
When it comes to b-school degrees for STEM professionals, you've got options. Consider an MBA if your career goals include managing people and projects or rising to the executive level. If enhancing your skills and becoming a master of your trade is more appealing, evaluate specialized degrees that meet your criteria, such as a master's in data analytics or information technology.
Retail
Rodney Williams started his career working for a direct mail service. He's now the President & CEO of Belvedere Vodka. Williams oversees the luxury brand's key functional areas, including sales, marketing, finance, operations, and advocacy. A nearly 30-year alum of the Kellogg School of Management, Williams still uses the skills he gained in b-school. "I double majored in marketing and finance," Williams says, "and there are things from those disciplines I clearly use every day." He goes on to say that his knowledge of organizational behavior has also played a part in his success. "Understanding negotiations, how to motivate others, and the dynamics of work politics are all extremely helpful."
If you're drawn to retail operations and brand management, you should identify what component of the product life cycle interests you most. If you're attracted to manufacturing and processes, a Master of Supply Chain Management degree may be a good fit. If you want to understand and analyze the market, a master's in economics can provide you with the tools. Perhaps you want to hire and staff the teams that support an organization, in which case a master's in human resources can help. Finally, a generalist degree like a MiM or an MBA is a good bet if you're seeking a general management position with cross-functional oversight.
Entrepreneurship
According to the Graduate Management Admission Council's™ 2019 mba.com Prospective Students Survey, 1 in 4 b-school candidates has entrepreneurial aspirations (25 percent). Harvard alumna Maria Wich-Vila, however, never planned on becoming an entrepreneur. Nevertheless, today she's the proud founder of ApplicantLab.com an affordable, digital replacement for traditional MBA admissions consultants. Wich-Vila credits her success in part to her degree, saying, "As an entrepreneur, you don't simply wear lots of proverbial hats—you wear EVERY hat in the business in those early days. Therefore, the general management education provided by the MBA has been especially valuable."
As a future entrepreneur, the right graduate business degree will depend on your goals. If your vision for a business requires being a subject-matter expert, a specialized business master's degree can provide the in-depth knowledge you need. For many, the comprehensive curriculum and hands-on experience that comes with an MBA provides the knowledge and resources required to open a successful business.
Couple that with a powerful alumni network that can offer potential partners, employees, and referrals, and an MBA can be the key to your entrepreneurial success.
Interested in what other career paths may become available to you with a graduate business degree? Discover more opportunities using this interactive tool, and explore how b-school can help you get there.