Business Skills Employers Will Want in a Post-COVID World
Business Skills Employers Will Want in a Post-COVID World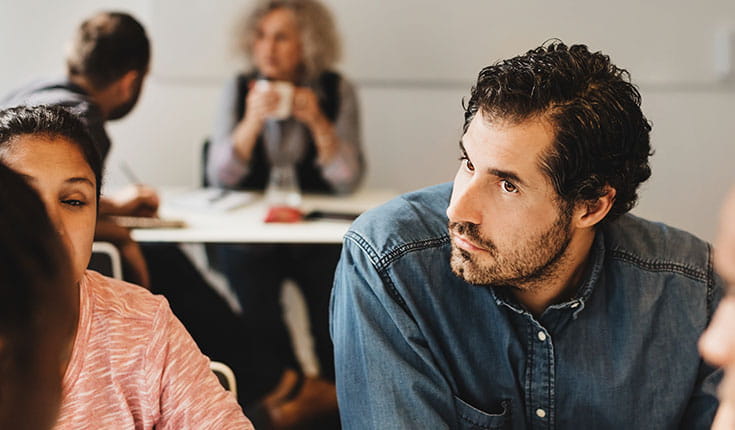 New survey data from corporate recruiters sheds light on the business skills that will help you thrive professionally in the post-COVID world.
Any way you look at it, the impact of COVID-19 on us as individuals and as professionals has been enormous. As we chart our way into the uncertain future, it's unclear which aspects of work life will return to normal and which will be altered as a part of the "new normal." In moments like these, people who are able to adapt and adjust to this new reality will not only survive, but will come out ahead in the end.
"This is the time to upskill yourself," explains Dr. Christine Menges, Director of the MBA Career Center at WHU - Otto Beisheim School of Management. "Now is the time to make sure you have the skills which are needed not only now, but in three or five-years' time."
Investing in the skills that will be in demand in the near future will pay huge dividends for your career trajectory in the post-COVID world. To help you determine which specific skills you should invest in, we recently surveyed nearly 700 global corporate recruiters to gain their perspectives.
Which business skills do employers think will be in high demand in the post-COVID world?
Specifically, we asked corporate recruiters to provide their opinion as to whether demand for 18 specific skills will grow, remain stable, or decline five years in the future. While the question itself did not specifically call out COVID-19 and its impacts, the timing of wave 1 of the survey in February and March and the future-looking nature of the question sheds light on how recruiters will prioritize specific skills moving forward, and provides valuable insight.
Overall, the top three skills that recruiters predicted would experience increased demand are: managing strategy and innovation, managing tools and technology, and interpersonal skills.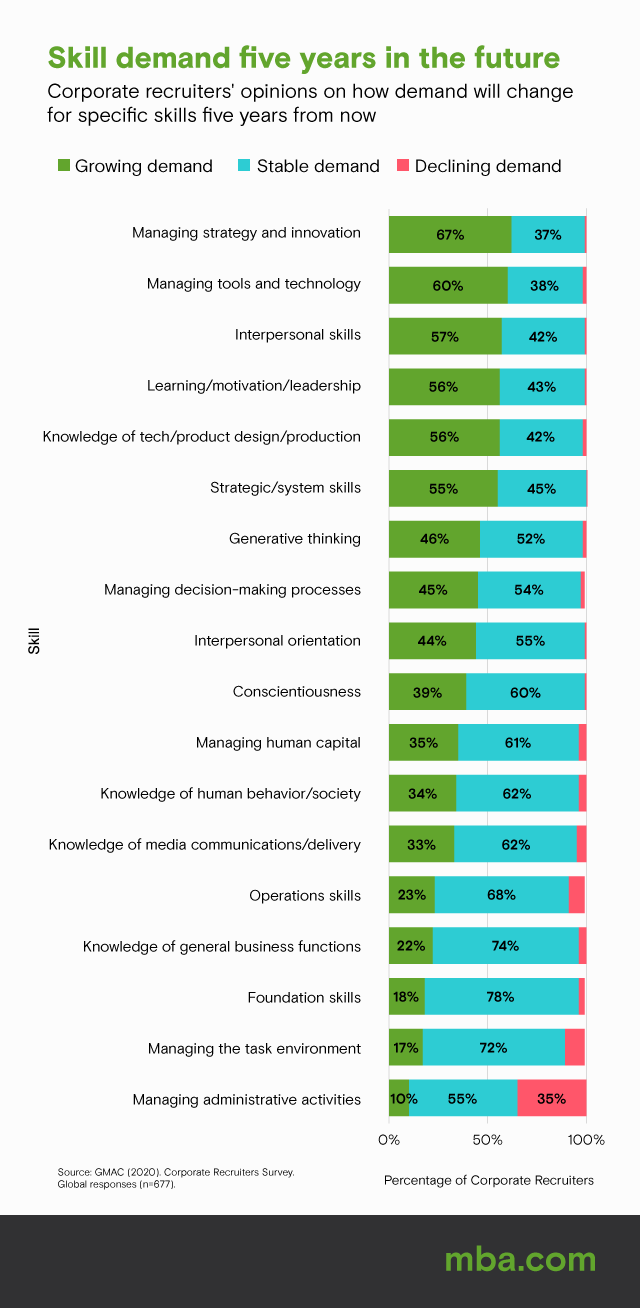 Managing strategy and innovation
Of the total 677 responding global corporate recruiters, 62 percent say managing strategy and innovation will experience growing demand in the next five years, more than any other skill. Managing strategy and innovation includes tasks like analyzing data or information, thinking creatively, and developing objectives and strategies.
"This doesn't surprise me because this is exactly what differentiates the MBA new hire from an undergraduate hire," says Abby Scott, Assistant Dean for MBA Career Management and Corporate Partnerships for the Haas School of Business, University of California Berkeley. "Many MBAs are being asked to come in at a level where they are managing people. They're being asked to make strategic decisions (not just implement them), and they're being asked to creatively solve problems, which is what innovation truly is. This skill perfectly suits what an MBA teaches, and employers can gain genuine value from it."
Use our interactive tool to explore all the in-demand skills that align with the curriculum.
Particularly in these uncertain times, employers need managers who are adaptable and able to develop and implement new strategies based on changing market conditions. Managers who can think creatively and find innovative solutions to business problems are especially valuable when market conditions are in flux. As the pace of change in business continues to accelerate post-COVID, innovative managers will grow in value to top employers.
Managing tools and technology
The second highest-ranked skill that corporate recruiters predicted would experience growing demand in the coming years is managing tools and technology (60%). This includes controlling machines and processes; inspecting equipment, structures, or material; and drafting, laying out, and specifying technical devices and equipment.
Employers who had already hired managers adept at leveraging new technologies and tools have seen great dividends on their investment in the COVID crisis as many workplaces have had to quickly adapt their core business strategies to digital platforms. Looking to the future, corporate recruiters believe that artificial intelligence and automation will continue to act as major industry disruptors and that any individuals with skillsets in this field will be highly sought-after.
Interpersonal skills
Paradoxically, as the business world evolves to become more digitally focused, recruiters see the importance of human connection and understanding for managers increasing significantly. Overall, 57 percent of recruiters say interpersonal skills will grow in demand over the next five years. Interpersonal skills include: active listening, social perceptiveness, coordination, persuasion and negotiation, time management, and management of personnel resources.
Especially in a time of crisis like the COVID-19 pandemic, employers need managers and leaders who are well versed in soft skills to help their teams manage stress and uncertainty.
"An MBA combines hard data and tech skills with soft skills like emotional intelligence and empathy—which are increasingly important in the digital world and will only grow in demand in the future." --Dr. Christine Menges, WHU - Otto Beisheim School of Management
Read more on why employers want managers with soft skills more than ever.
There are regional differences in what skills employers think will grow in demand
Examining survey results by region reveals interesting variations. For example, learning, motivation, and leadership (e.g., achievement and effort, persistence, initiative, and adaptability/flexibility) was more often predicated as growing in demand among recruiters in Asia Pacific (74%) and Europe (70%) compared with the United States (53%). Employers in these markets more often hire graduates of pre-experience business master's programs than employers in the United States, and this may reflect their desire to see these green new hires demonstrate a high level of effort and persistence as they navigate their early careers.
Conversely, European recruiters are less likely to expect managing strategy and innovation to grow in demand (55%) compared with Asia Pacific (64%) and US recruiters (62%). Again, this may be related to the fact that European employers are more likely to hire entry-level business school hires than manager-level hires.
Employers are confident in the skills business school graduates bring to the table
Based on a track record defined by decades of top management talent, employers trust graduate business schools to teach their students skills that not only matter today, but that will make a meaningful difference in the future.
Overall, 9 in 10 global corporate recruiters say they're confident in graduate business schools' ability to prepare students to be successful in their organizations. Specifically, a majority of recruiters cite the reason for their high confidence in business school hires: a versatile skill set (72%), the ability to think strategically (71%), strong communication skills (69%), and preparedness to take on leadership roles (50%).
Learn why employers pay MBA graduates so much.
"Employers have a lot of confidence that they'll find a collection of talent on business school campuses that will meet their needs," says Zaneta Motkowicz, head of training and development for MBA and Master programmes at SDA Bocconi School of Management.
"A portion of that confidence comes from the selectivity of the program…they trust that schools admit the best people. The other part of that confidence comes from the history they have hiring candidates from a particular MBA program over a long period…they know they get great hires there and they come back year after year for more."
Are you ready to stand out from the crowd in the new normal and realize the professional benefits of a graduate business degree? There are more than 7,000 graduate business programs in Program Finder. What are you waiting for? Begin your journey to business school now by identifying your best fit programs.
My Schools and Story Guide
Get expert advice to evaluate and determine your best fit business school.