The Complete Guide for Indian Graduate Business School Applicants
The Complete Guide for Indian Graduate Business School Applicants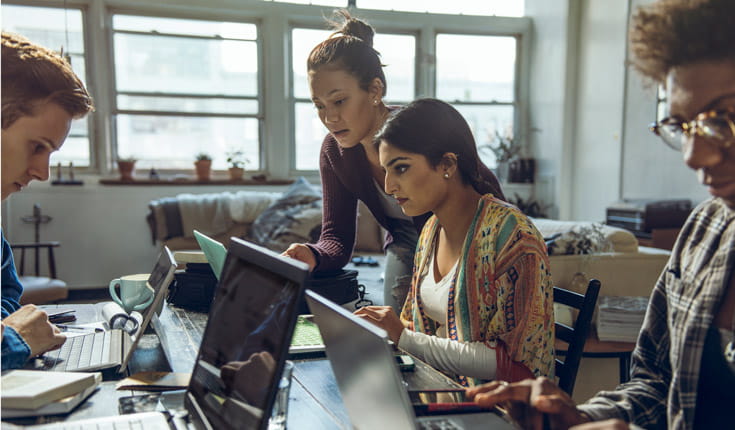 Are you ready to take your career to the next level? The proven path for Indian professionals to earn a higher salary, accelerate their career trajectories, and join elite networks of global professionals is to earn a graduate business degree from one of the world's leading business schools. But with so many options, where do you begin?
Guidance for Indian applicants
Continue reading for our top tips and resources for prospective Indian graduate business school applicants like you to identify your best fit program type, choose where in the world to study, and earn your best GMAT exam score to stand out in the competitive admissions process.
How business school benefits Indian students
But before we dive in, what payoffs do you have to look forward for after earning your degree?
Return on investment. A graduate business degree pays off many times over in the long run. A recent survey found that 9 in 10 alumni report a positive ROI, recouping their investment in just a few years following graduation.
Career opportunities. Business school graduates are employable across sectors and job functions. You can opt to accelerate your trajectory on your current career path, pivot into a new role or industry, or launch your own business.
In-demand skills. Gain the skills that will help you stand out to top global employers. Nine in 10 corporate recruiters say they're confident in graduate business schools' ability to prepare students to be successful in their organizations.
Network support. Relationships can mean a lot in business, and being a part of an extensive business school alumni network can open important doors for your career.
Global mobility. For many, earning an MBA or business master's abroad creates opportunities to establish a career and life in a new country, including in locations like the United States, Western Europe, and Canada.
Which program type is right for you?
An important decision you'll need to make on your journey to business school is to choose what program type you want to pursue. Graduate business schools offer a diverse portfolio of program types, all geared toward different types of students seeking different outcomes or learning experiences.
The number of options you have can feel overwhelming, so here's some of our best guidance for making the right choice for you.
A full-time MBA or PGP is a strong choice for applicants with about three to seven years of experience. MBAs and PGPs are general graduate business degrees that teach students technical, managerial, and leadership skills. Earning an MBA gives you valuable business acumen, expands your professional network, and creates new opportunities. It's an ideal option to consider whether you want to enhance your career, transition to a new industry, or become an entrepreneur.
Read more: How an MBA Can Help You Prepare for an Uncertain Future
Business master's options: Which is right for you? If you have less experience or are fresh off earning your bachelor's degree, a pre-experience business master's program is better suited to you. The question for you to consider is whether you want to pursue a generalist, broad based management degree like a Master in Management or go the specialized route and gain in-demand skills specific to a particular role or industry—like a Master in Finance, Master of Accounting, or Master of Data Analytics, to name a few.
Take our quiz: Which Business Master's Degree Should I Do?
What if you're an experienced professional? Executive MBA (EMBA) programs are designed for seasoned professionals who are looking to boost their career, gain leadership skills, and expand their network. Of course, an EMBA isn't your only option; there are other professional b-school programs, such as executive master's and online and flexible MBAs, that cater to candidates looking for more flexibility in their advanced degree.
Read more: Are You a Good Candidate for an Executive MBA?
Popular study destinations for Indian students
Another big decision you'll need to make is where in the world to study. Even in normal times, choosing where in the world to pursue your degree, put down roots, and advance your career are major life decisions that require the consideration of many different variables. You may be wondering now how to take COVID-19 into account when planning your business school applications.
Only you can decide what's right for you, your education, and the future of your career, but you can use these key pieces of information and resources to help you make the right choice.
Regardless of where in the world you want to study, you can find the programs you're looking for in Program Finder, where you can search from over 7,500 programs at the world's leading business schools.
Following are some of the most popular study destinations for Indian students:
Canada. Canada has long held a reputation as being among the world's top study destinations for international business school students. Business schools in Canada are many students' destination of choice for high-quality education at an affordable cost in a safe, welcoming, multicultural environment. There are even a number of reasons why Canada is an especially attractive study destination for prospective Indian MBA applicants. Read more in our articles Is Now a Good Time for Indian Students to Pursue an MBA in Canada? and Why Business Master's Programs in Canada Attract So Many Young Indians.
United States. Home to some of the world's most elite business schools, including Harvard Business School, New York University's Stern School of Business, Columbia Business School, UCLA Anderson, and Berkeley Haas, the United States remains one of the most popular international study destinations for Indian candidates. Read more about the latest insights on gaining a student visa to study in the United States.
United Kingdom. The United Kingdom has seen a steady increase in interest from Indian students over the past several years, including to programs at prestigious schools like London Business School and Imperial College Business School. What's more: new changes to visa rules now make it easier for you to stay and work in the UK after you graduate. Read more in our article about How Changes to the UK Post Study Work Visa Benefit International Students.
India. Of course, you can opt to stay domestic for your degree and attend one of India's many prestigious business schools, including Indian Institute of Management Bangalore, Indian School of Business, Indian Institute of Management Calcutta, or Indian Institute of Management Ahmedabad, to name a few.
Taking the GMAT exam in India can lead to a world of possibilities
Putting your best foot forward in the business school admissions process begins with taking the GMAT exam in India and earning your best score. MBA and business master's programs at the world's leading business schools accept the GMAT exam because it's a proven predictor of your ability to succeed in their classrooms. Applying with a competitive GMAT exam score demonstrates your commitment and motivation and helps you stand out in the admissions process.
The first step to earning your best GMAT score is finding your best test prep solution. Learn about the five ways for you to tailor your GMAT prep and access other useful prep resources, like the 8-week study planner and the GMAT Mini Quiz.
Ready to take the test? Create an mba.com account to reserve your exam appointment today!
Wondering how much time you need to devote to prep? Use our interactive tool to estimate your required study time and receive a study plan tailored to your available time.