How Changes to the UK Post-Study Work Visa Benefit International Students
How Changes to the UK Post-Study Work Visa Benefit International Students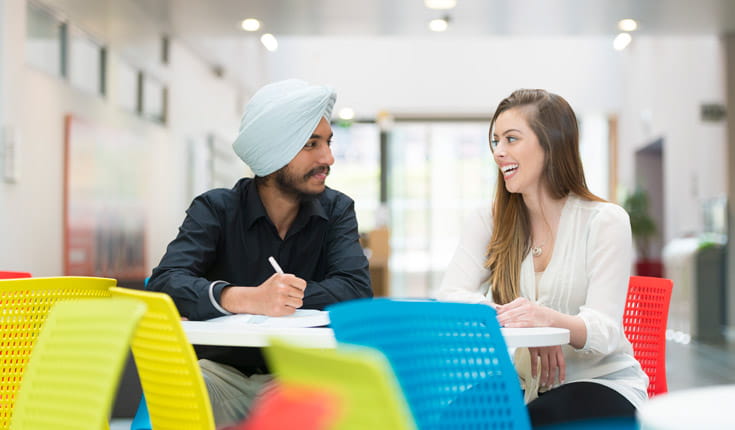 Changes to the UK post-study work visa, which come into place in the summer of 2021, are good news for international students considering graduate management degree programs at business schools in the United Kingdom.
What is the Graduate Route UK post-study work visa?
The Graduate Route is a new UK post-study work visa which will be available starting in the summer of 2021 to any student holding a valid Tier 4 student visa. Students will have to apply for the Graduate Route before their Tier 4 visa expires.
Students are eligible if they are currently enrolled in a program or are set to start a program that finishes in summer 2021 or beyond. The new UK post-study work visa lasts for two years; during that time, graduates are free to work or look for work.
The Graduate Route is also available to students who begin their degrees online or remotely because of COVID-19 and who arrive in the United Kingdom before April 6, 2021 to complete a semester of study face-to-face at their university.
There is no cap on the number of students eligible for the Graduate Route. At the end of the two years graduates with the new UK post-study work visa will either have to leave the UK or, if they have found a skilled job, shift to a different visa, such as the Tier 2 General Work visa.
What about Brexit?
As the UK navigates its transition out of the European Union, EU, EEA, and Swiss nationals are eligible to freely travel to the United Kingdom, study, and look for work—if they arrive before the end of the transition period on December 31, 2020 and apply for settled status under the EU Settlement Scheme before June 30, 2021.
Graduates who have settled or pre-settled status under the EU Settlement Scheme will be free to look for work in the same way internationals applying for the Graduate Route will.
The UK Council for International Student Affairs confirms that international students from EU/EEA nations or Switzerland coming to the UK after January 1st 2021 for a course longer than six months will have to apply under the new student route, which has not yet been announced.
Under that route students who meet the eligibility criteria for the Graduate Route will then be able to apply for an extended stay in the same way that non-EU/EEA citizens would.
How can the post-study work visa changes benefit you?
Chris Garnett, head of postgraduate careers and employability at Alliance Manchester Business School, thinks the United Kingdom has always been a good place for international students to study. The Graduate Route will enhance this.
"This is because a large number of international students at least want to have the opportunity to explore the UK job market when they graduate and to potentially have the opportunity to build a platform for an international career," Garnett said.
"Despite Brexit, UK companies have continued to embrace the diversity that international graduates can bring, but the necessity for them to sponsor their visas made this more complicated and also shortened the amount of time a graduate would have to find the right opportunity."
"With the introduction of the Graduate Route, more companies will have the opportunity to tap into this talent pool and the most significant barriers will have been removed and the graduates themselves will have longer to look."
There are currently two main barriers to entry to the UK jobs market for internationals that Alliance Manchester's Garnett hopes the Graduate Route will remove.
Firstly, large corporates that sponsor visas often have restrictions around the number of employees they are able to sponsor. There are also costs involved. Secondly, SMEs and startups do not generally have the capacity to sponsor visas or the resources to go through the process.
"The Graduate Route will mean large corporates will have more flexibility in terms of their hiring and the wider SME market will now have access to this talent pool," Garnett explains.
"The one caveat is it is limited to two years and organizations will need to be educated on this, but two years is a very sensible amount of time to hire somebody for before committing to supporting them with a longer-term visa."
What are your job prospects in the UK?
With the jobs market impacted by COVID-19, it is not unreasonable to ask whether there will be jobs for business school graduates starting in the summer of 2021.
Rohit Kumar, head of international recruitment at the University of Liverpool, believes that despite obvious concern from graduates amid the coronavirus pandemic, job opportunities will be ripe for the right talent.
He says professionals should make themselves as "employable" as possible. Companies will want strong communicators, team players, people who can give and receive constructive feedback, and those who can see the bigger picture when identifying the role and impact of individual parts of a problem. Business school graduates fit the bill.
"The UK is a particularly interesting place for students to study business at the moment," Kumar explains, "because not only has a global pandemic impacted business practices, but Brexit will test companies in new ways, and encourage fresh thinking beyond Europe and into global markets both familiar and unfamiliar. Companies and organizations will be looking at a diverse group of individuals to help meet their strategic and operational objectives."
Garnett says there are industries where demand for highly skilled, talented graduates is ascendant. "Even now we have seen an increase in hiring over the past few weeks as the restrictions in the UK end. Bright, educated, talented people will always be able to find opportunities."
Demand for consultants has been growing as a result of companies working to digitize and adapt to the challenges of a workforce working from home. Garnett adds that areas such as technology, digital, fintech, and healthcare are predicted to continue to increase their hiring in future.
Liverpool's Kumar thinks the top four areas with the most potential for graduate employability are likely to be the public sector, accounting, banking and finance, and technology.
"Organizations across the board need digitally-savvy, analytical, commercially-aware talent with strong interpersonal skills to help them navigate the near future," Garnett concludes. "If you can bring this kind of broad skill set to the market, you should feel confident that there will be opportunities in this and other international markets."
International students use Program Finder to find their best fit UK business schools
Browse thousands of MBA and business master's programs offered at UK business schools using Program Finder, mba.com's global directory of business school programs. Filter your options by degree and program type, location, preferred class style, area of study, program length, target GMAT exam score, and more.