10 Things to Think About When Considering an Online MBA
10 Things to Think About When Considering an Online MBA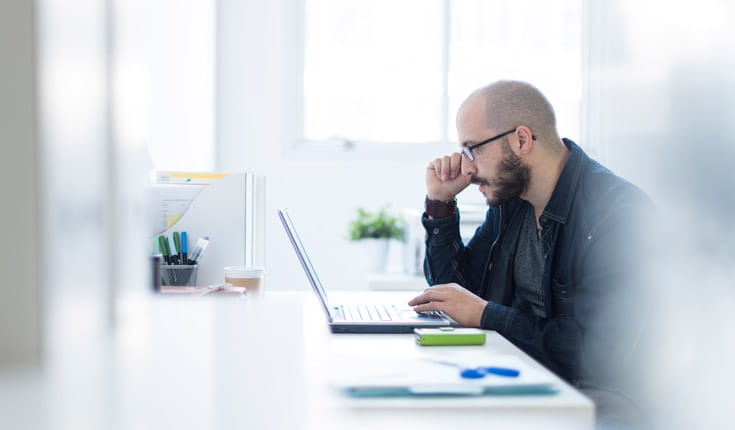 An array of benefits come with earning your MBA online. Flexibility and accessibility are some of the most compelling reasons people seek or switch to an online format.
And now, those reasons may be more appealing than ever, as many face an uncertain future amid the coronavirus pandemic. But there's a lot to take into account when considering an online MBA. Before you decide on a program, ask yourself these 10 questions.
1. Is an online degree right for you?
Self-motivation is fundamental to success in any online program. And since many online MBA programs use an asynchronous format where students aren't required to watch lectures or participate in discussions at the same time, self-motivation is especially important. As you evaluate your learning style, consider if you're someone who thrives with independent learning, or if you need more structure and face-to-face interaction with peers and faculty.
2. What is the online program's accreditation?
With the growing number of online MBA programs, it can be overwhelming to narrow down your options. As a starting point, verify the online program's accreditation to ensure it's reputable. Some of the most well-known accrediting agencies for MBA programs are the Association to Advance Collegiate Schools of Business (AACSB International), the Accreditation Council for Business Schools and Programs (ACBSP), and the International Accreditation Council for Business Education (IACBE). These independent agencies evaluate the standards of a business program's teaching, faculty, services, and students. Based on that evaluation, they recognize business programs that meet their rigorous academic standards. If the online program you're considering is accredited by one of these agencies, it's a meaningful indication of the program's quality.
3. How similar are the school's online and traditional MBA programs?
Don't assume a business school's traditional MBA programs and online program are one and the same. It can be easy to make that mistake but do the legwork to see how the online program stacks up. Consider how the online program's admission standards, reputation, professors, curriculum, resources, and class sizes compare to the school's traditional MBA program. Figure out the answers to these questions so you can set reasonable expectations—and avoid surprises.
4. What is your timeline for completing an MBA program?
There is a range of program formats and durations available if you want to pursue an MBA online. Depending on the format you choose, you could complete your online degree in as little as one year with an accelerated option. But it could take several years if you enroll in a part-time online program. Ultimately, it comes down to how much time you have, other commitments (e.g., whether you're planning to work on a full or part-time basis), and your short and long-term career goals. Those factors will help you determine your ideal time frame for completing your degree. From there, you can decide on a program format that works for you.
Need help determining how much time you can dedicate to an MBA program? Consider these variables.
5. How flexible is the online program?
An online degree is an attractive option for students who are juggling school along with work, family, or other obligations. While flexibility is one of the most notable benefits of an online degree, not all online programs are created equal. Some offer more flexibility than others. For example, some online MBA programs are asynchronous, so students can study at their own pace, whereas others are synchronous, meaning students have to attend live classes at a specific time. Not only that, but some online and hybrid programs have in-person requirements. As you're researching online degree programs, figure out the specific requirements and make sure they align with the rest of your schedule.
6. Does the online program facilitate connections with peers and faculty?
Along with the core business and leadership skills you develop, the network you build in an MBA program is one of its biggest benefits. Even if you're pursuing an MBA online, you'll want to maximize your opportunities to interact with your peers and faculty. Is the program cohort-based, meaning you'll consistently see and get to know the same classmates? Are there networking opportunities outside of the classroom? Is the online learning environment and tools conducive to engagement with classmates? Once you've narrowed down programs, see if there's an opportunity to sit in on an online session. This will give you the best feel for what the learning experience is like.
7. What are the financial aid options?
Cost is a key consideration of any graduate program. Tuition varies widely across programs and chances are, it will be a factor in your decision. But when comparing costs, don't just look at tuition rates. Tuition assistance, such as scholarships and fellowships also vary from one program to the next. Evaluate what kind of need-based and merit-based financial aid each program offers. Government-subsidized and private loans can also help cover the costs. And in some cases, employers will even offer tuition reimbursement as an incentive to retain and develop employees.
8. How are employment outcomes for graduates?
An MBA education is an investment in your future. And while it's impossible to predict the future, you want to ensure you'll have ample career opportunities upon graduation. What's one way to get realistic insight into your career prospects? Ask alumni. Many online MBA programs provide prospective students with the opportunity to engage with alumni, even before they've enrolled in the program. Whether you meet them through campus visits, events, or reach out to them directly, find out what alumni are up to. Of course, everyone's different, but talking to alumni gives you a sense of real career prospects—and it may even give you ideas on exciting career paths you hadn't previously considered.
9. Does the online program provide comparable support services?
The last thing you want is to get your MBA online, only to realize the university doesn't support it like they do their on-campus programs. Steer clear of this scenario by verifying that online students have access to the same resources as on-campus students. For example, find out if the program offers in-person support, such as a student writing center or career counseling services, for online students. Find out what job-seeking resources are available too, whether that's help finding summer internships or a new career. Whatever the case, services for online-degree seekers should be comparable to those offered to other MBA students.
10. How active is the alumni community?
While alumni serve as a helpful resource for prospective students, a strong alumni network can be an invaluable, life-long asset once you graduate. Find out what efforts the school makes to cultivate a strong alumni network for online students. Are there in-person alumni events? Are there other ways to connect with alumni, such as online portals or social channels? Figure out how active the alumni community is, since opportunities to connect with fellow alumni can be a game-changer when it comes to your career advancement and success.
Strive for success, no matter the circumstances.
Like any graduate program, you want to know how an online MBA program can benefit your long-term career goals. But as you think about those goals, make sure to build flexibility into your long-term plans. In the face of an uncertain future, it's important to be adaptable. By doing this, you keep your options open, enabling your success regardless of circumstances.
Interested in exploring MBA program options—online or other? Check out our search tool to see which programs align with your preferences and needs. Visit Program Finder today to learn more.