What Do Biden's Immigration Changes Mean for Indian MBA Applicants?
What Do Biden's Immigration Changes Mean for Indian MBA Applicants?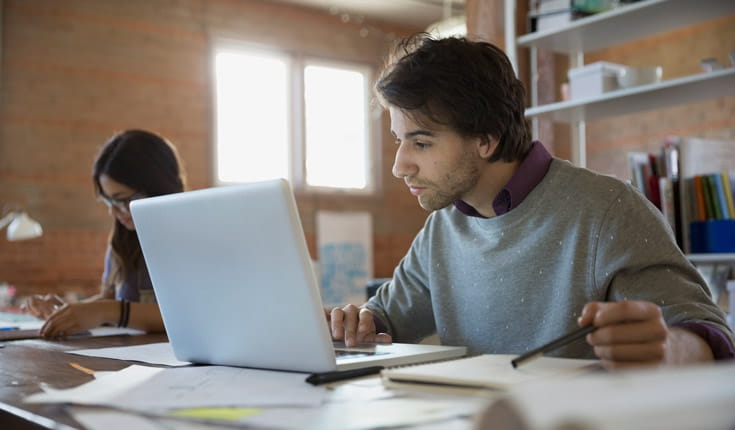 For the thousands of Indian MBA candidates who apply to US business schools every year, news of President Biden's changes to the US immigration and visa system is keenly awaited.
During his 2020 election campaign, Biden stated his commitment to overturning Trump's H1B visa ban, a crucial step on the US MBA pathway to citizenship for international students. Without the prospect of an H-1B visa, the US business school proposition is considerably diminished.
So what can we expect from Biden's immigration policy, and how will potential changes impact Indian MBA applicants?
Reinstatement of the H-1B visa
When Biden received the presidential nomination in mid-November, all eyes turned to his visa policy, in particular his approach to reinstating the H-1B visa. US business schools rely greatly on this post-study work visa as an incentive to international applicants.
Rewind to July 2020, when Trump initially suspended the H-1B—the visa which allows high-skilled graduates to work in the US—Biden stated his commitment to reinstating the H-1B were he to be elected president.
Many expected the lifting of the ban to come early on in his presidency, along with executive orders that saw the lifting of Trump's travel bans on certain countries. This didn't materialize, and for now the suspension remains in place.
🌏 Read more: The Complete Guide for Indian Graduate Business School Applicants
There are positive indications towards a reversal of the ban. Applications for the H-1B lottery cycle for 2022 opened on March 9. And even without Biden's intervention, the Trump executive order to suspend the H-1B expires on March 31, 2021.
Indian MBA applicants, who constitute a significant proportion of the US application pool, stand to benefit greatly from a lifting of the H-1B visa ban.
Manish Gupta, chief consulting officer at MBA Crystal Ball, expects the most likely policy will see a reinstatement of the H-1B, without granting work authorization for spouses—"A move that is highly cheered and valued by prospective Indian applicants," he says.
Reinstating the H-1B visa, however, doesn't fully address the challenges around applying for a post-work visa that predated the ban. Applicants must still undergo the H-1B lottery, which only grants 85,000 visas annually: the US Citizenship and Immigration Service (USCIS) regularly receives double this in applications.
Even if you're successful in the H-1B lottery, there's still an annual cap on the number of Indian nationals who can receive a 'green card', the permanent US citizenship visa. Indian-American immigration advocacy group Immigration Voice have urged the Biden administration not to lift the H-1B ban until this cap is removed, stating that around 60,000 Indians are drawn to the US annually, without assurance or stability around their residency.
"[They] will be completely subject to the whims of their employer, new administrations, or even individual immigration adjudicators having a bad day," said Aman Kapoor, president of Immigration Voice.
Sustained commitment from Indian MBA applicants
After recent drops in application numbers, US schools will be keen to sustain their reputation as a top business school destination. MBA admissions consultant Barbara Coward is positive that a general change in policy direction under Biden, including a more open visa policy, will fuel an increase in applications.
This is clearly good news for Indian applicants, who will see this as a boost to post-study job prospects. It will, however, make the general application pool more competitive, as Biden lifts bans on applicants from other countries.
🌎 Read more: Why Business Master's Programs in Canada Attract So Many Young Indians
"Given that business schools value diversity of countries represented in the cohort, it could be more challenging for an admissions committee to argue that they want to fill a seat with a student from India in lieu of one of the six countries that had immigration restrictions imposed," Barbara says.
This is unlikely to deter applicants. The US remains the international business school destination of choice for Indian MBA applicants—even the Trump ban hasn't really damaged this.
"The desire to attend a top US business school is so strong that it remains the top priority in the admissions journey rather than the 'political noise' happening at the time," Barbara says.
Manish believes, however, that Indian applicants will look for positive action from the Biden administration as a reassurance that they are welcome to come and study in the US. If Biden doesn't prioritize reinstating the H-1B, as well as making extra concessions such as removing the cap on Indian visas, this may have a long-term negative impact.
"It would be akin to testing the patience of an international applicant for just too many years and we may reach a breaking point after which, the fall in volumes can be substantial."
If the Biden administration is committed to attracting India's top MBA talent, this vouch of faith could prove crucial.
The MBA admissions process is a unique challenge for any applicant – regardless of how qualified they are. In the mba.com Full-Time MBA Application Guide, we provide you with the information and guidance you need to craft MBA applications that elevate your story and help you stand out from the pool of other qualified applicants.