Is an MBA in Finance Right for You?
Is an MBA in Finance Right for You?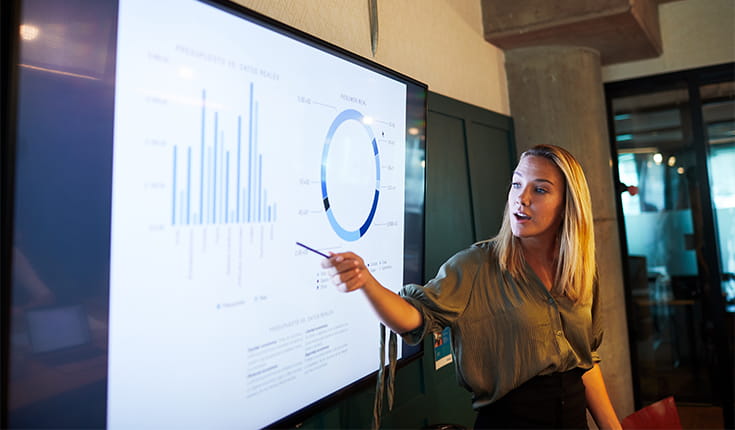 An MBA is a generalist management studies degree that provides you with the fundamentals of business. But that doesn't mean that when you pursue an MBA you forfeit the chance to dive a little deeper into a subject you're passionate about – that's where MBA specializations come in.
Many programs will offer at least two or three specializations to choose from, giving you the chance to take more electives in a particular area of business and gain more advanced knowledge in that area.
The MBA finance specialization is one of the most popular options. It's designed for professionals who want to hone their management insights and overall business savvy while preparing for success in the financial world specifically.
Here's what you can expect from an MBA with finance specialization: who this option is for, what career options you'll have after graduation, and how to apply.
What is an MBA in Finance?
An MBA with a finance specialization is designed for business professionals who are targeting careers in the finance industry in particular.
Usually, your MBA in Finance program will be structured like a traditional MBA degree. However, students in this specialization will take more courses from a finance syllabus than in a standard MBA program. This means that, by the end of your degree, you will have built a high-level knowledge of finance, including areas like fintech, economics, and investment.
However, as with a standard MBA, there are plenty of other core and elective subjects that students can choose from. Though you will develop specific expertise in finance, you'll also study other core elements of management studies like operations management and leadership skills.
Who is an MBA in Finance for?
If a finance career is in the cards, you might wonder whether an MBA or Master of Finance is the right option for you. In the end, your choice will come down to your level of experience and how specialized you want to be.
MBA programs allow you to cover a broad range of management topics even as you specialize in finance, while Master of Finance programs focus on finance alone. However, an MBA will prepare you for more senior roles than a Master of Finance program.
Consequently, compared with a Master of Finance, an MBA with a finance specialization is designed for senior-level professionals with around three to five years' experience. Thus, while most Master of Finance programs are aimed at pre-experience and early experience applicants, MBAs already have some work experience to draw on.
Some MBA in Finance applicants will already be finance professionals, while others might work in a different industry and want to pivot. The MBA finance curriculum nevertheless will give you a strong framework to enter a wide variety of finance roles, whether you've worked in finance before or not.
As with a standard MBA program, an MBA in Finance is also an option for students who want to start their own company, especially in the fintech arena.
If you are thinking about applying to a Master of Finance program instead, there are plenty of world-class options.
MBA Finance Courses Structure
The course structure of an MBA in Finance program will depend on whether you have chosen a one-year or two-year program.
Generally, on a two-year degree, you will start with just a few core finance electives alongside other MBA subjects like management and marketing. In the second year, you will take a greater number of core finance courses and have the chance to specialize further with MBA electives.
However, on some MBA in Finance programs – like the MBA Finance program at Wharton, for example – students will be discouraged to specialize in one area of finance. This is because a wider knowledge will prepare students better for the variety of careers available after graduating.
On a shorter MBA, for example, a 16-month program, you will usually begin your specialized electives in term three. This means you will begin the program by studying core MBA courses and finish with advanced electives in finance or other courses you wish to add to your degree.
You may also have the option to complete an internship as part of your MBA in Finance. On a one-year course, this may be scheduled for the final two terms, while on a traditional two-year program you will likely complete this during the summer break.
MBA Finance Subjects
During an MBA with a finance specialization, you'll combine general business management knowledge with finance-specific studies.
This means studying core topics like strategy, operations, marketing, and accounting, along with a financial syllabus that will include core MBA finance subjects that are compulsory and some free-choice options.
Most business schools also give you hands-on experience in finance through study trips, internship opportunities, or the chance to work on real-world projects during your MBA in Finance. This could include travel to international financial centers such as London, New York, or Hong Kong, which will enrich your learning experience.
MBA Finance Electives
Overall, the MBA finance curriculum can be as broad or as specialist as you make it depending on the mix of core and elective subjects that you follow.
As we've mentioned, you'll be given free rein to choose MBA finance subjects in your final year or final terms of your degree, depending on its length. Some students will try to tailor their MBA finance syllabus to suit their career aspirations, while others may just want to get an overview of the different areas of finance.
The range of finance modules you can choose from varies school by school, but the following finance subjects are usually included on most, if not all, MBA in Finance degrees:
Corporate finance
Investments
Valuation
Financial planning
Mergers and acquisitions
Risk management
Financial data analytics
Fintech
Entrepreneurial finance
Every business school will have different areas of interest, though, depending on its faculty and location. Some management colleges, for example, will have a developed area of specialism in technology, which may mean there are more electives on offer in fintech or entrepreneurship.
At other schools, particularly those based in major global financial centers, electives may focus on finance theory associated with traditional areas like financial accounting, banking, or portfolio management.
MBA Finance Specializations
On some MBA in Finance programs, you may be able to choose a more advanced finance specialization. For example, you may be able to target a specific industry within the broader finance category or choose a more data-specific finance degree.
For example, the MBA in Finance at Wharton has two finance specializations: the more generalist Finance and a STEM-designated specialization in Quantitative Finance. The latter offers students more opportunities to explore quantitative analysis for finance.
Other business schools may offer specializations in other forms of finance. This might include areas such as:
Financial accounting
Responsible investment
Banking
Corporate financial management
Trading
Risk management
Opting for a more specialized MBA in Finance can make it easier for you to find roles in the industry you're interested in. You'll be offered electives in similar areas of your specialization so that you can build advanced knowledge.
However, you should think about how open you want to keep your career options when choosing a specialization, as you may find you cannot apply for some roles later with your advanced specialty.
MBA in Finance Teaching Methods and Techniques
Teaching methods on an MBA in Finance program will differ very little from a standard MBA program. This means you'll receive the same kind of teaching on your MBA finance subjects as in other parts of your education, though it may be tailored to the financial.
The variety of teaching methods on your course will generally depend on your business school of choice. However, during most MBA finance subjects, you'll see techniques including:
Lectures
Case studies
Experiential learning, which may include study trips
Simulations
On an MBA in Finance, you'll see the same types of teaching methods, but some of the technology or subject matter will vary.
For example, some business schools may offer students access to Bloomberg Terminals, an experiential learning tool that allows finance students to monitor markets in real-time and extract data.
Other finance-specific learning techniques for MBA finance subjects may include an investment practicum. This hands-on experience gives students the virtual experience of managing funds and may be tailored to different industries or markets to increase specific knowledge.
At the John Molson School of Business in Canada, for instance, MBA in Investment Management students take part in the Sustainable Investing Practicum. This involves a select group of students managing a virtual fund of US$2 million, with a mandate of choosing sustainable investments.
"The program really opened our eyes to the practicalities of sustainable investing," reflects Mohammed Hadir, a grad from the John Molson program. "We got our hands dirty studying real cases."
As mentioned, students may also learn through practical study trips. On these trips, you may get to visit financial institutions and professionals and get a feel for what it's like to work in the industry.
MBA Finance Courses at Top MBA Colleges
United States
Many top MBA programs offer finance specializations, and one of the best-known can be found at Wharton, which is ranked the best business school for finance in the US by US News.
Wharton MBA students can choose between a general finance major and a STEM-designated quantitative finance major. To specialize, you need to take a specific number of finance modules, which cover topics like macroeconomics, corporate finance, investment management, and risk analysis.
Cornell University's SC Johnson College of Business is another top US MBA program that offers a finance specialization. In the corporate finance track, you'll study MBA finance subjects including international finance, macroeconomics, and corporate financial policy.
Europe
In the UK, via Oxford Saïd Business School's Finance Lab, Oxford MBA students work on practical financial case studies, designed to prepare them for careers in areas like investment banking, private equity, and asset management.
Other highly regarded MBA finance specializations in Europe include those on offer at HEC Paris and IESE Business School.
HEC Paris, in particular, has a large finance department with 30 international professors. The school has specific areas of expertise in finance subjects such as corporate finance, financial intermediation, and market microstructure.
Asia
In Asia, HKUST Business School in Hong Kong has one of the best-known finance specializations. The HKUST finance track exposes students to core areas of an MBA finance syllabus like venture capital, private equity, and investing in financial markets, as well as more innovative finance subjects.
This includes courses on fintech and big data financial analytics, green finance strategy, and equity investment with machine learning.
On the whole, the HKUST MBA is a good option for students who plan to stay in Asia after they graduate, thanks to its focus on the Asian economy through modules including investment and finance in China and Asia.
An India MBA Finance syllabus will also include aspects of international finance. At the Indian Institute of Management Ahmedabad – one of the best business schools in India – many of the faculty members are finance and financial accounting professionals.
Electives on the India MBA finance syllabus at IIM Ahmedabad also include behavioral finance, alternative investments, fixed income securities, and valuation.
Online/Part-time MBA
Full-time study isn't your only option if you want to specialize in finance on an MBA program.
Online MBA programs including those offered by the University of Florida's Warrington College of Business in the US and the University of New South Wales' Australian Graduate School of Management, offer finance specializations.
Many part-time MBAs also allow you to tailor your studies toward finance through your choice of electives. Among these programs are Imperial College Business School, Chicago Booth, and Berkeley Haas.
MBA in Finance Cost & ROI
An MBA is a significant investment regardless of how you specialize. According to the BusinessBecause Cost of MBA Report 2021, the average cost of studying at one of the world's best MBA programs – including ones with a significant finance specialization – is US$176k.
There's no way around it – this is a huge sum. For some programs, though, the cost is even higher. For example, the Wharton MBA costs almost US$230k in tuition fees over two years – more than the average of US$217k that highly-ranked programs in the US charge in fees.
In Europe, though, average fees for an MBA program are lower. There, you can expect to pay around US$130k in total fees for a top-ranked program, such as at INSEAD or London Business School.
However, don't let high costs put you off. Whichever MBA program is the best fit for you, be sure to check out MBA scholarship opportunities. Most schools offer a wide range, and you may be eligible for more than one.
At most business schools, you will have to apply for a scholarship at the same as you submit your application for your degree program. This means you should research scholarship opportunities early.
Nonetheless, with the high salaries that come with a finance career, you can expect a good financial return on your investment fairly quickly when you graduate. MBA finance graduates will also see other long-term benefits like a strong and varied network, personal leadership insights, and better awareness of the broader business world.
Career Prospects After your MBA in Finance
Graduating with an MBA finance degree gives you plenty of career options in the finance sector, including in international finance. In general, the most common destinations for finance graduates are:
Investment banking
Corporate finance
Private equity or debt research
Risk management
Financial planning
Financial services venture capital
Portfolio management
In banking and equity or debt research, an MBA will typically enter as an associate. That's exactly the role Ruisha Yuan took on when he graduated from an MBA at PKU Guanghua School of Management in China.
As a senior associate at CreditEase, a venture capital fund in China, the wide-ranging skills he built during the MBA are coming in useful.
"For someone who works in venture capital, you need a broad perspective," he reflects. "Knowledge of finance alone will not make you a good investor."
In corporate finance, job titles vary. "You might be hired as a manager, or directly into a treasury group to a role such as assistant treasurer," says David Capaldi, director of career services at Cornell University's SC Johnson College of Business and a former investment banker.
However, it's not always guaranteed that you will enter financial management in an entry-level role. Some MBA finance graduates, for example, find themselves in C-suite positions after their degree.
These roles, such as a Chief Financial Officer (CFO) are at the top of the management hierarchy. C-suite positions are among the highest-paying MBA jobs, and a CFO position will require the same balance of management prowess and deep financial knowledge that your MBA finance program will help you develop.
However, it's also important to remember that an MBA also opens up doors in other sectors aside from finance. For example, you could combine your specialist financial knowledge with another area of business such as leadership, marketing, or operations. Consequently, some MBA finance grads pursue roles in:
Corporate finance marketing
Financial management
Fintech startup leadership
Management consultancy
Top Companies Hiring MBA Finance Graduates
For many MBA finance students, their goal will be to work at a major global financial institution, such as a bank, insurance company, investment firm, or accounting company.
Many of these companies already hire a huge number of MBAs each year. For example, institutions like EY and Deloitte feature on the list of the biggest MBA employers.
However, your MBA credentials could also see you join other global companies, either in finance jobs or elsewhere in management. Prestigious MBA employers also include big players in the tech industry, such as Microsoft, Google, and Amazon, as well as the Big Three consulting firms: McKinsey, Bain, and BCG.
As for corporate finance, there are a wide range of companies out there that hire MBAs. According to Glassdoor, companies recruiting for corporate finance roles include major corporations in the entertainment industry (for example, the Walt Disney Company and A24) and banks like JP Morgan Chase, as well as the tech industry.
Overall, there is high demand for MBA graduates no matter what your specialization is. The finance industry in particular is leading the way in MBA hiring, with 36% of finance and accounting firms reporting that they will increase their hiring of MBA graduates over the next five years.
MBA in Finance Average Salary
MBA graduates are almost guaranteed lucrative salaries after graduating. The average salary for MBA grads is US$115k, much higher than bachelor's degree hires (US$65k).
This isn't just the case for generalist MBA degrees, either. MBA finance grads can also expect to see a high return on their studies. 66% of corporate recruiters in the finance and accounting sectors say that employees with a graduate business degree tend to earn more than those without one.
In the US, financial managers earn an average of US$96k, while a finance associate can earn US$80k. However, the highest 10% of earners in a financial manager role have secured salaries of more than US$208k.
Working in a traditional financial institution like an investment bank can also bring high salaries. This position is lucrative as it will also come with performance bonuses than can boost your earning potential considerably.
Elsewhere, private equity associates also commandeer high earnings. Third-year associates, for example, can expect a salary of up to US$160k – a value that certainly reflects a positive return on investment compared to the cost of your degree.
As we've mentioned, though, it's also possible to move into C-suite jobs after your MBA finance degrees, and these roles will come with much higher salaries.
According to Glassdoor, a Chief Financial Officer (CFO) can expect to earn around US$154k in the US. Additionally, the average pay for a Chief Operating Officer (CFO) in the US can reach US$200k.
Whichever role you end up in, you can be certain that your graduate management degree has increased your earnings potential. 67% of GME grads say that the degree has accelerated their career path, and 72% say it has increased their salary potential.
MBA in Finance: Eligibility Criteria
As with any MBA program, an MBA in Finance is likely to be competitive. Since this degree is taught at a higher level than a business master's program, there are also additional caveats to acceptance.
As with most generalist MBA programs, to be admitted into an MBA with a finance specialization, you will typically need:
3-to-5 years' work experience
Bachelor's degree with a strong quantitative focus
Academic transcript
Two professional recommendation letters
The application process will vary by program, but typically you'll also be expected to submit a personal statement and resume along with the above documents. Many schools will also require you to answer one or more essay questions set by the school.
Average GMAT scores at top-ranked business schools vary, but you can expect averages of between 700-750. However, some schools place more importance on essay questions or your background than the score itself.
If the school thinks you're a good fit for the program based on your application, you will be invited for an interview.
Ready to apply for an MBA in Finance? If you're looking for more guidance on starting your MBA application, download our Full-Time MBA Application Guide.