Artificial Intelligence: Business Schools Are Teaching Students How To Master Machines
Artificial Intelligence: Business Schools Are Teaching Students How To Master Machines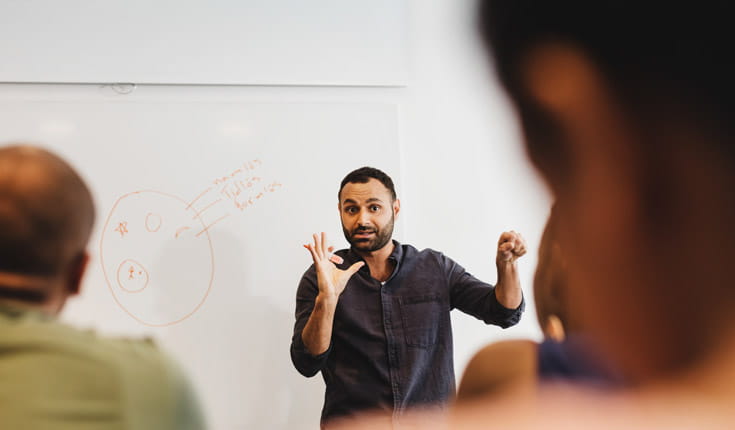 Business applications for AI are growing and b-schools must ensure that graduates can meet the future needs of industry.
Artificial intelligence is breaking out of science fiction and sprinting into reality. A robot can now identify a human from a photo of their face, trounce a Poker player and in theory, pilot a plane.
Business applications for AI are growing, from Apple's Siri personal assistant to Amazon's delivery drones, and business schools want to ensure that their graduates have the skills to meet the future needs of industry. A wide range of master's degrees and electives within established courses that focus on AI are on offer.
"Digital and AI are rapidly changing the way we live and work in significant ways," says Francisco Veloso, dean of London's Imperial College Business School.
As businesses transform to keep up with the pace of technological change, he adds, "schools will need to do more to provide students with the tools they need to undertake careers or start businesses in areas such as blockchain, [and] fintech".
Imperial runs a two-year, £27,500 master of science degree in business analytics. The course focuses on using statistical, operations research and machine learning techniques to solve business problems and obtain actionable insight from data using analytics. Learning these skills makes students highly employable, says program director and professor Kalyan Talluri.
"[They enter] technical analytics positions as well as technical analytics manager roles. Consulting is also a very viable option for our graduates," he adds.
Many of his students come from quantitative disciplines such as STEM (science, engineering, tech and math) but have the communication skills necessarily to thrive in a business environment—communicating insight to executives is essential to making good use of data.
Most of the degrees require a technical background and are highly competitive—such as the Master of Business Analytics degree at MIT's Sloan School of Management, which will expand its annual intake from about 20 to 60 by 2020. Other courses focus on preparing managers to master machines (the algorithms which guide them).
At Harvard Business School in Boston, MBA students are gaining a basic understanding of the business applications of AI, says David B Yoffie, a professor of international business administration. "If you want to get into the realm of self-driving cars, you have to understand what machine learning and different AI techniques can do." But, he adds, the business school is not training technologists: it is more important that students can effectively manage engineers, not supplant them.
Bill Boulding, dean of Duke's Fuqua School of Business in North Carolina, which runs a Master of Quantitative Management degree, sounds a note of caution on AI. Refining the curriculum to meet the needs of industry will become more important, he says, but business schools must also pay attention to the ethical implications of tech innovation. After all, AI is poised to wipe out swathes of low-skilled and some managerial jobs, economists predict.
"We can't lose the human element in technological advances, or we risk losing the values that anchor our lives," he says.
---
This article was originally published on BusinessBecause.

Whether you're considering an MBA, EMBA, or Master's program, read more content like this and get practical resources to help your business school application on BusinessBecause.