H1B Visa Changes Give Priority To MBA And Master's Students
H1B Visa Changes Give Priority To MBA And Master's Students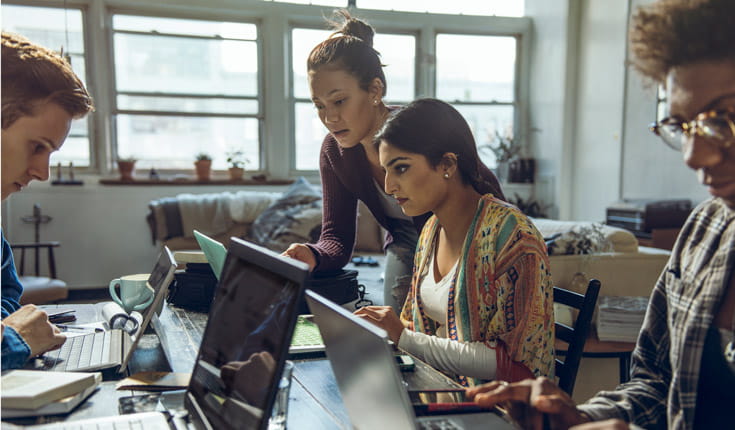 Like many overseas students at US business schools, securing US work authorization was a top priority for Adrian Dobles, a Latino.
"For a better life sure, but also as a means to settle that heavy student debt," says the MBA candidate at Georgetown University's McDonough School of Business, where tuition fees are US$119,400.
His return on investment on the degree has looked more attractive in recent months, thanks to changes to US immigration rules that make graduate students more likely than undergraduates to secure a H-1B visa—a new scheme for highly-skilled migrants which started on April 1st 2019.
New visa rules benefit MBA and master's grads
There are 85,000 new H-1B visas made available each fiscal year to employers who 'sponsor' a worker by filing their application. This number includes 65,000 visas for workers with at least a bachelor's degree, and 20,000 visas for master's degree holders.
The change reversed the order in which H1-B petitions are assessed. Applications from masters students are now assessed last. So MBA candidates can apply for sponsorship twice, once using their undergraduate degree and, if unsuccessful, once using the MBA.
"You get two chances at securing sponsorship now," explains Denise Karaoli, senior associate director of international programs, opportunities and diversity at the University of Virginia's Darden School of Business.
"This will allow up to about 5,000 more H-1B petitions for those with advanced degrees such as a masters. This improves the odds of an MBA candidate being granted a visa, from about 50-to-60 percent before to up to 72 percent today."
Why visa change is needed
Overseas students have felt shut out of the US jobs market by the tightening of the H-1B visa process in recent years.
Figures from US Citizenship and Immigration Services (USCIS) show there was a 60 percent increase in H-1B applications being sent back for further documentation in the first quarter of 2019 compared with the same period last year, known as requests for evidence (RFEs). The rate of H1-B application denials also more than doubled between full-year 2017 and 2018.
A Graduate Management Admission Council (GMAC) survey of more than 1,200 employers—conducted before the latest visa changes—found that only 58 percent were planning to hire overseas MBA graduates in 2019, compared with 47 percent who said they would last year.
This context—combined with a tricky political climate—has discouraged overseas students from applying to US MBA programs, even at the most prestigious business schools such as Harvard Business School and Stanford GSB. Overall 70 percent of US schools said their applications fell for two-year full-time MBAs in 2018.
According to Bill Boulding, dean of Duke University's Fuqua School of Business, the visa change is a positive step in the right direction, although he says more has to be done to change the mindset of internationals towards their job prospects in the US.
To help with this, Duke has secured STEM-designation for elements of its MBA program, which means that students who follow the STEM MBA concentration, can stay in the US and work on a student visa for up to three years after graduation.
STEM designation extends the permitted Optional Practical Training (OPT) period, a program designed to give graduates practical training to complement their education, from one to three years.
"During that period you have the opportunity to apply for an H1-B visa multiple times, every year. It flips the odds from the chances are you won't win the lottery to the chances are that you will," Bill explains.
Positive change
While there are other challenges, the latest H1-B visa change is a positive one for MBA and master's graduates, increasing the probability of selection for international students with advanced degrees.
This could see negative trends in international MBA hiring, and even applications to US business schools, change.
Adrian was initially concerned about the negative rhetoric around immigration in the US, epitomized by president Donald Trump's "Hire American" agenda, so much so that he considered applying to MBA programs elsewhere.
But he says Georgetown McDonough's career center helped him find, target, and apply for the right opportunities. "Thanks to them, I will be working at Microsoft in Seattle post-MBA, and was able to apply for my H1-B successfully," he says.
The hope is the new visa regulations will help more international MBA and master's graduates do the same.
---
This article was originally published on BusinessBecause.

Whether you're considering an MBA, EMBA, or Master's program, read more content like this and get practical resources to help your business school application on BusinessBecause.