What Should I Expect During the GMAT Exam?
What Should I Expect During the GMAT™ Exam?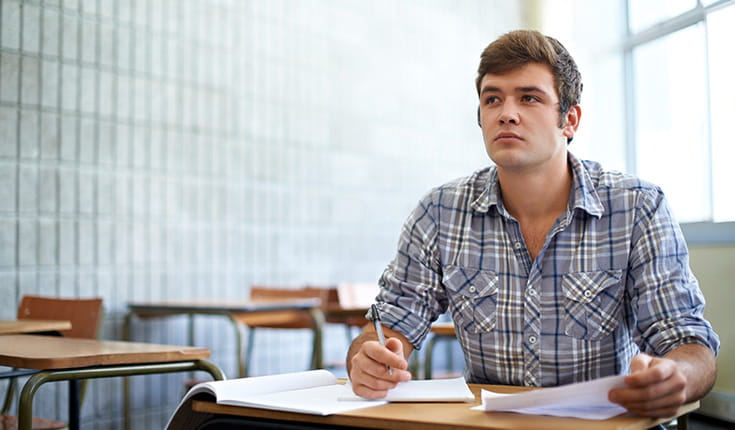 Taking the Graduate Management Admissions Test™ (GMAT™) helps demonstrate your commitment to advancing your education and your readiness for the rigors of a graduate business program.
What is the GMAT exam? The GMAT exam is an assessment of the skills you need to perform in business school and helps predict your likelihood of academic and professional success. A good GMAT score can help you stand out in the competitive admissions world. So how can you best prepare for success on exam day? The first step is knowing what to expect. Follow along for key information about what the in-person, test-center GMAT exam experience is like.
Sign up to receive advice, tips, and exclusive offers to help you on your journey.
Understand the Process for the GMAT exam check-in
To ensure a smooth check-in process, plan to arrive at least 30 minutes before your GMAT exam appointment. Upon arrival, you'll need to present appropriate and valid identification in order to sit for your exam. Your ID must be current, legible, and include the following identifiers exactly as you provided when making your test appointment:
Full name
Date of birth
A recent photograph
Your signature
Just to be safe, bring along the confirmation email or letter you received after securing your GMAT exam date. Testing staff will also take your photograph, and where permitted by law, they'll ask for a palm vein scan, which will be used to confirm your identity any time you enter the testing room.
GMAT testing room and materials
After checking in, you will store your belongings and find your workstation. Personal items are not permitted in the testing room; you may only bring your ID, locker key, a light sweater, and prescription eyeglasses. Furthermore, you cannot use or access any devices or testing aids throughout the exam, including breaks. Prohibited items include, but are not limited to, cellphones, music players, watches, books, notes, and study guides.
You will receive up to five erasable noteboards and a noteboard pen for use during your GMAT exam. If you fill up the provided noteboards, the test administrator will collect the used ones and give you replacements. In general, you may not leave your workstation while timed sections of the test are being administered. If you have an emergency, raise your hand and notify the test administrator.
The GMAT exam structure
What's on the GMAT exam? The GMAT exam structure consists of four sections with a total testing time of three hours and seven minutes:
The full testing experience takes about three and a half hours to complete, including two optional 8-minute breaks. You can choose to bypass the breaks, and instead continue on to the next section of your exam. If you exceed the time allotted for your breaks, the excess time will be deducted from the next section of your test. During breaks, remember to remain in the test building and designated locations, which typically include the locker area, the test center lobby, and the nearest restroom.
What to do before the GMAT test begins
On test day, you'll have two decisions to make: where you'll send your score report and in what order you want to take the test.
1. Prior to starting your GMAT exam, you will select up to five schools/programs to receive your Official Score Report, which will be sent within 20 calendar days of your test. This service is included as part of your exam, but once you've made your selections, you cannot change them.
2. After you select where to send your score report, you will see the Select Section Order prompt. This appears after the navigation tutorial and immediately prior to beginning your GMAT exam. You will have three section order options and two minutes to make a selection. If you do not make a selection within two minutes, the first order will be selected. To help you decide, we suggest that you think through your strengths and the testing strategies that work best for you.
During the GMAT assessment
Once you start your GMAT exam, an onscreen clock will count down your remaining time. Be sure to track your progress and keep pace throughout the exam. The Quantitative and Verbal sections of the test use computer-adaptive testing, which means the program selects your next question based on your previous responses. You won't be able to change your answers once you move to the next question, so if you're stuck, choose the best answer you can and move on. If you don't finish in the allotted time, you will still receive scores as long as you have worked on every section. Keep in mind that your scores will reflect the number of questions answered and will decrease significantly with each unanswered question.
Not sure of an answer on the GMAT test? Good news, there's a strategy for guessing.
GMAT scores and score reports
Once you complete your exam, you will see your unofficial score report for four of your five scores: Quantitative, Verbal, IR, and Total Score (based on the Quantitative and Verbal sections). AWA scores are not included on unofficial score reports but are reported on official score reports. Again, you will be given two minutes to decide whether to cancel or accept your score; if the time expires before you make a selection, your score will be canceled. If you accept your score at the test center, you will receive a print-out of your unofficial score report prior to leaving the test center. We recommend that before arriving at the test center, you determine what score you're willing to accept. Click to view a sample unofficial score report and for more information about scores and score reports.
Additional test-day information for the GMAT exam
Educating yourself on what to expect on the day of your GMAT test is an effective way to avoid unnecessary and stressful surprises. The information discussed in this article is helpful, but there are other resources that you should explore to ensure you are fully prepared. Here are a few to get you started:
The GMAT Handbook is your single source for all the policies, procedures, and rules that apply to the entire GMAT testing experience.
Location-specific regulations to ensure you know the rules at your specific test center.
GMAT testing rules agreement will help you understand test policies and avoid violations that could result in your score being canceled.
Interactive GMAT exam tutorial shows you what the test center screens will look like during your exam.
FAQ overview addresses the most commonly asked questions about what to expect at your GMAT test center.
GMAT test-day checklist provides a handy recap of what to prepare for and remember on your scheduled GMAT test date.
GMAT exam-taking strategies and best practices to keep you confident, focused, and on track.
Now that you know what to expect on exam day, do you feel prepared to take the actual GMAT test? Answering questions from past GMAT exams is a surefire way to ensure you are primed and ready to go. Check out your GMAT practice test options today.