Support Programs for LGBTQ Students
Out at Business School: Support for LGBTQ+ Students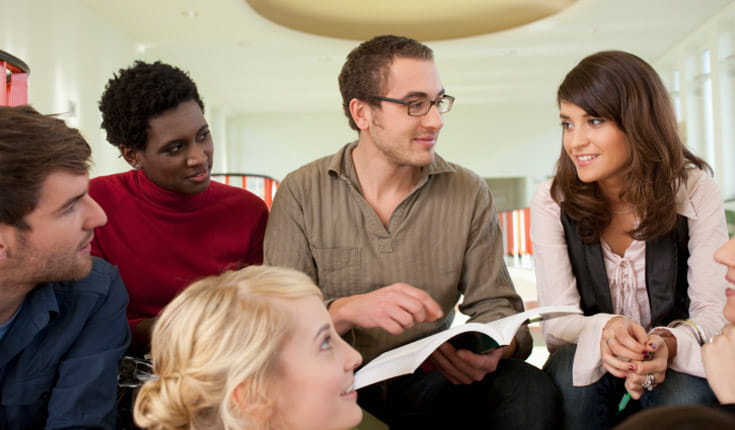 Long underrepresented in business school, 'out' LGBTQ+ students' presence in MBA and business master's programs is on the rise. More than ever, a major focus for business schools is to promote a learning environment that is welcoming and supportive for all students. This means establishing support resources and affinity groups for the LGBTQ+ community and continuing to grow the diversity of schools' class cohorts through special recruitment of LGBTQ+ talent.
On-campus support for LGBTQ+ business school students
While the specifics of LGBTQ+ programs and resources vary from school to school, the common thread among them is that they are designed to ensure LGBTQ+ students feel welcomed and valued as a part of the broader business school community. These programs often include:
Educational workshops and training seminars for faculty, staff, and students
Advocacy and LGBTQ+-friendly school policies and practices
Student counseling
LGBTQ+-only housing, resource centers, and community activities
LGBTQ+ content in course offerings
Special recruitment of LGBTQ+ talent
Many graduate business programs are broadening their recruitment and outreach efforts to attract more LGBTQ+ candidates.
Findings from the Graduate Management Admission Council's annual Application Trends Survey shows that a nearly half of full-time MBA programs in the United States (47%) conducted special outreach to members of the LGBTQ+ community in the last admissions cycle.
Special LGBTQ+ outreach was also conducted by many US business master's programs, which typically recruit from among current undergraduates or recent graduates. This includes programs like Master of Business Analytics (15%), Master of Marketing (14%), and Master of Finance (13%).
Resources for the LGBTQ+ community
The following organizations offer events, conferences, networking opportunities, and many other resources:
To learn more about a specific school's resources, contact their admissions office directly.
Consider telling your story through your applications
Over the past several years, a growing number of leading business schools have adapted their applications to give applicants the option to disclose their sexual orientation if they so choose.
The choice to disclose your sexuality as a part of your application is a deeply personal one and should be given careful thought and consideration. Remember that what schools value above all else is that you present your authentic self and truly give them a sense of who you are as an individual and the value you'll bring to their business school community. Because schools strive to build diverse cohorts to foster a rich learning environment, hearing your personal story as an out LGBTQ+ individual could help you convey the unique value you'd bring to the classroom.
Looking for some guidance on how to tell your story? Our free guide, How to Get Started: Your First Steps to a Full-Time MBA, provides you with step-by-step, expert guidance on how to position your personal brand in your applications to ensure you tell an authentic and compelling narrative that differentiates you from other qualified applicants and sticks in the minds of the admissions committees.
Are you targeting a business master's or professional MBA program? Check out our "How to Get Started" guides for undergrads or experienced professionals for guidance tailored to your experience level.