How Business Schools are Adapting to Promote Diversity
How Business Schools Are Adapting to Promote Diversity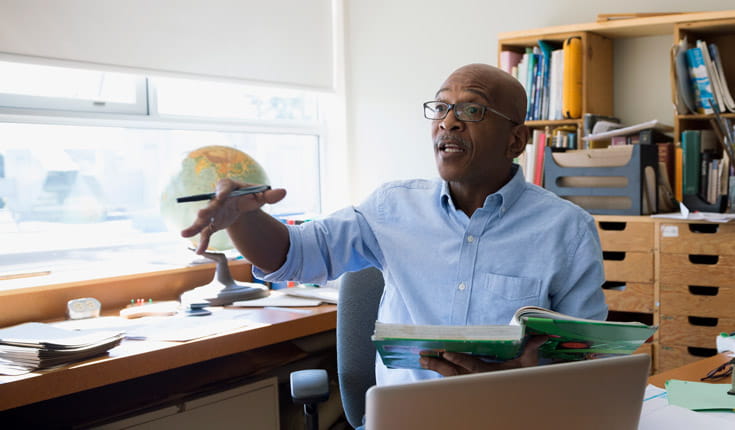 In 2020, most people under 18 in the United States are non-white. By 2045, the entire US population will be a "majority minority". Yet, institutions across the country often fail to reflect the racial diversity of American society.
One sector that's often been scrutinized for it's underrepresentation of minorities is higher education—and rightly so. Demographic data reveals that while people of color constitute 39 percent of the US population, they fill only about one quarter of seats in MBA classes, and Black students specifically make up less than 10 percent of average business school enrollment nationally.
In the wake of the death of George Floyd and the Black Lives Matter movement, business schools across the country have been forced to confront racial imbalances, and are stepping up their efforts to diversify student intakes and promote racial equality on campus and in MBA curricula.
The importance of diversity in MBA programs
Business school students are the leaders of tomorrow, and diversity in business leadership is increasingly critical for overall, long-term business success. Diverse leadership leads to better awareness of consumers and employees, creates more positive and creative work cultures, and contributes to employee retention.
Given these realities, diversity in MBA programs is crucial for companies that hope to reap the benefits of innovation and engagement in the future. In fact, the Graduate Management Admission Council's (GMAC) most recent Alumni Perspectives Survey showed that over 70 percent of respondents said business school prepared them to work in culturally diverse organizations.
Sangeet Chowfla, President and CEO of GMAC, echoed the importance of diversity in business school when he recently said, "The importance of diversity in the classroom is always on the minds of deans around the world… and for good reason as bringing people together from different backgrounds and cultures enhances the richness of the b-school experience, delivering perspective and skills that carry over into the workplace."
Several leading business schools have committed to action plans that involve launching initiatives intended to make improvements to their recruitment process and curriculum in the pursuit of diversity, equity, and inclusion. Following are some of schools' most innovative solutions to tackling racial underrepresentation.
What are schools doing to attract more diverse cohorts?
Stanford Graduate School of Business
The Stanford Graduate School of Business recently unveiled their Action Plan for Racial Equity, which aims to increase representation of Black and underrepresented minority faculty and staff, amplify recruitment of Black graduate students, and strengthen outreach to historically Black colleges and universities and other national groups.
In addition, this plan introduces the Stanford BOLD Fellowship (Building Opportunities for Leadership Diversity) to offer financial support to MBA students who are confronted with financial hardship.
Stanford GSB's plan aims to create a more inclusive community through the addition of courses on race and power, a more diverse body of guest speakers, and a conference that showcases the work of diverse students. In an effort to expand these positive initiatives off campus, Stanford is partnering with alumni consulting firms to initiate projects committed to inclusion and racial equality among the school's alumni base. Lastly, Stanford's creation of a Diversity Equity and Inclusion Council will hold the university accountable to realizing its diversity goals.
Michigan Ross School of Business
The University of Michigan's Ross School of Business alumni Stephen M. Ross and Jeff T. Blau have committed $6 million to help the Ross School of Business realize its diversity, equity and inclusion goals.
The Blau Initiative for Diversity in Real Estate and Infrastructure encourages students for minority and low-income backgrounds to participate in programs around business and investing.
In addition, this Initiative will support the Related Scholars Fund to offer scholarships for students from underrepresented populations in business leadership, who are interested in pursuing careers in real estate and investment. This fund will include other new projects such as a new investing academy, professional workshop and mentorship opportunities, and new internship programs—all targeted to underrepresented communities.
University of Washington Foster School of Business
The University of Washington's Foster School of Business recently instated their "Fostering Inclusion and Diversity" fund, which aims to raise money to support diversity initiatives and is driven by the Foster DEI team efforts, which focus on diversifying faculty, creating belonging within the community, and increasing overall access to underrepresented populations.
Additionally, in an effort to expand thought leadership throughout the Foster community, The University of Washington created a new position, the Deans Impact Scholar, to invite leaders from a diverse business community to join the business school as a visiting faculty member. While at Foster, these impact scholars provide strategic consulting on the school's DEI efforts, and mentor and teach students. In addition, the university has intentionally re-written job descriptions to be more attractive to a larger number of diverse applicants.
In an effort to enhance students' experience of belonging in the classroom, the university has initiated an audit of cases being taught in Foster classrooms, to assess the diversity of protagonists featured in course content. This work began with Foster's full time MBA program, and will expand to other programs in the near future.
Columbia Business School
Columbia Business School responded to the Black Lives Matter movement with the announcement that their Diversity, Equity, and Inclusion Initiative has refocused their commitment to anti-racism by implementing new policies and research to discourage racism within their institution. In addition, Columbia is one of the only schools that announced it would accelerate its rate of recruitment of minority faculty whose areas of expertise include reducing racial disparities across industries.
Furthermore, Columbia put into effect training programs and inclusive learning environments, and added financial resources to diversity-related curricula. The school has promised regular public updates on their progress in relation to increasing diversity and inclusion on and off campus.
Read more: Explore the 30 top-ranked schools for diversity here.
The role of standardized testing in promoting diverse student bodies
In addition to examining universities' roles in preventing racial bias and underrepresentation, it is important to consider other educational factors that may impact minority students' educational opportunities. Specifically, the role of standardized testing as a barrier to entry for minority populations is being considered now more than ever.
Chioma Isiadinso, chief executive of the New York admissions consultancy Expartus, views standardized testing as "a major barrier for people of color". The GMAT Exam, which costs $275 in the US and assesses a candidate's preparedness for the b-school curriculum, has been tagged as a potential issue for students with fewer financial resources.
However, in a recent interview with Financial Times, GMAC CEO Sangeet Chowfla said that waiving GMAT as an admissions requirement may lead schools to rely on more subjective measures such as interviews to assess candidates, and that these "have more inherent opportunity for bias".
Further, GMAC, the creators of the GMAT, conduct rigorous studies to ensure that the GMAT exam is valid and entirely unbiased. These studies are reviewed by outside experts in the field prior to publishing, and include group analyses by gender, race/ethnicity for US students, language, nationality, and age. To date, each of the studies found that GMAT scores are not biased and predict well for all subgroups.
Learn more about how the GMAT exam ensures validity, fairness, and prevents against racial bias.
While there is certainly room for hearty discussion around standardized testing and its impact on minority populations as it relates to business education, it's also quite possible that a focus on testing as a common form of measurement across demographics hides what some of the real, earlier obstacles are to seeing more underrepresented populations applying to and enrolling in b-school. Early educational inequalities, which are evident in high school grades and SAT test results, also contribute an unequal playing field. Furthermore, test prep organizations, which offer expensive services aimed at increasing students' standardized test scores, can exacerbate the issue.
Paving the way for a more diverse business school experience
In addition to launching diversity-based initiatives and changing their curricula, schools are also tapping into pipelines created by organizations like the Forté Foundation, which partners with companies, donors, universities and top MBA programs to offer networking, training and conferences tailored to women, African-Americans, Latinos and Native Americans in business.
While there is still a long way to go in the way of achieving increased diversity in the business school experience, steps that universities and private companies are taking are paving the way for a brighter, more equitable business landscape.
Want to learn more about trends in business school? Create an mba.com account for industry news, b-school application tips, helpful career resources and more.