How Can an MBA Expand My Career Options?
How Can an MBA Expand My Career Options?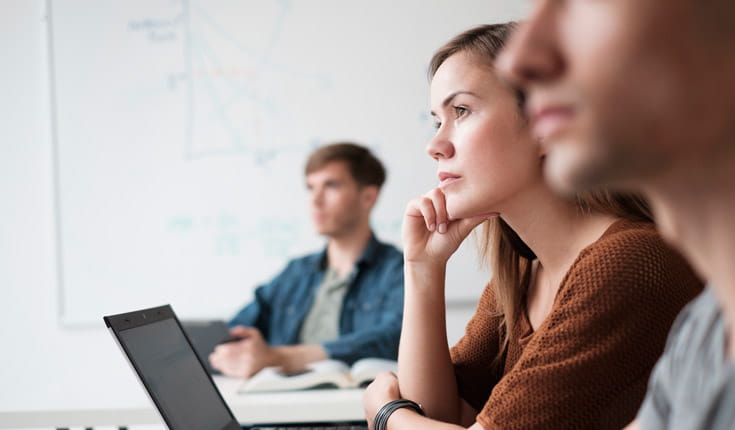 An MBA can open up a world of possibilities when it comes to your career opportunities and salary potential.
This year, 76 percent of companies worldwide plan to hire MBA talent, and the median annual starting salary US companies will offer new MBA hires is the highest on record to date (US$115,000). Not only are companies growing and expanding, but organizations across industries are seeking MBA talent to help take them to the next level. Read on to get inspired as you learn how an MBA can enhance your career and open doors to paths you may not know existed.
Travel the world
If you dream of traveling the world, an MBA can help you take flight. You can apply the business principles you learn in an MBA program to a career as an international analyst, where you'll work with global companies to optimize international operations and make recommendations for performance improvements. If strategy excites you more, consider how an MBA consulting project or study abroad program can help you become a local market expert, which can make you an attractive candidate to companies looking to develop growth opportunities and products for international business. Perhaps you prefer the government sector, in which case a concentration in economics can prepare you to become a foreign officer who evaluates economic growth and manages resources aligned with the policies of foreign and domestic governments.
Protect the environment
Companies across the globe are investing in MBA talent that can help them address concerns about climate change and drive initiatives that reduce their carbon footprint. If you're interested in the technical aspect of how business operations impact the environment, you may consider pursuing a "green" MBA that offers a focused curriculum and hands-on experience. The interpersonal skills you develop in a graduate degree program can also help you excel as a leader in sustainability who works to pioneer projects, host events, build relationships, and support research initiatives that relate to sustainability. Alternatively, you can flex your project management skills working on special assignments within your chosen industry. For example, in the construction field, you can develop and execute responsible building infrastructures, and monitor their impact on the local environment, the community, and other businesses.
Set fashion trends
An MBA can help you get a piece of the billion-dollar fashion industry. Throughout the product supply chain there are numerous roles that complement the skills attained through an MBA program. Product managers use data analytics and consumer insights to assess the market landscape and help create new products for their target markets. Import managers develop strategies for acquiring goods and use their negotiation skills to help navigate the complexities of international customs. Group merchandisers leverage their expertise to build product assortments based on the desires of their consumers. Additionally, career paths extend outside of product-related roles; business development and marketing functions help companies establish partnerships and implement cutting-edge marketing strategies. Or maybe you have your own ideas for a fashion product or line, in which case entrepreneurship may be your preferred route.
Improve global health
Health care is one of the fastest growing global industries, and the skills you gain in an MBA program can help position you for more managerial roles. MBA graduates follow careers in science, technology, engineering, and math (STEM) as well as in health administration and management. You can work in hospitals managing teams that support the organization's leadership, coordinating public health programs, or selling medical devices. You can also liaise with governments to implement national initiatives and oversee the execution of clinical programs. If you're mission-driven, consider how an MBA can increase your opportunities to work in international relief or nonprofit hospital administration.
Regardless of your interests, industry, or desired job position, an MBA can help you chart a path toward your dream career. Use this interactive widget to browse more job options and see examples of how a graduate business degree can help you stand out.