How Today's Business Leaders Are Going Green
How Today's Business Leaders Are Going Green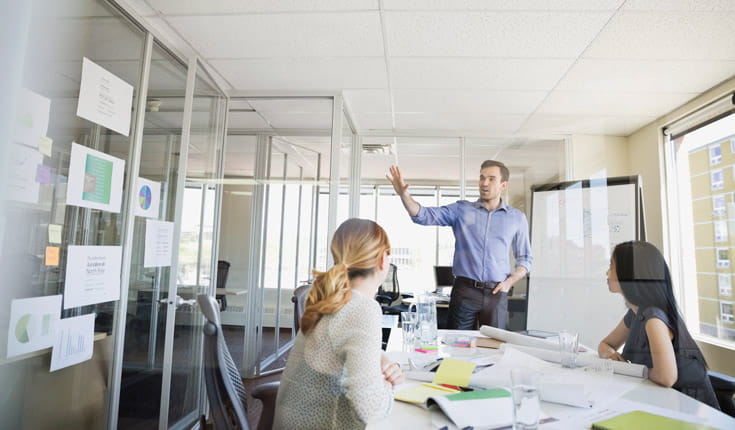 Meeting ambitious emissions reductions targets by the end of this decade requires an all-of-society approach, and increasingly businesses are on the vanguard of the fight against climate change.
In the United States, for instance, 310 businesses and investors have signed a powerful open letter to President Biden indicating their support for the Biden administration's commitment to climate action, and for setting a federal climate target to reduce emissions. Universities, hospitals, scientists, activists, and more have joined these businesses as a part of America Is All In, a national mobilization effort on climate and recovery.
Here are three standout businesses and their groundbreaking leaders who are at the forefront.
Patagonia
Patagonia has built a reputation for environmental activism. Under the leadership of Rose Mercario, the nearly 50-year-old company has doubled down on its corporate social responsibility practices.
Patagonia already pledges 1 percent of all sales to environmental preservation, and in 2016, the company donated their Black Friday sales—totaling US$10 million—to environmental groups and gained roughly 25,000 new customers in one day. Fast forward to 2018, and the company opted to donate their US$10 million tax cut, a result of new US tax laws, to conservation efforts.
Mercario announced on her LinkedIn page, "Instead of putting the money back into our business, we're responding by putting US$10 million back into the planet. Our home planet needs it more than we do."
Mercario, who holds an MBA from California State University, has seen the Ventura-based company quadruple its revenue during her 10 years as CEO. She attributes much of their growth to using their eco-friendly mission as a compass for decision-making.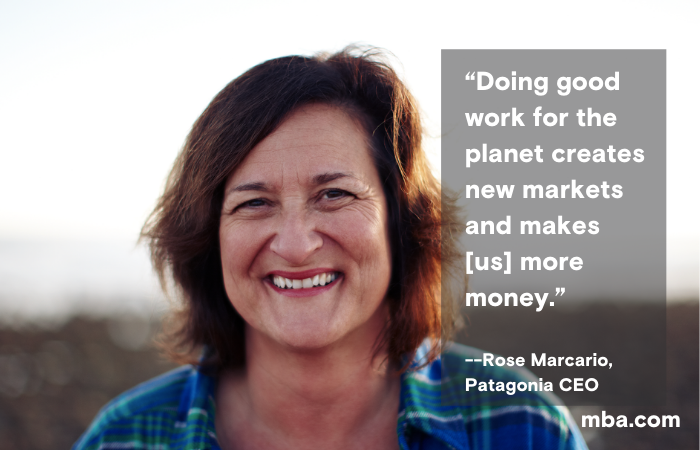 Patagonia has focused on "reducing waste and extending the life of its gear" and their programs range from food retailer Patagonia Provisions to the "recommerce" initiatives, Common Threads and Worn Wear, which encourage the repair and reuse of their merchandise. They're also committed to investing in like-minded startups via their venture capital arm Tin Shed Ventures, and recently launched the digital platform Patagonia Action Works to encourage activism and collaboration.
Chobani
Founded in upstate New York by a first-generation immigrant, the yogurt brand Chobani is a true rags to riches story.
Chobani, which means "shepherd" in Turkish, is a testament to founder Hamdi Ulukaya's upbringing as a dairy farmer in eastern Turkey. Ulukaya arrived in the United States with US$3,000 in his pocket and the hope of learning English and taking a few business courses. He founded Chobani in 2005 and made Greek-style yogurt mainstream. The company went from zero to US$1 billion in sales in five years.
Today, the company remains loyal to its roots; thirty percent of its employees are immigrants and over 20 languages are spoken in its plants. The company has also prioritized inclusion through its Chobani Shares program, which offers full-time employees ownership opportunities, and its six-week paid parental-leave policy.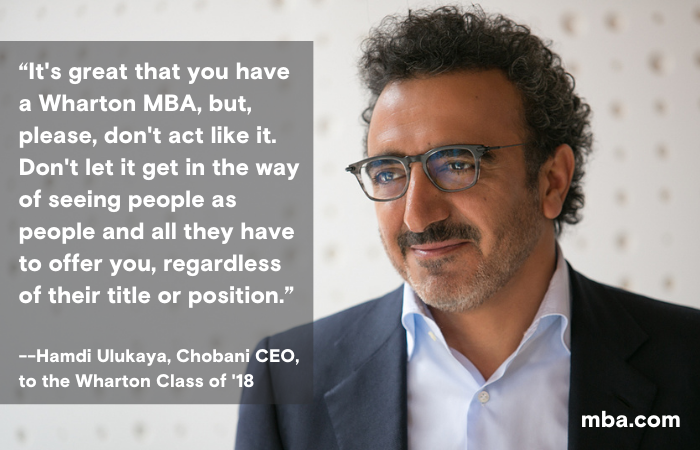 In addition to Chobani's progressive social policies, the company is also devoted to advancing ecological business operations and food production. The company has nine "North Star Goals," which focus on utilizing renewable energy sources, sustainable sourcing and packaging, waste reduction, and community development, among other things. Additionally, Chobani Health and Wellness, Chobani Foundation, and Chobani Incubator are all offshoots of the brand that further support its values.
When Ulukaya was asked by The New York Times about the role of business in society, he responded, "You have to get involved. You have to raise your voice, and you have to take a stand. We can't solve all the problems, but we have to make sure that we stand for something."
Autodesk
A timely, intelligent letter is what landed Lynelle Cameron her role as vice president of sustainability for software company Autodesk. As Cameron describes it, "[I said] you're sitting on this incredible opportunity to embed sustainability into all of your tools. I'd love to help you with this."
After earning her MBA from Haas School of Business at UC Berkeley, Cameron worked in corporate social responsibility at Hewlett Packard and for the last decade she's led Autodesk's ambitious sustainability strategy. Cameron is also the CEO of the Autodesk Foundation, which helps support early-stage organizations who are designing sustainable solutions. Autodesk is not only dedicated to helping their designers and engineers make a positive impact, but also reducing its own footprint.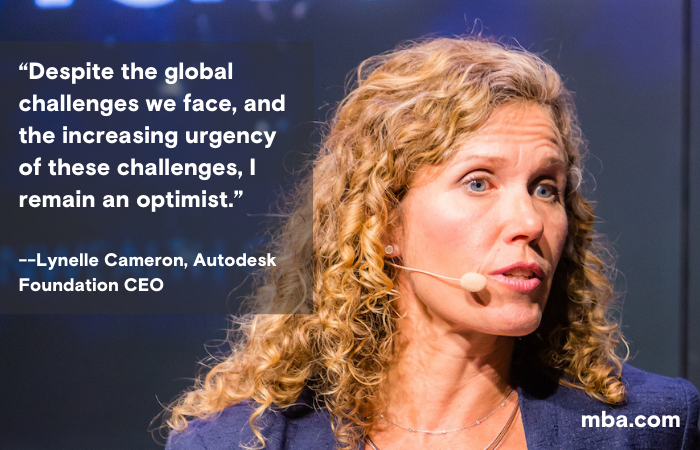 According to the Autodesk Fiscal Year 2018 Sustainability Report, the company has met their goal of reducing greenhouse gas emissions by 38 percent and now powers their facilities and cloud services using 100 percent renewable energy. They're also bringing their employees along, with 26,000 hours and US$920,000+ in employee volunteering time as well as over 50 leaders who participated in their new diversity and inclusion program. Their efforts have grabbed them numerous recognitions and awards, including the number 10 spot on Fortune's list of the 50 best workplaces for giving back in 2018.
According to the State of the Sustainability Profession, 2018, published by GreenBiz, "In 2017, 85 percent of the companies in the S&P 500 Index published sustainability or corporate responsibility reports." As companies continue to invest in green business operations, the demand for skilled professionals to support these initiatives will continue to rise. Click to learn more about sustainable business degrees and how they can help you achieve your personal and professional goals.
Do you want to turn your passion for the environment into a fulfilling career? Read more about how an MBA can be your springboard into a career in sustainability.