A Green Degree Is Your Ticket to a Career in Sustainability
A Green Degree Is Your Ticket to a Career in Sustainability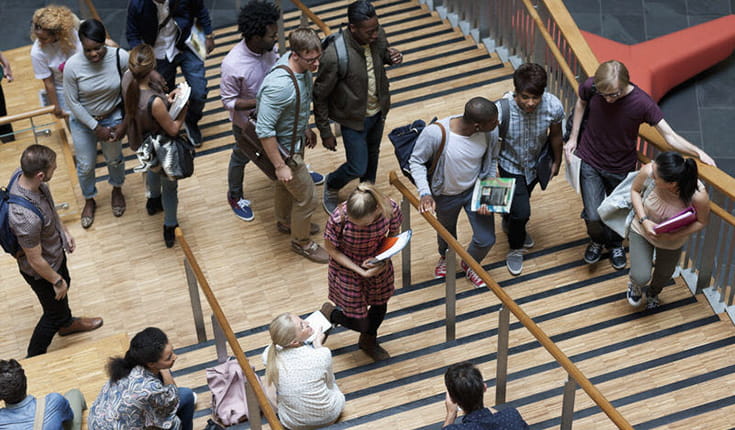 Discover how a green degree in sustainable business can help you achieve your personal and professional goals.
The terms corporate social responsibility, social innovation, and social impact are claiming headlines and demanding attention across the world. Many organizations are taking the initiative to reduce their negative social and environmental impact on our planet. As a result of this trend, a growing number of jobs have emerged that are dedicated to developing organizations' sustainability strategies, and demand is rising for talented young managers with advanced business degrees and the skills and expertise to be successful in these roles.
What are green degrees?
Green degrees, otherwise known as sustainability degrees, integrate the worlds of business and economics with the environmental, social, and cultural aspects of sustainability. Students enrolled in these programs gain foundational knowledge about the latest business and sustainability concepts as well as the technical skills to effectively evaluate and find solutions that advance change within an organization.
For example, Harvard Business School characterizes its online Sustainable Business Strategy degree as a way to, "[learn] how businesses can thrive and grow while simultaneously solving some of the world's biggest challenges—and how you, as an individual, can make a difference."
In a sustainable program, you can expect to learn about environmental sciences, social sciences, mathematics, and business, and take part in interdisciplinary courses that combine concepts from several of these subject areas.
Who should get a green degree?
A green degree is a great option if you're considering a career in sustainable business or corporate social responsibility. If topics like greenhouse gas emissions, waste usage, and supply chain impact, or diversity, equal pay, and community engagement interest you, a green degree may be a great fit.
You not only learn the fundamentals of business, but also the cutting-edge ideas and technologies that can generate a positive environmental impact while increasing the bottom line. You can choose from a focused sustainable business degree, such as an MBA in Sustainable Business or Master's in Environmental Management or supplement your business master's degree with a sustainability concentration.
Many top institutions are joining the growing group of schools that offer green courses and degrees, including Stanford Graduate School of Business, Columbia Business School, and Yale School of Management, and there are also a number of schools with a reputation for degrees that specialize in sustainability.
Why should you pursue a green degree?
Sustainability is becoming a critical component of today's business strategies and operations, and the skills you gain with your degree will be attractive to the increasing number of employers who are dedicating resources to these efforts. Careers that incorporate or depend on sustainability principles are on the rise in nearly every industry across the global job marketplace, from tech to agriculture and retail to consulting.
In a study conducted by McKinsey & Company, 43 percent of companies reported that they aim to align sustainability with their overall business goals. As the sustainability field continues to grow and evolve, so will your job options and the opportunities you have for advancing your career.
Green degrees are also a great alternative if you're looking to make a career shift or change industries. According to a survey conducted by the GreenBiz Group, MBAs and mid-career job changers hired within the last three years make more than those with longer tenures. In addition, women who pursue a sustainable business degree may be able to better position themselves for equal pay in the business world. The same GreenBiz Group survey reported that female managers and directors out earn their male counterparts.
What jobs can you get with a green degree?
By achieving your advanced degree in business and sustainability, you positively position yourself to stand out in a market that's demanding ecofriendly skills.
According to the GreenBiz Group, there is an increased demand for sustainability specialists, especially among financial services, consumer goods, and technology companies. The number of dedicated sustainability employees at major companies is growing with positions appearing in marketing, facilities, supply chain management, corporate social responsibility, and environmental health and safety. Furthermore, the role of sustainability personnel has evolved from one of tactical reporting to strategic business planning and execution, a shift that further increases the value of your advanced business degree.
🌎Read more: An MBA Is Your Springboard to a Career of Social Impact
Depending on your specific degree and work experience, green degree holders will find positions that range from managers to directors to vice presidents, and leaders in the sustainability field can expect to earn average salaries from US$110,453 to US$219,257.
Green degrees meet the market demand for skilled professionals who are versed in innovative sustainability practices that can be applied to modern business operations. With a green degree, you will have the opportunity to build solutions for real-world problems that will have a lasting impact on the quality of life for both you and the generations to come. Advanced sustainability education can open up new career paths or help you map alternate routes to your goals.
Ready to start your green degree? First you need to find your best fit programs. Our free guide, Finding Your Best Fit Full-Time MBA Program, gives you the expert tips and guidance you need to confidently narrow your options and identify the programs that make the most sense for your needs, preferences, and career goals.