Why More Women Are Applying to Business School
Why More Women Are Applying to Business School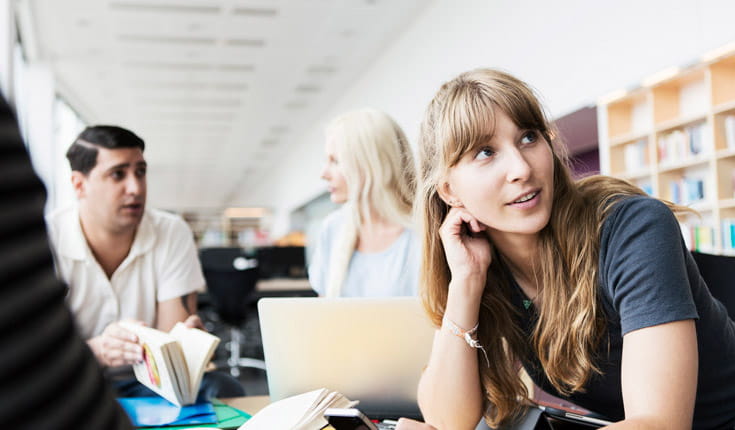 Over the past several decades, women in the business school pipeline have made significant strides in narrowing the gender gap.
In the
most recent testing year
, women sat for 47 percent of the total number of GMAT™ exams taken—the highest proportion in the history of the test and up from just 40 percent 10 years ago.
What's more, compared with 10 years ago women examinees have cut the gender gap in mean total score on the exam in half. This demonstrates that not only are more women preparing to apply to business school but also that collectively they are more competitive candidates than ever and are primed for success in business school classrooms.
Trends in women at business school
What's driving this growth? Underlying these statistics are important trends in program options, candidate recruitment, and career outcomes that provide some insight as to why women in business around the world are deciding that now is the right time for them to pursue a graduate business degree like an MBA or business master's.
Expanded program options that support women's goals
More than ever, business schools are offering a wider variety of program types and formats for women to choose from—so they can find their best fit program.
These expanded options include more pre-experience business master's programs—including Master of Accounting, Master of Finance, and Master in Management—as well as new pathways to full-time MBA programs, like deferred admissions programs. Programs like these typically allow applicants to apply while still enrolled as undergraduates. Research from the Graduate Management Admission Council (GMAC) shows this is particularly appealing to female candidates, who tend to plan their education and career earlier than their male counterparts.
Deferred admissions programs in particular are becoming an increasingly available option among leading full-time MBA programs, as multiple schools have launched them in just the last few years.
Business schools are committed to enabling women's success throughout school and their careers
Graduate business schools have worked diligently over the years to attract and recruit more women—particularly to MBA programs. According to GMAC's annual Application Trends Survey, most full-time MBA programs reported making special recruitment efforts to increase the number of female applicants to their programs, including 64 percent of US programs.
Over time, these initiatives have been successful in boosting awareness of the benefits of a graduate management education among women and growing the number of applications they submit. In fact, last year 60 percent of global business school programs reported that they received more applications from women than they did the year before, including 35 percent of programs that reported female applications increased over 20 percent compared to the previous cycle.
This speaks to business schools' commitment to providing their students—male and female alike—with an educational experience that prepares them for a rapidly changing job market. Business schools are proactively taking steps to break down the unique barriers that women face in business careers and seeking to help the business community fully reap the benefits of a diverse workforce.
Positive outcomes of graduate women in business
Any woman contemplating graduate management education can be assured that it is a smart investment in her future, in view of the highly successful outcomes of graduate women in business seen in the years after completing their degree.
GMAC Research survey data shows that an overwhelming 94 percent of alumnae rate their graduate business degree as a good or outstanding value. In addition, 87 percent of female graduates say their return on investment has been positive, and 84 percent say their professional situation is better or much better as a result of their business school degree.
Learn how to tell your story in your applications
A critical, but often overlooked first step in conquering the full-time MBA admissions process is taking the time to think through the story you want to tell with your applications. Our free guide, How to Get Started: Your First Steps to a Full-Time MBA, provides you with step-by-step, expert guidance on how to position your personal brand in your applications to ensure you tell an authentic and compelling narrative that differentiates you from other qualified applicants and sticks in the minds of the admissions committees.
Candidates targeting pre-experience programs should check out our guide for undergrads, and candidates targeting Executive MBA, Part-Time MBA, or Online MBA programs should check out our guide for experienced professionals.