Opportunities and Obstacles for Women of Color in Business
Opportunities and Obstacles for Women of Color in Business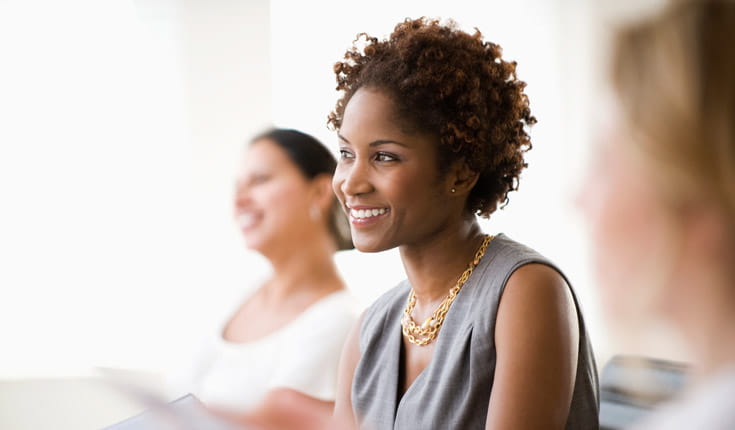 More than 1,400 incoming women MBAs participated in Forté's MBA Women's Leadership Virtual Conference in June, and many of them had questions about what their business school experience would look like. The global pandemic was a frequent topic of conversation, as was the ongoing racial justice movement in the United States.
A highlight of the event was a "Real Talk" panel that brought together four women of color in business leadership to share their experiences and advice. Ana Duarte McCarthy, Forté's Director of Corporate Partners, moderated a candid conversation between Patricia "P.B." Brown, Liberty Mutual; Raisha Lavigne, DaVita; Roxanne Warner, Whirlpool; and London Worrell, Chevron.
Being the Only Woman of Color in the Room
One topic the panelists addressed is the pressure of being an "only" — the only one in the room who looks like them. Patricia "P.B." Brown is the Vice President of Field Enablement, Global Retail Markets Distribution at Liberty Mutual. She said, "From the beginning of my career to today, oftentimes, I am the only one — not just the only African-American, but in some scenarios in the past, the only woman. The intersection of both can be a little challenging." She spoke about feeling the need to shield herself from other people's conscious and unconscious biases, and said, "If I let my armor down, then it begins to erode or impact how I feel about myself, my capabilities and what I bring. I may even get a little bit nervous and my true abilities aren't coming through."
Being an "only" can also have advantages. Roxanne Warner, Head of Investor Relations, Whirlpool, said that "Being the only Black person, usually the only female, and sometimes the only international person in the room, I tend to have a different perspective. And that perspective helps to move the conversation along, sometimes to places that we wouldn't have gone if that person was not in the room." She says she looks at herself as a "walking business case for diversity," and she does her best to embrace it so that she can lead the way for others to follow in her footsteps.
Lifting as They Climb
London Worrell, Enterprise Digital Skills Project Manager and Finance D&I Advisor, Chevron, referenced the Maya Angelou quote, "I come as one, but stand for ten thousand." She said, "When you have that platform to share your insights and really make an impact, and you're given that opportunity, don't waste it. Really try hard to share your thoughts, because you're there for a reason. You made it there to give that perspective."
Raisha Lavigne, Principal, Director of Operations, DaVita, offered a personal story about her experience with impostor syndrome and told the MBA women in attendance never to doubt themselves. She said, "You are worthy. Take that with all the power that comes with it, and you can lift us all up and bring people up behind you."
Women of color are underrepresented in the business world, and all four panelists acknowledged needing the support of their fellow MBA students and colleagues. This includes mentors and sponsors — Lavigne emphasized the value of building a strong network, saying, "Find your people… and keep on pushing forward."
Read more highlights from Forté's MBA Women's Leadership Virtual Conference.
---
Forté is a non-profit organization working to change the balance of power in the workplace. Their alliance of 100,000+ women from diverse backgrounds, industries, and career stages help women achieve their MBAs and rock the business world in leadership roles.
Looking for a 15% off discount code for test prep? 15% off all mba.com store products. Apply this promo code at checkout to access discount: FORTE_2020. Offer is valid until midnight US Eastern Time, December 31, 2020. Promo code can only be redeemed on products sold through the www.mba.com store and cannot be combined with other offers. All prior purchases are ineligible for discount. No refunds on digital products.
Forté's community of motivated and inspiring women — 100,000 women and counting — is changing the balance of power in the workplace. Build your best MBA application backed by a support network. Join Forté with your complimentary membership today.