Is an MBA in Marketing Right for You?
Is an MBA in Marketing Right for You?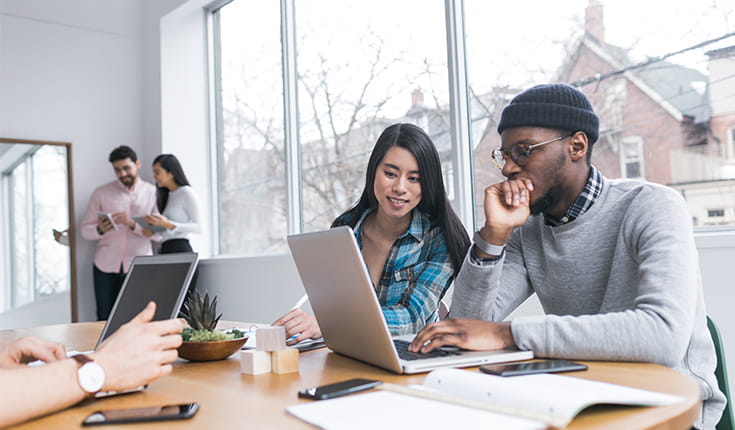 Although an MBA is a generalist management studies degree, many business schools give students the option to delve deeper into a subject of their choice through MBA specializations.
Specializations are a chance for you to get advanced knowledge of one particular area of business. Often, you will have a few specializations to choose from on your MBA degree.
One popular path is the MBA Marketing specialization. It's designed for professionals with a few years of experience who want to develop their leadership abilities and general business knowledge while honing the skills they need for long-term success in marketing.
So, is an MBA in marketing right for you?
What is an MBA in Marketing?
An MBA in Marketing is a Master of Business Administration degree with a specific specialization in the marketing sector. Upon successful completion of this program, MBA students will have the necessary skills to target jobs in marketing.
Though marketing is a core subject on most MBA degrees, during an MBA in Marketing, you will spend far more time studying marketing in depth. For example, you will explore specific topics such as marketing management, marketing strategy, and consumer behaviour. By the end of your MBA marketing degree, you will have an in-depth knowledge of both marketing and general business management.
As with a generalized MBA degree, on an MBA in marketing, you will also follow other core and elective subjects in management studies subject areas such as finance, corporate sales, operations, and HR.
Who is an MBA in Marketing for?
MBA Marketing programs are aimed at professionals with around two to five years of work experience who want to accelerate or launch a career in marketing.
Some MBA Marketing applicants might already work in marketing, but this advanced type of program is also suitable for professionals who want to pivot from another function. Although these programs have a strong focus on marketing, you'll also develop your management skills and study a wide range of other business administration topics.
After graduating from your MBA marketing course, you'll have the chance to explore career opportunities in all facets of marketing, leadership, and management.
Because of the depth of management skills acquired in MBA marketing courses, many graduates also go on to start their own companies.
What is the Difference Between an MBA in Marketing and a Master's in Marketing?
If marketing is your dream career, you may also be considering a Master's in Marketing. However, there are some vital differences between these two marketing management programs.
A Master's in Marketing tends to be just one year in length. This type of marketing course is aimed at students who may have just graduated from a bachelor's degree or have limited work experience.
An MBA with marketing specialization, on the other hand, typically lasts for up to two years and allows students to take more advanced marketing courses. Consequently, it attracts professionals who already have work experience and want to either switch industries or roles.
MBA Marketing Course Structure
The structure of an MBA course will depend on whether you have chosen a traditional two-year program or a one-year course. Though both will feature a similar MBA marketing syllabus, the structure of your program will differ.
For many programs, specialization happens towards the end of your degree. For a 16-month program, this means that you may spend eight months on core courses before focusing on MBA marketing subjects. On a traditional two-year course, you will probably spend the first year of your program completing mandatory courses before specializing in your second year.
As well as taught courses, MBA programs frequently include a larger independent project, which you will complete at the end of your degree – either in the final year or the final few months. MBA marketing students frequently choose to focus on a marketing topic for their final MBA dissertation or independent project, increasing their knowledge in this sector.
Many degrees also include the option to complete an internship as part of the MBA marketing syllabus. On a one-year or 16-month program, this may take up the final 3-6 months of your course. Alternatively, on a two-year MBA program, you will likely complete a summer internship between the first and second years of your degree.
Core MBA Marketing Subjects
In an MBA with a marketing specialization, you'll get the chance to study a broad range of business topics – like finance, strategy, operations, and organizational behavior – alongside a set of marketing courses.
These courses will consist of a mix of core and elective subjects: some will be mandatory in order to successfully complete your specialization, while others you can freely choose depending on your marketing interests.
Core MBA marketing subjects vary from program to program, but here are some specialization courses you're likely to encounter:
Brand management
Social media marketing
Digital marketing
Conducting market research
Behavioral marketing science
B2B marketing
Luxury marketing
Consumer behavior
The core subjects you cover in your MBA marketing course may also be dependent on the specific expertise available at your chosen business school. For example, you may have professors with experience in social media marketing, consumer behavior, or marketing strategies.
MBA Marketing Electives
On some MBA marketing programs, you may also come across more advanced or technical electives. These might dive into more advanced aspects of marketing strategies or focus on things like marketing analytics and big data.
Some MBA marketing electives that you may be able to choose from include:
Models for marketing strategy
E-commerce
Strategic brand management
Advertising management
Product management
Entrepreneurial marketing
Pricing policy
Social impact marketing
Forecasting
Value creation
Many MBA marketing specializations also expose students to practical learning experiences such as study trips, internships, or real-world marketing projects. These may be part of the core marketing MBA syllabus or offered as an elective.
At the University of Indiana's Kelley School of Business, for instance, students can connect with marketing recruiters on-campus to learn more about the function and find internship opportunities.
That's exactly what Jennifer Agnew did during her marketing MBA at Kelley. After meeting recruiters from healthcare giant Abbott during a careers event, she landed an internship in the company's marketing division.
"I loved my time as an intern," she recalls. "I joined Abbott's nutrition division as a marketing intern, where they were exploring innovations in products for endurance athletes." Jennifer returned to Abbott full-time after graduating.
MBA Marketing Specializations
At some business schools, your MBA marketing degree may have a more specific specialization. Instead of following a more general 'MBA in Marketing' degree, you might specialize in one particular area of marketing in depth.
For example, some colleges will focus their MBA in marketing on marketing management, while others may focus on digital marketing or international business. These specific specializations will be outlined in the title of your degree.
While a marketing MBA will already be more in-depth than a traditional program, it might be helpful to choose a specific degree specialization if you already know you want to work in a particular area of marketing.
However, you should be careful about specializing too early in your MBA program, as you might find that you prefer another aspect of business administration or that you would like to seek out opportunities in other areas of marketing than the one you have specialized in.
Best MBA Marketing Colleges and Programs
United States
Kellogg School of Management at Northwestern University is one of the top MBA marketing colleges in the United States. It's also ranked the number one school for marketing by US News.
Through the marketing major, two-year MBA students get the chance to take electives including customer analytics, social media marketing, advertising strategy, and strategic brand management.
Kellogg also offers hands-on experiences in marketing, such as an annual live analysis of Super Bowl ads and their effectiveness. Alongside traditional MBA marketing subjects, these experiences give students the chance to apply their skills to real-life problems.
Other US MBA programs ranked highly for marketing include those offered by Wharton, Stanford, Duke Fuqua, and Chicago Booth.
Europe
The MBA program at Esade Business School is the best in Europe for marketing, according to QS. This is a one-year program – as is more common in Europe – though students can choose between a 12, 15, or 18-month duration.
Esade MBA students can tailor the program to their interest in marketing through electives like brand strategy and market analytics in the era of big data. Other innovative electives include digital social innovation and marketing transformation for the digital era.
However, there are other highly-regarded MBA marketing programs in Europe. These include SDA Bocconi in Italy, Spain's IESE, and HEC Paris. In the UK, the top-ranked MBA marketing course is at Imperial College Business School.
Asia
Singapore's Nanyang Business School is home to Asia's highest-ranked MBA marketing specialization, according to QS. Overall, the school is ranked 32nd in the world.
Nanyang's marketing management track specifically hones in on the tech side of marketing through modules including neuromarketing, consumer neuroscience and robotics in marketing. The specialisation also covers integrated marketing communications, growth hacking strategies, and omni-channel approaches.
However, other business schools in Asia also feature in the top 100 MBA marketing specializations in the world. They include HKUST Business School, CEIBS, and CUHK Business School.
India
In India, the best MBA program, according to the Financial Times, is at the Indian School of Business, where students can also specialize in marketing through a number of electives. These include courses on market research, B2B marketing, and marketing services.
The second-best MBA program in India is at the Indian Institute of Management Bangalore. Here, students can choose from a wide range of marketing electives in digital marketing, market research, and business analytics.
Online or Part-time MBA
Some Online MBA and Part-time MBA programs also allow you to specialize in marketing or choose multiple marketing electives.
A part-time MBA marketing program may be taught through a combination of online and in-person strategies and will typically take longer to complete than a full time MBA marketing degree.
An online MBA marketing program, on the other hand, though it may be a full-time degree, will be taught almost 100% online. You may also see these degrees described as 'distance education' programs.
On the Online MBA offered by Kelley School of Business in Indiana, students can specialize in marketing by completing 12 electives in the field.
Other Online MBAs that allow you to specialize in marketing include the program at Kenan Flagler Business School at the University of North Carolina, and Birmingham Business School in the UK.
Schools offering part time MBA marketing degrees include NYU Stern in the US and Imperial College Business School in the UK.
MBA in Marketing Cost & ROI
The total cost of your MBA Marketing degree will vary depending on where you choose to study, but most programs represent a significant investment.
The Kellogg MBA, for instance, costs just over US$218k for two years of study, according to the BusinessBecause Cost of MBA Report 2022. This includes not only the course fee but also additional fees, living costs, healthcare, and course materials.
However, this is still below the average cost of a top-ranked US MBA program which is US$225,605, a cost that has risen 3.7% since 2021.
Other popular US MBA marketing programs like those offered by Wharton and Duke Fuqua also exceed US$200k in total fees, with the Wharton MBA costing US$237,136 and the Duke Fuqua MBA costing US$200,538.
If you choose a program in Europe, you can expect to pay less, in part because MBA programs in Europe are generally just one year in length. However, you still have to factor in living costs, especially if you're studying in a high-cost city such as London, Paris, or Zurich.
At IESE, the total cost of their MBA marketing program is around US$138k. Other related courses in Europe also have total costs equaling approximately US$130k, according to BusinessBecause.
But don't let these high costs deter you. Whichever program you decide is your best fit, the vast majority offer scholarship opportunities that can help you pay for the program. In some cases, you might be eligible for more than one scholarship.
Thanks to the lucrative salaries you can expect after graduating with an MBA in Marketing, you'll likely see a strong financial return on your investment.
But financial rewards aren't the only reason to study – you'll also leave your program with life-long connections, strong leadership abilities, and a better understanding of the broader business world that will serve you well as your career progresses.
Career Prospects After Your MBA in Marketing
An MBA in Marketing can open up a broad array of career opportunities in diverse industries. After your degree, you'll have gained valuable leadership skills as well as in-depth knowledge about marketing, making you a valuable hire in a number of roles.
Roles in marketing are also in-demand, and the total number of marketing jobs is expected to grow by 10% by 2030. Across the world, marketing manager positions are highly sought after; in fact, in Europe and the Middle East, marketing managers are the most in-demand marketing professionals.
MBA marketing grads often go into roles including:
Marketing manager
Advertising manager
Promotions manager
Market research analyst
Brand manager
Chief marketing officer
One MBA grad pursuing a marketing career is Mayra Hurtado. After graduating from the full-time MBA program at Nanyang Business School in Singapore, Mayra pivoted careers from finance to joining Adidas as an assistant manager in the trade marketing team.
Her career allowed her to oversee projects from start to finish in a way that her previous role as an analyst didn't.
"In marketing, we take different data points from different sources and then build a bigger picture – that's what makes it a good fit for me," she reflects.
What Jobs Can I Get in Digital Marketing?
Additional career opportunities for MBA marketing graduates also exist specifically in digital marketing, a sector which is continuing to evolve. This is a sub-sector of marketing that focuses on marketing through digital channels. This could be via social media, email marketing, video, or web advertising.
In this area, the additional knowledge of digital transformation and technology gained on your MBA will be vital. While positions as a marketing manager are common in this sector, you might also work in other non-leadership roles.
As a digital marketer, you could work in various specialist areas, including:
Virtual reality content
Search Engine Optimization
Email marketing
Machine learning
User experience
According to a LinkedIn survey, digital marketing is one of the most in-demand skills across the marketing sector, meaning an MBA with this specialization could grant you access to lucrative jobs.
Top Companies Hiring MBA Marketing Graduates
Marketing management is a vital role in any company, especially for digital companies. Most major companies will have an internal marketing department or outsource their marketing needs to a marketing agency. As a result, many of the world's largest companies frequently hire MBA marketing graduates.
According to Glassdoor, the top companies hiring for marketing and digital marketing manager roles include:
Amazon
IBM
Microsoft
Google
Dell
Salesforce
Cisco
Oracle
Intel
Meta
MBA Marketing Salary Prospects
The average salary for MBA jobs in marketing tends to be high because these types of skills are increasingly in demand. However, salaries can vary depending on your experience level and the area of marketing you work in.
In the US, marketing salaries range from US$50k to US$180k, while in the UK they're a little lower: between US$25k and US$85k. The lowest paid jobs are usually for junior copywriters or entry-level marketers, while SEO specialists, senior copywriters, and marketing managers see higher salaries.
If you seek a role in advertising after business school, you can also expect to see higher-than-average earnings. In the US, the average salary of an advertising manager is around the US$70k mark.
Roles in digital marketing can also come with high earnings potential. For example, a digital project manager can earn between US$79,000 and US$118,000, and salaries also regularly exceed US$100k for content strategists and brand managers.
At the C-suite level, salaries can climb even higher. A chief marketing officer in the US can earn upwards of US$175k.
How Much Do Marketing Managers Earn?
In general, marketing management salaries are high, though they do vary depending on the role, company, and job location.
According to data from Glassdoor, marketing managers can take home an average salary of US$104k in the US, while in the UK, a marketing manager can earn up to US$61k. In Europe, the salary for a marketing manager averages is around US$50,000.
MBA Marketing Admission Process
The admission process for an MBA in Marketing is much like any other graduate management business degree, with similar eligibility criteria. You will apply directly through your chosen MBA colleges, completing an online application form and providing your school with the required documents.
To earn a spot in an MBA with marketing specialization, business schools will usually specify the following eligibility criteria:
3-to-5 years' work experience
Any bachelor's degree
As part of your MBA marketing admission, you'll also need to submit a personal statement – outlining what you want to get out of the program – your resume, undergraduate transcripts, and usually at least two recommendation letters. Many colleges will also require you to submit answers to one or more essay questions.
Schools use MBA entrance exams like the GMAT to assess whether students are academically prepared for an intensive study program like the MBA. The exam is split into three sections, and many students study for anywhere between two to six months to prepare for it.
If the school thinks you're a good fit for the program based on your application and successful achievement of eligibility criteria, you will get invited for an interview, which may be conducted in-person or via video call.
Think you're ready to apply for an MBA in Marketing? If you're looking for more guidance on beginning your application, download our Complete Full-Time MBA Application Guide.