MBA Internships: 10 Common Questions Answered
MBA Internships: 10 Common Questions Answered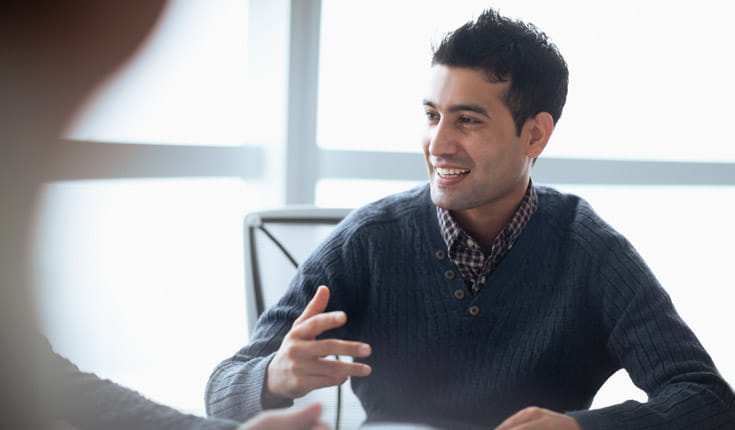 MBA internships give you the opportunity to work for some of the world's top firms, gain experience in a new industry, and put the learning and skills you've gained from your MBA into practice.
If you perform well during an MBA internship, you could end up with a full-time job. At Bain & Company, around 90 percent of MBA interns get offered jobs at the firm.
So how do you go about landing the best MBA internships? Which major companies run MBA internship programs? And what impact can doing an MBA internship have on your career?
Where to find MBA internships
Major job searching sites such as LinkedIn or Indeed have hundreds of MBA internships available now across the country.
Additionally there are some more niche job search sites to find MBA internships such as Way Up and Chegg Internships.
Many Fortune 500 companies have long-standing MBA internship programs that often funnel into post-grad development and leadership programs or full-time jobs, including:
Here are 10 common questions about MBA internships, answered:
1. When do MBA internships take place?
Internships usually take place during the summer between the first and second years of a full-time MBA program, although this can vary at certain schools. If you are studying a one-year or part-time MBA, your internship opportunity may be towards the end of your degree.
2. How long do MBA internships last?
Summer MBA internships are usually 10-12 weeks long for full-time MBAs, while part-time internships can be anywhere up to a year, depending on how many hours you put in each week.
The length also varies depending on the company. Consulting or finance firms will likely have established internship structures which you will have to follow, while smaller companies may be more flexible and tailor an internship to you.
3. Who hires MBA interns?
Top recruiters of MBA graduates are in tech, consulting, and finance, and the same is true for internships. Top 10 MBA employers like Amazon, Bain, and Deloitte, all have established MBA internship programs that run each year.
Big three consultancy McKinsey took on 1,000 interns between March and December 2020 despite the COVID-19 pandemic. GMAC's Corporate Recruiter Survey also found that 87 percent of employers still plan to hire interns in 2021.
Sophie Reiser used her summer MBA internship at EY to secure a permanent job offer once she completed her MBA at Emory University's Goizueta Business School.
"My internship with EY was an extension of my MBA, where I could not only learn quickly, but also apply what I'd already learned on the program," she says.
Smaller companies and startups also recruit MBA interns, though application processes vary.
4. What can you expect from an MBA internship?
The type of work you will do during an MBA internship varies across industry and function.
Consultants work in teams on client problems, while finance interns may work on financial modelling. Whatever your project, networking within the organization and getting to know it holistically is a major advantage of an internship.
Alex Fein took an internship at The Hershey Company during his MBA at Temple University's Fox School of Business. He worked with multiple teams across the business, spending the first half working in brand management before pivoting to brand strategy later on.
"I learned how to collaborate cross-functionally with consumer insights, finance, and internal sales teams," he says, "I found out I'm resilient, work well under pressure and work well in a team."
5. Is an MBA internship graded?
Business schools sometimes award academic credit for completing an internship, and you should check with your school to see if this is the case for you.
Being awarded credit often means your performance will be evaluated by your internship mentor, who will report back to the school. You may also be asked to write a report reflecting on what you learned during your experience and how you think you performed.
Some programs, like the full-time MBAs at Imperial College Business School in the UK and Melbourne Business School in Australia, include a credit-bearing internship as part of the MBA curriculum, requiring you to complete the internship during term time.
6. How much do MBA interns get paid?
Most, but not all, MBA internships will pay you a salary. Like your post-MBA salary, these vary depending on industry and location.
MBA interns from Harvard Business School earned US$13,500 per month on average in 2021 working for consulting firms. Financial services interns earned just under US$10,000, while those in tech earned US$7,800.
7. How can an MBA internship boost your career prospects?
An MBA internship gives you the chance to build with the expertise and connections that will make you more employable come graduation.
At Melbourne Business School, where students are required to take up to 12 weeks of internships during the program, 95 percent of students are employed within three months of graduation.
Athena School of Management in India sees similar success for its MBA, which requires students to undertake three internships during the two-year program. Almost 100 percent of students land jobs within three months of graduating and around half secure roles from their internships.
Athena director, Aditya Singh, believes it is the internships that make a difference to employers. "They want people with practical experience," he says.
8. When should you start applying?
With most internships happening during the summer, you should start looking for opportunities as soon as you enroll in your MBA.
While many companies begin recruiting in January, some begin hiring interns from the moment they arrive on campus, so the earlier you apply, the better.
9. How do you apply for an MBA internship?
Look for internship opportunities at careers fairs, recruiting events, and via job postings on your school's careers center website.
Consulting firms typically begin recruiting on campus in January or February each year, starting with information sessions and company presentations, before moving onto resume and cover letter screening and, eventually, interviews.
Amazon works to a similar timeline, while Google host events at schools before opening applications in October and interviewing until March.
Careers websites and LinkedIn are also useful resources. If you're interested in applying for a niche startup, send over an email expressing your interest.
10. How do you make the right choice?
Go for an MBA internship that gives you a diverse and in-depth experience. Don't just look at the salary on offer. You should research how people have found the experience before and what kind of work MBA interns get involved with.
Remember, your MBA internship is your chance to try out an industry and see if it's the right fit for you. You'll get a taste of what life will be like once you graduate and you'll get the experience you need to take the next step in your career.
Not sure where to take your career next? Our free Career Planning Guide walks you through key personal and professional questions you need to explore to set the course for the next steps of your career.