The mba.com User's Guide to MBA Rankings
The mba.com User's Guide to MBA Rankings
What do MBA rankings really tell you? We all want to know which MBA program is best, but what does it even mean to be the best?
Each major MBA ranking publication—from The Financial Times, U.S. News and World Report, The Economist, Bloomberg Businessweek, and Forbes—has its own unique MBA ranking methodology. These methodologies are a ranking's secret sauce, and when you actually take a moment to read the back of the label, you realize that these methodologies vary considerably in how they arrive at who they deem to be the "best" MBA programs.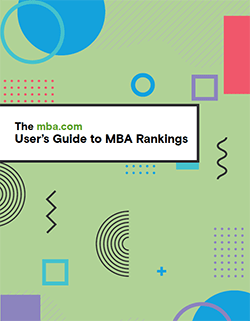 If you're going to use MBA rankings in your business school decision making, it's critical that you understand what the ranking you're using is really telling you and make your judgments with that understanding in mind.
Details of the most popular MBA rankings, all in one place
The mba.com User's Guide to MBA Rankings clearly lays out what goes into the methodologies of the five major business school rankings and compiles additional useful rankings information all in one place.
What's included:
A comparison table that lays out how the methodologies assign weight across 14 standardized weighting categories
Insights into the key drivers of each ranking
In-depth breakdowns and data visualizations of each major ranking
Survey data on which rankings are most popular with applicants in different parts of the world
Perspectives on the effect of rankings on business schools
Submit the form below to download your free guide.