Why Study a Masters in Information Technology?
Why Study a Masters in Information Technology?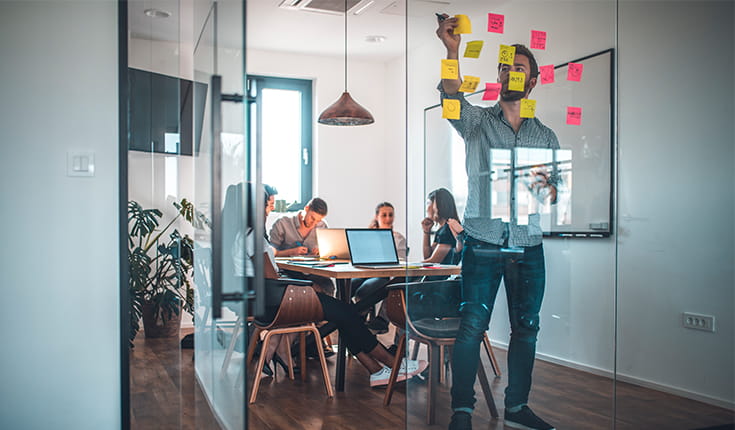 Masters In Information Technology degrees provide you with an appealing mix of management expertise and technical skills – exactly what some of the world's biggest employers are after.
According to the Graduate Management Admission Council's Corporate Recruiters Survey, leadership and interpersonal skills, combined with the ability to manage technology, are some of the most in-demand skills sought after by employers today.
But what can you do with an information technology master's degree? What salary can you earn after graduation? And what kind of IT jobs await you?
Here's everything you need to know about studying a Master's in Information Technology.
What is a Masters in Information Technology?
A Master of Science in Information Technology, also known as an MSIT, is a postgraduate degree that aims to deliver the technology, business and leadership skills to allow students to thrive in the current business environment.
MSIT programs combine management and leadership training with lessons in technology, analytics, and big data, and are often delivered by business schools in partnership with computer science departments.
They not only teach students about cutting-edge technical concepts like the Internet of Things (IoT) and Big Data, but how to apply these successfully when they take up management positions, whether in the IT industry or a closely related field.
For instance, students are likely to learn project management skills, engineering concepts, and data analysis. There may also be opportunities to specialize in more in-depth fields like data mining or robotics.
Why is Information Systems management important?
You might be wondering why a Master's in Information Technology is important to study in today's business landscape.
The fact is that there is almost no business in the world that is not touched by technology. The global digital transformation market is forecast to grow from US$469 billion in 2020 to more than US$1 trillion by 2025.
To best take advantage of this boom, professionals need not only the technical knowledge of which systems are up-and-coming, but how to apply these to achieve business transformation.
What is the difference between a Masters in Computer Science and Information Technology?
Perhaps you're already convinced of the importance of technological skills, but are wondering if you should seek out a Master's in Computer Science (MCS) degree instead.
The key difference between an MSIT and a graduate degree in computer science is that an MCS will focus more closely on computer programming and computer systems. You'll learn about topics like software engineering, hardware design, and artificial intelligence, but you'll be less likely to encounter the combination of business and technology teaching you get on an MSIT.
If you want to gain the skills needed to secure a technical role, for example as a software developer, computer support specialist, or computer science researcher, an MCS could be for you. It is also good if you are considering a career solely in the IT industry.
However, if you want to combine technical knowledge with broad business problem-solving skills, even in a slightly more technical role like software engineering, an MSIT is the better option.
Who is a Masters in Information Technology for?
A Master of Science in Information Technology is a good fit for students with a technical background looking to develop management skills.
Candidates usually hold STEM (science, technology, engineering, math) related undergraduate degrees, though schools also consider students from business and liberal arts backgrounds.
In terms of geographic origin, MSIT programs attract students from all around the world. At Carnegie Mellon University (CMU), for example, the Master in Information Systems Management cohort welcomes students from 35 countries.
Post-experience Masters in Information Technology degree
MSIT programs tend to focus on students who already have a few years of experience under their belt in the workforce.
At MIT, Sloan School of Management and the School of Engineering offer a technology master's degree, the Master in System Design and Management, aimed at students with a minimum of five years of work experience.
This highly-regarded program aims to "prepare early and mid-career professionals to be the technically grounded senior leaders of their enterprises," says Joan Rubin, executive director of the program.
Pre-experience Master's in Information Technology degree
However, this is not to say that there aren't options out there students without extensive real world experience of the IT field. Many programs cater to students who are fresh out of their bachelor's degree, and in fact, some universities offer both.
At CMU, the MSIT program offers a 16-month track for undergraduate level candidates with no experience, and a 12-month track for those with three or more years of work.
Types of Master of Information Technology
Master of Information Technology
The Master of Information Technology is usually a full-time course, aimed at technically minded students looking to develop their leadership skills.
Most programs take around one year to complete. For example, the Master of Science in IT and Management at the University of Texas at Austin's McComb School of Business is 10 months long. However, there are full-time programs that last for up to two years.
Studying full-time and in-person also allows you to immerse yourself in the topics at hand, as well as taking part in work experience and networking events.
Students develop skills to lead organizations alongside more in-depth training in technical concepts than you would get from a traditional business degree.
What's more, if you study a STEM-designated degree in the US, after you graduate you will be able to work in the country for an additional two years compared to non-STEM-designated grads. UT Austin's program falls under this category.
Online Master of Information Technology
Online Master of Information Technology degrees offer the same skills and expertise with an extra level of flexibility.
Online students can complete the course via the Internet from anywhere in the world. Studying an information technology degree online can be a huge advantage for students with caring responsibilities or disabilities that limit their availability for full-time study.
Some courses are 100% online, while others may include a small portion of in-person teaching, for example through a one-week residential component or global study trip.
Arizona State University (ASU) offers an online program that doesn't require students to attend any in-person teaching. Students are able to choose from two specializations: computer architecture and information security, or systems development.
Due to the flexibility and part-time nature of most online graduate programs, they can take longer to complete depending on your schedule.
Master of Information Technology syllabus
As we've already covered, the Master of Information Technology curriculum focuses on building students' understanding of technical concepts while fusing this with business problem-solving skills.
The program "focuses on core concepts of computing and business," says Jean-Claude Franchitti, associate director of the Master in Information Systems at New York University.
"It emphasizes the development and management of software projects in the workplace."
MS in Information Technology programs are split into a core component studied during the first half of the program and an elective period taking place over the second part of the course.
Core courses
As in any master's degree, the core courses will focus on foundational concepts that students can use as a springboard from which to develop a more specialized skill set. On an MSIT program, these will be a combination of technical modules and more general, business-focused courses.
The technical modules that will be included in a Master's in Information Technology include:
Software design
Data management
Financial management
Project management
Big data
Programming and app development
Distributed programming
Data analytics
Meanwhile, the business administration topics you'd be likely to learn might be:
Business innovations
Strategic IT and change management
IT security, policy, and compliance
Elective courses
During the elective period, you'll choose from specialist modules designed to give you insight into a specific area of Information Technology.
These may be individual courses, for example topics like Big Data or IoT. They could also build toward an overall degree specialization which will be shown on your transcript.
At the Naveen Jindal School of Management at the University of Texas at Dallas, the available specializations on the Master of Information Systems include:
Business Intelligence and Analytics
Digital Product Management
Cybersecurity Management
Enterprise Systems
Healthcare IT
IT Consulting
Cloud Computing
Practical work experience
Most business schools pride themselves on teaching using a blend of theoretical and practical learning, with students able to gain real-world work experience via internships and company projects.
For example, at the University of Maryland's Robert H Smith School of Business, students on the Master's in Information Systems take part in a corporate-sponsored case competition, allowing them to solve real business problems and gain exposure to big companies.
Opportunities like these are offered in addition to the schools' usual career support programs. At most business schools, these will include services such as interview training, resume workshops, and on-campus career fairs.
Capstone project
Most MSIT programs culminate in a capstone project, where students put everything they've learned during the program into practice.
Jean-Claude from New York University says the school's capstone course "offers students real world experience with developing innovative IT solutions to business problems via participation in a set of team projects at local corporations, non-profits, and government agencies."
Master In Information Technology jobs & salary prospects
The main attraction of studying a business master's degree is the improved job prospects it offers after graduation. There will be 500,000 more information technology jobs in the United States by 2029, making a Master of Information Technology a great basis for your career plan.
But what kind of roles will be available to you once you graduate from an MSIT program? And what sort of salary can you expect?
Typical jobs for MS in Information Technology graduates
As we've already mentioned, MSIT degrees allow you to take on roles that straddle business and technical functions. Common information technology occupations for MSIT graduates include:
Data analytics manager
Computer and systems manager
IT risk manager
Cyber security analyst
Business intelligence analyst
Software engineer
Typical industries for MS in Information Technology grads
Your diverse skillset means you'll also be able to work in industries beyond technology. While 35 percent of graduates from Carnegie Mellon's Master in Information Systems Management do go on to get jobs in tech, 18 percent go into consulting at companies like McKinsey and EY, and a further 12 percent get jobs in finance at firms like Morgan Stanley and Barclays.
Most of the world's top companies offer roles in information technology. In 2020, students from the MSc in Information Technology and Management at the University of Texas at Austin: McCombs School of Business were hired by big-name companies like Amazon, Oracle, and LinkedIn.
Average salary for Master's in Information Technology grads
Entering the workforce with a Master's in Information Technology under your belt can be a great thing for your salary.
The average starting salary for US graduates from McCombs' program was US$106,250. For international graduates, the average salary was US$91,546, although salaries vary significantly by school and location.
A master's degree in of IT can also earn you C-suite roles like chief information officer and chief technology officer – among the best paid jobs in the technology industry – which are rewarded with huge salaries ranging anywhere from US$150,000 to US$250,000 in the US.
When it comes to the common roles taken on by MSIT grads, the salary outlook is good. The average base salary of an analytics manager in the US is around US$115,000, while the average for a software engineer is slightly lower at just under US$94,000.
All of this brings us onto the big question: what is the return on investment when you study a Master's in Information Technology degree?
Read: Technologies Changing the Business Landscape
Master of Information Technology tuition cost & ROI
With the salary information listed above, there are still a few more factors that go into calculating the overall ROI of a Master's degree in Information Technology: most importantly, the cost of the degree.
How much does a Master of Information Technology cost?
Any good business master's degree will come with a steep financial investment, though as most MSIT programs are only one year, they are usually not as costly as other options such as MBA programs.
A place on a top US program like the NYU MSc in Information Systems costs around US$79,000, while at CMU the figure is just over US$75,000.
If you are a US resident, you may be able to save money by studying in your state of residence. At McCombs, Texas residents pay US$43,000 in tuition, compared with US$48,000 for out-of-state students.
Studying outside of the US also means more affordable fees. The prestigious London School of Economics offers an MSc in Management of Information Systems and Digital Innovation, costing just US$42,719. The same program at Warwick Business School costs US$34,493 for UK students and US$41,391 for overseas students.
How your course location affects ROI
While US schools are more expensive when it comes to tuition costs, graduates tend to earn higher salaries. The lower costs and lower salaries in Europe mean your return on investment will be similar, so applying to either destination should still result in a strong return on your investment.
Financial Aid
One important factor in tuition cost that many students overlook is financial aid. Many schools provide bountiful scholarships and financial aid packages to help with program costs.
Often, you will not even need to provide a separate application to be considered for these scholarships. However, you should also research scholarship search engines in addition to these for the best chance of finding financial support for your degree.
It is also worth mentioning that the ROI of a Master of Information Technology extends far beyond immediate financial considerations alone. The learning, experiences, and the network you'll strike up at business school will still be paying off long after you graduate.
Master of Information Technology admission requirements
The typical admission requirements for a Master of Information Technology program are very similar to most business master's degrees, requiring:
Undergraduate degree
Work experience (varies by school)
Application form
Undergraduate degree
A bachelor's degree is a must if you are considering an information technology master's degree. Most schools tend to favor a background in a STEM related field, though you will still be considered with a strong application if you have a different background.
You will be required to submit official transcripts showing your degree, the classes you took, and your grades. There is likely to be a GPA requirement for most courses, or an equivalent requirement if you are applying from overseas. This will usually be a minimum of a 3.0 grade average, but the higher the better.
At McCombs, the average GPA in the Master of Science in IT and Management class of 2022 is 3.72.
Work experience
As we've mentioned above, you should check carefully what the work experience requirements are for your desired program, as many specifically cater to post-experience candidates.
You will usually be required to submit a résumé, including details of each of your past roles in the ID industry. You will also need to submit a letter of recommendation from a colleague or mentor.
Application form
As well as the above information, you will also be required to fill out other application requirements. These include answers to personal essay questions, which may be written or delivered via video.
These questions fulfil a similar role to the personal essay or personal statement in an application for a bachelor's degree: they're there for you to show the committee why you are a good choice for this program, where it fits into your career plan, and why you deserve any financial aid or fee waivers they offer.
GMAT Exam
Schools typically accept scores from the Graduate Management Admission Test, or GMAT. The GMAT Exam is designed to test you on the skills needed to thrive in a business master's degree. It's usually taken as a good indicator of what your success on a given program will be.
It's a comprehensive exam that can be taken at home or in approved test centers around the world, and which includes subsections measuring:
Quantitative Reasoning
Verbal Reasoning
Analytical Writing
Integrated Reasoning
Your score does not include your score on the Analytical Writing segment, and is usually out of a total of 800.
To find out what a good GMAT score is for your chosen program, use the class average as a guideline. For example, at ASU, the average GMAT score of the current class is 530.
GMAT scores are important to a strong application, but do not panic if standardized tests aren't your strong suit. Your scores will be taken into account along with the rest of your application. While GMAT scores are important, if you have a below average GMAT score but strong work experience or a high GPA, you'll still be considered.
Study an IT master's degree for access to diverse career paths
So now you know what a Master of Information Technology is, as well as the finer details including salary prospects, admission requirements, and financial aid tips.
The next step is finding the right school for your Master of Information Technology, and beginning your application.
You can find out more about applying to business school with our graduate business school admissions guide.