Three Ways Going to Business School Will Help You Switch Careers
Three Ways Going to Business School Will Help You Switch Careers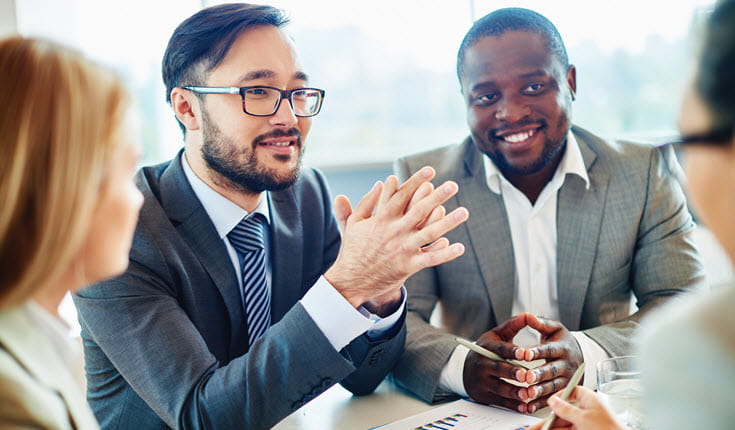 After several years in the same job, you might feel like it's time to start something new. Switching jobs, and even switching industries and locations, is becoming more commonplace.
Even so, jumping into a new job role, industry, or location, isn't easy. Employers look for a level of experience; proof you can do the job. You'll need transferrable skills and you'll need the contacts to help you make inroads into a new sector.
That's where going to graduate business school can help. According to the Graduate Management Admission Council's™ (GMAC™) Prospective Students Survey, 36 percent of candidates go to business school to switch job functions and 27 percent go to switch industries.
What's more, 25 percent of business school candidates want to use their experience to launch their own business and 29 percent want to work internationally after their degree.
If you're looking for a career change, here's three ways going to business school will help:
1. Network
The opportunity to build a network of close personal contacts is one of the primary advantages of going to business school. In your business school classroom, you'll meet professionals from diverse professional backgrounds, cultures, and countries. Through your classmates, you'll gain insight into new industries and areas of expertise.
Business schools also have strong relationships with major employers who recruit directly on-campus, making it easier to apply for jobs than it would be doing so from outside and many of these companies are staffed by business school alumni.
Having a common bond with these high-profile alumni will help you when you're looking to enter a new field. Out of the 10,882 alumni surveyed in GMAC's 2018 Alumni Perspectives Survey, 95 percent said they would recruit a student from their alma mater for a job opening at their organization.
2. Experience
You've worked in engineering your whole life. You're keen to switch into consulting, but do you lack the direct consulting experience employers are looking for? Going to business school is the place to get it.
During your graduate business degree, you can work on group projects, intern, and choose practice-based modules to help you build up experience in a particular area. That applies to any industry; from finance, to technology, to healthcare management.
An internship is often a pathway to a full-time role with the same company—proof that you're ready to switch into a new role, industry, or location. But even if you decide to work for a different firm, having that real-life experience on your resume will help you stand out.
Want to find out more about how the experience of business school can catapult your career? Head over to our infographic.
3. Skills
If you're looking at a job description and lack some of the skills it asks for, business school can be the place to find them.
Specialized master's programs—in finance, data analytics, and healthcare—can help you build knowledge in a specialist area, with programs that offer training in technical skills, often required for some career paths.
At the same time, today's employers most value softer skills like communication, the ability to work with others, and problem solving.
Generalist management programs, like MBA degrees and master's in management, focus more on these transferrable soft skills. These programs can help you become a more rounded manager and leader, able to apply for senior management roles in a variety of industries.
That's why the careers that business school graduates pursue today are not limited to consulting and finance. Companies across industries—like energy, healthcare, nonprofit, and technology—hire business school grads.
Whatever new career path you want to embark on, the combination of the network, experience, and skills you'll gain, makes business school a good place to start.
Still thinking about whether an MBA will help you switch careers? Hear from alumni, Adam Johnson, who went from West Point to an MBA to consulting.