Employers Seek Communication Skills in New Hires
Employers Seek Communication Skills in New Hires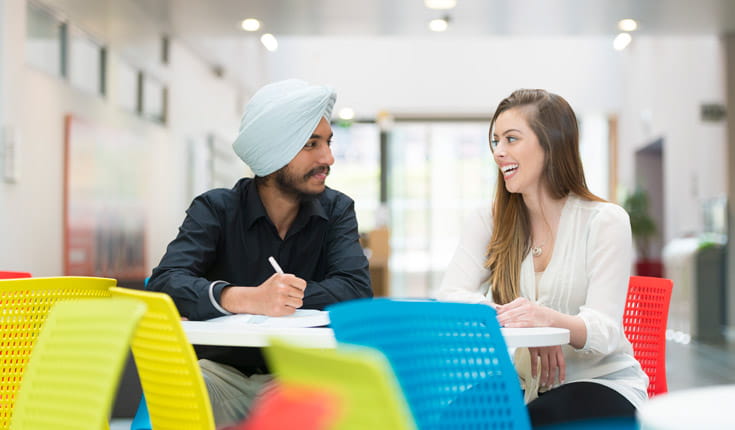 A new survey shows that communication skills top the list of skills and abilities these employers will look for.
Successfully pitching a new product idea to your boss or presenting a financial analysis to your company's management team requires not only business savvy, but also a broad set of communication skills. A new survey of nearly 1,000 employers who recruit on business school campuses shows that communication skills top the list of skills and abilities these employers will look for in hiring business school graduates this year.
Communication Skills Set You Apart from the Crowd
In the words of a recruiter from a large U.S. products and services company, "Everyone coming out of business school seems to have the technological familiarity we require. Soft skills—like communications and people skills—tend to make the difference."
As a part of the survey, employers were asked to identify among five broad skill sets which they consider to be most important when hiring for a mid-level position. Communication skills came out on top, followed in order by teamwork skills, technical skills, leadership skills, and managerial skills.
As a follow-up, employers were asked to rate the proficiency level required for 25 specific skills within the five broad skill set categories for a candidate to be placed in a mid-level position in their company. Of the five top-rated skills, four fall within the communications category: Oral communications, listening skills, written communication, and presentation skills. By employer industry, oral communication was the top-rated skill for consulting, healthcare/pharmaceuticals, technology, products/services, and nonprofit/government. Listening skills was the top-rated skill for the energy/utilities industry.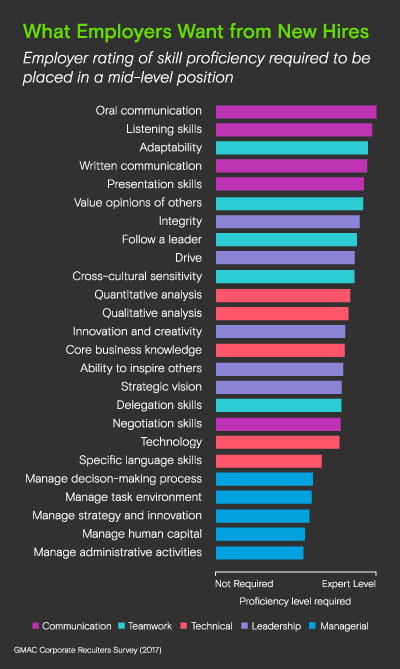 Communication Skills Signal "Leadership Potential"
Often in hiring business school graduates, companies aren't just trying to simply fill a position, they want to build their leadership pipelines. They seek to hire managers who possess not just the technical skills the job requires, but also the interpersonal and communication skills to develop into strong, effective leaders capable of inspiring others and keeping their teams engaged.
Finding ways to develop and improve your communication skills—whether it be presenting, writing, listening, or negotiating—is always a good idea. While enrolled in business school, you can seek out opportunities to hone these skillsets both in the classroom and through co-curricular projects such as case competitions. When it comes to developing your communication skillset, it's important not just to increase your reps, but also to seek out feedback and deliberately practice the areas in which you need the most work. When you know what to focus on, the positive effect of your practice time becomes magnified. Soon your confidence will grow, and your audience will take notice.
Remember: How well you communicate and present yourself will set you apart, both in the hiring process and later as you advance in your career. Start your journey to business school today by using the Program Finder to search for programs by location, degree type, program length, and format to find the programs that are the best fit for you and your goals.